Ran, rain, and more rain….when will it end (aahhh)!!!  We had a wry smile the other day when we had heard that SA was experiencing some hot weather, when the average temperature this week for us in Outback Queensland has been no more than 24º…not what the locals had expected (nor us), and it's definitely not helping progress the suntan!
The travelling this week was a little slower due to the rain, but one thing we've noticed, is that we're definitely travelling in the off season.  There's pros and cons for this, as the roads are quiet, the parks are quiet, but that also means a couple of the touristy things we've wanted to do have also been closed. Oh well, it just means we need to come back some day 🙂
Leaving Cunnamulla, we had an easy drive to Charleville where we stayed for a couple of nights.
Whilst in Charleville, we did a day trip east to Mitchell and Roma.  We found we would like to spend more time in Roma, so we have decided that we'll stop in there on our way back after leaving Longreach.  Mitchell too was a great stop, as we tested out the artesian spa baths in town.  Having two pools, one freezing at 21 degrees and the other a toasty 39 degrees, we both made a beeline for the "hot" one before Grant decided to try out the other.  I think I embarrassed Grant as I said to the caretaker of the pools that the "hot pool wasn't very hot and I have hotter baths at home!"
Charleville's unique Vortex Rainmaking Guns was one of the displays we visited.  In 1902, Queensland experienced a severe drought.  The desperation to produce rain took a very unique turn, with six vortex "guns" being made – these were vertical guns which were placed strategically throughout Charleville, their barrels pointing directly up into the sky.  Each was charged with gun powder in the hope that the resulting explosion would change the atmospheric pressure and produce rain!   Great in theory, but no good in practice….however, as it turns out, the drought broke at the end of 1902 (naturally)!
With more rain on the way, we left Charleville and headed up to Tambo, located on the Barcoo River, for what we were hoping was going to be a night of free camping.  The afternoon was a little "stressful"….next time you speak to Grant, ask him to explain what happens when it rains and the bitumen ends!!  I'm sure we'll laugh about what happened in time…
Back in the Tambo Caravan Park!!!, we needed some time to unwind and just chill out given the events of the afternoon (and yes, it's still raining).  It was only an overnight stay and our next stop was Blackall.  Also located on the Barcoo River, Blackall and this whole area was explored in the mid 1840s by Major Thomas Mitchell, and is a pastoral district.  Blackall too has an artesian bore which feeds the town, however Blackall is more famous for a fella by the name of Jack Howe.  In 1892, Jack put Blackall on the map by setting a world record by shearing 321 sheep in 7 hours and 40 minutes with hand shears.  This feat has never been surpassed.  Here's another bit of trivia about Jack – he's responsible for the invention of the singlet worn by most shearers/workmen.  This came about when he requested his dressmaker wife to make him sleeveless shirts to shear sheep as his flanelette shirts were too hot for him.  The navy blue colour of the typical "Bonds" singlets came later!  We visited a centre dedicated to him, and it was a great display of Jack's history, and Blackall in general.
We also took a trip out to the Blackall Woolscour – it's Australia's last remaining steam driven wool washing plant, and also has a 20 stand shearing shed attached.  It operated under steam power from 1908 until 1978, and is now open to tourism.  Grant is really passionate about all that old machinery stuff and asked the tour guides a million questions, but seriously, we both really enjoyed the tour and would happily recommend others to visit the Woolscour if you pass this way.  At this point, it's still raining!
When we arrived in Blackall, we first went down to the Barcoo River which is located in town, as with all the rain we knew it would be rising.  The pic below shows the water level which reached 4 metres high!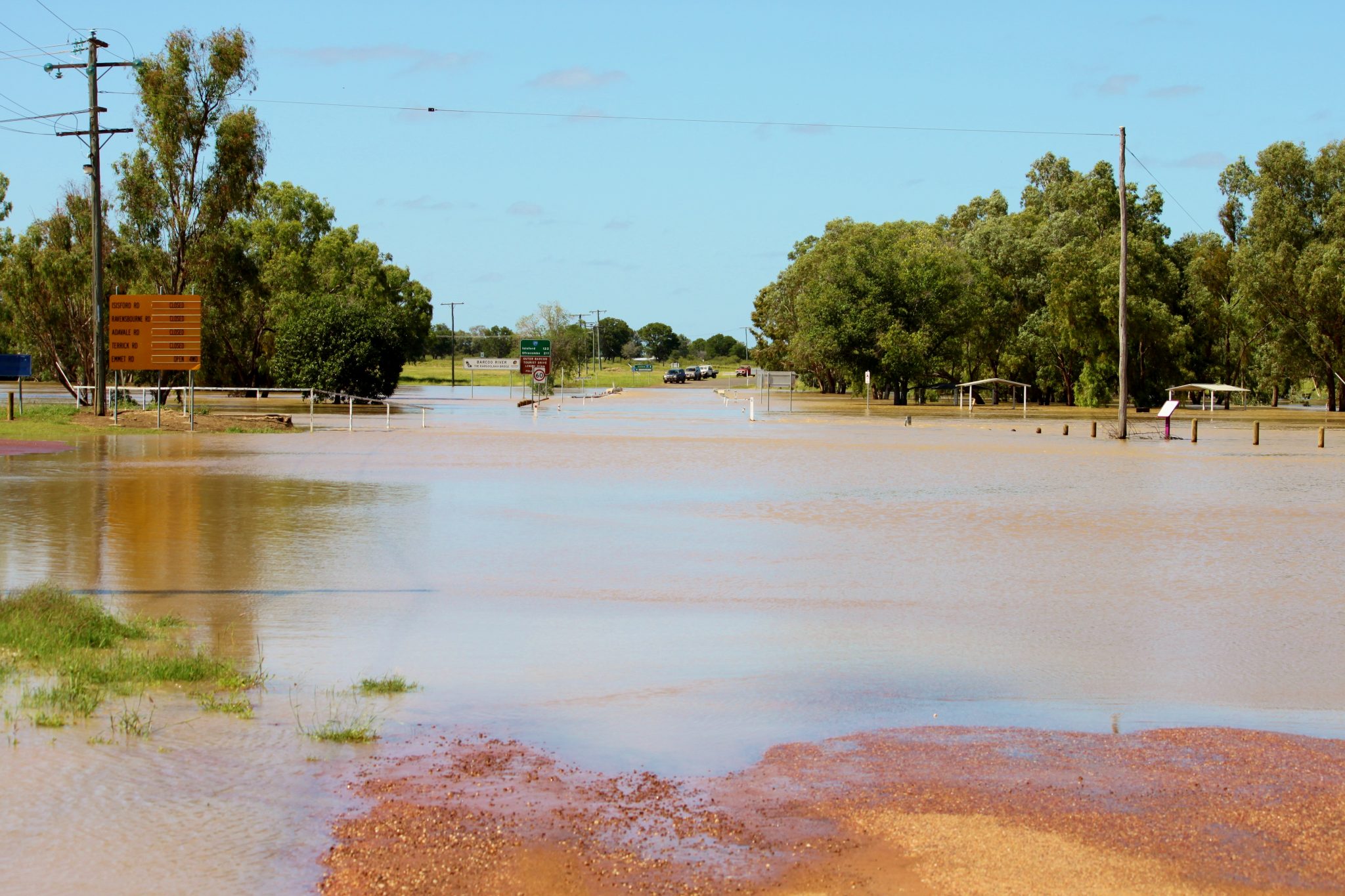 Back on the tourist trail, we also visited the famous "Black Stump".  So now you know that the famous saying "Beyond the Black Stump" originated right here in Blackall!
Well, we're off to another artesian town next…Longreach, so join us then and find out whether we get rained in as there are some serious thunderstorms forecasted and some roads have already been closed!
Kms Travelled Total  

3,793