So with a bit of shuffling of the plan, we bolted down towards the Gold Coast to beat the school holidays, but first called into Bundaberg to do a tour of the Bundaberg Rum factory.  Not a bad tour, especially when you get some samples at the end!  Lucky for me Grant was driving :-).  We also did a short tour of the Bundaberg Ginger Beer factory – their ginger beer is definitely Grant's favourite.  Next stop, we called in to the Caloundra Markets to see one of our favourite artists, Matt James.  Being introduced to his tribal music around three years ago, Matt is a "one man band" whose talents include a repertoire of instruments which when played (some simultaneously), have to be seen to be believed.  Whilst watching him play, we saw him play the didgeridoo, guitar, "drum box", bongoes, flute, and harmonica.  After introducing ourselves to him, we had a great chat and look forward to some new music coming out later this year.  A great guy playing great music!
Our next stop before getting to the Gold Coast saw us call in to Beerwah to catch up with ex work colleague, Ron & Fi, who were strawberry picking there.  After a great meal, great company, and heaps of laughs, we managed to see the guys working in action the following morning.  It definitely gave us a different perspective of how strawberries get from the farm to the supermarket, and we'll never look at a strawberry the same way ever again!
Making our way to the Gold Coast, we stayed at Helensvale – home of theme parks. As we arrived a few days before school holidays, we used our time wisely  We spent a day at Seaworld which was really enjoyable, and another day at Movieworld. We really loved the dolphin show at Seaworld, and those stunt guys at Movieworld driving their Mitsubishi Evo's were very entertaining.  Talk about precision driving!
We also had a great night at the Outback Spectacular show.  With the entire crowd wearing their "cowboy hats" – we all sort of looked the part   Based on the Australian Light Horse, the show was terrific and we found it very patriotic.  The 3 course dinner which was also included hit the spot and we thoroughly enjoyed the night….well worth it.
Our final day on the Gold Coast saw a visit from friends from Kununurra (whom we originally met in Broome), Rod and Deb.  Visiting us with Deb's Mum from Brisbane, we took a day trip up towards Mt Tamborine.  Having lunch with great views, we then continued on to Mt Tamborine which has quaint shops (including a great chocolate shop).  The area reminded us a lot of Hahndorf and the Adelaide's Hills.  The day went too fast and before we knew it, we were saying our goodbyes, not knowing exactly when we'd catch up again.
It sounds crazy, but we packed up and headed back up the coast??!!  As we had made a beeline for the Gold Coast from 1770, there were still things we wanted to do around the Sunshine Coast.  Stopping at Yandina, we visited the Nut Factory (great macadamia nut products), and across the road, Buderim Ginger.  Free camping at Yandina saw us continue the next day to Hervey Bay where we based ourselves for a few days as we wanted to visit Fraser Island.
Almost having a fear of boat trips lately after the 1770 debacle, our trip over to Fraser Island on the barge was thankfully calm.  Deciding to take a tour of the island, we loved our ride in a Hummer as we visited the popular attractions.  Not realising the whole island is a sand island, it was hard to believe what could grow purely in sand – huge satinay trees, eucalypts, hoop pines, and heaps more.  Starting the day with a walk around Central Station, we couldn't believe how crystal clear the water was in the creek.  The surrounding scenery was almost rainforest like.  Hearing a small "splash", a gorgeous azure kingfisher (bright blue with an orange chest) caught our eye as it dipped into the water to catch a fish.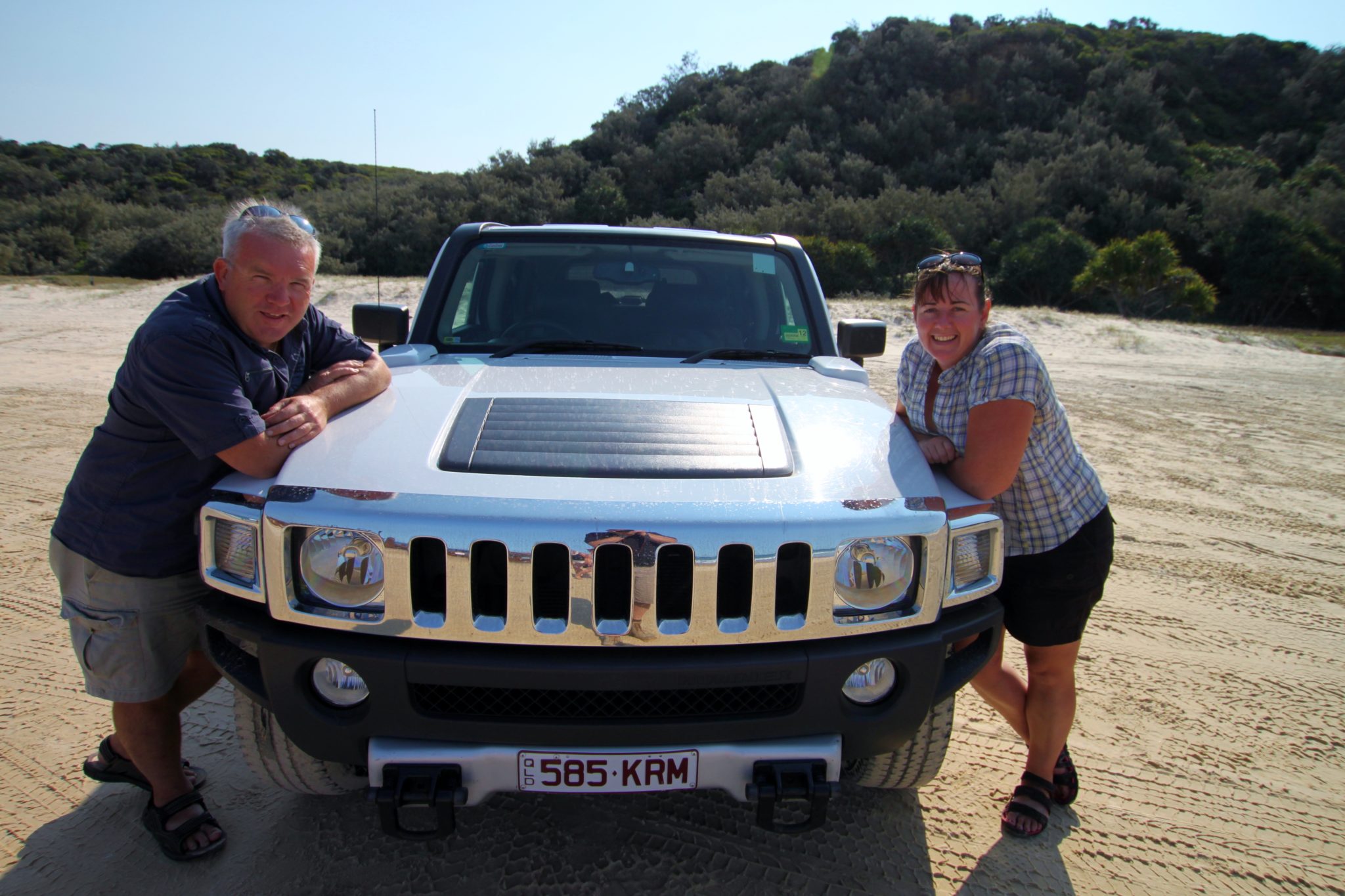 A visit to Lake McKenzie was also on the agenda – talk about gorgeous blue water with just the best sand (it makes a great exfoliator!!) Grant surprised me by telling me I almost stepped on a snake on a boardwalk.  Turning around to take a look, it was no more than 30cms long, but as we were unsure whether it was a juvenille King Brown, took photos from a distance!  Later in the day we had a fantastic picnic style lunch, did the obligatory drive along 75 mile beach on the east coast, with the hummer just cruising along as we made our way up to the Maheno shipwreck (a cruise liner that beached itself in the 1930s), and also stopping to photograph some cute Crested Terns on the beach.  Afternoon tea consisting of champagne, chocolates, and strawberries was back at Eli Creek (which spills out 400 megalitres of crystal clear water every day).  The day ended with a great sunset as the barge made its way back into Hervey Bay.  Life's tough!
Time to head south once more where we'll spend time around the Sunshine Coast which includes a trip down memory lane as I visit my old house and primary school.
Stay safe,
Grant & Linda.
Kms Travelled Total  29,843