We've had another great week down the south west coast of WA!  After arriving in Augusta, where the Indian and Southern oceans meet, we found out it's also home to the tallest lighthouse on the Australian mainland, Cape Leeuwin lighthouse.   The guided tour of the lightouse was very informative and gave us a good workout, climbing the 200+ steps to the top.  The scenery we were rewarded with upon reaching the top made it all worthwhile (as did the howling wind in cooling us before heading back down again)!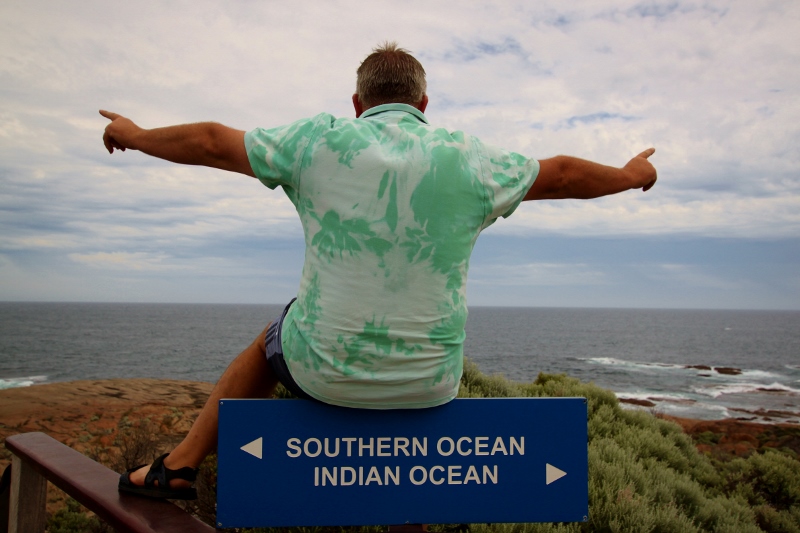 We finally took the boat out whilst here, and although too rough to go straight out into the sea, Augusta is located next to the Blackwood River.  Our park was next to the channel which led to the river, and the day we went out, we were fortunate to have a couple of dolphins swim just in front of us.
Unfortunately I was a bit slow with the camera, so I wasn't able to get any really good shots.  Once across to the river, we meandered upriver for a while, but soon realised we reached an area for ski boats…it's not much fun when they just about sink you with their wake!  We quickly turned around and took "shelter" in the no-go zone for ski boats 🙂  BUT things got worse….the calm channel that we crossed on the way over now had white caps and a lovely swell (not!) as the wind had picked up in a short time, with waves now crashing over the side of the boat as we tried to head home.  Needless to say that by the time we reached shore, we were both drenched and glad to have made it safely back.  For those of you that know about our "end of the bitumen adventure" experienced before Christmas….you know how that turned out, well that's nothing compared to Grant's navigational skills with the boat…you'll need to speak to him to have him elaborate!
One great thing about Augusta was the amazing sunsets – that real "red" of the sky was evident and made taking photos enjoyable.  Not far from Cape Leeuwin was the waterwheel – made from wood and used by early pioneers to collect water, it unfortunately wasn't used for long due to the water being infused with limestone and the wooden wheel being fossilised.  Still, a great spot for some photos and just to sit and observe the rugged WA coastline.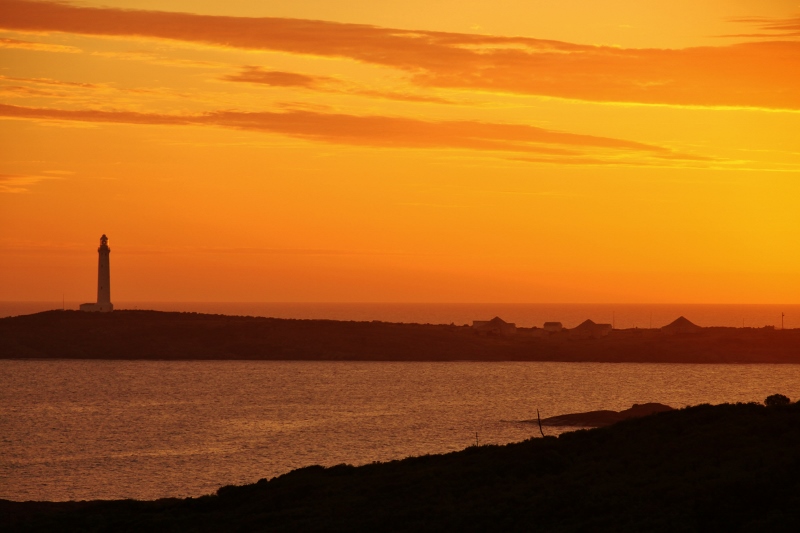 Time to move north, so following the coast, we headed to Margaret River via "Caves Road".  This road is particularly famous for many limestone caves – we made a stop at Jewel Cave on the advice of some other travellers.  We had previously visited many caves in Australia and NZ, however weren't prepared for this one.  It was spectacular!  Upon entering, we found a huge 42 metre deep cavern before us filled with a variety of stalactites, stalacmites, and "straws" – very fine, almost pencil thin, stalactites which often were over 5 metres in length. The cave apparently goes for 1.9km; we were limited to around 300m on our tour which probably was a good thing, as traversing the stairs going down into the cavern was easy (all 541 of them), however that couldn't be said for going back up!  A most enjoyable tour.
Back on the road, we headed into Margaret River which was only a short distance away.  We had limited space for wine in the van as it was, but could you really expect us just to drive through a wine district without doing some tasting??? I don't think so! 🙂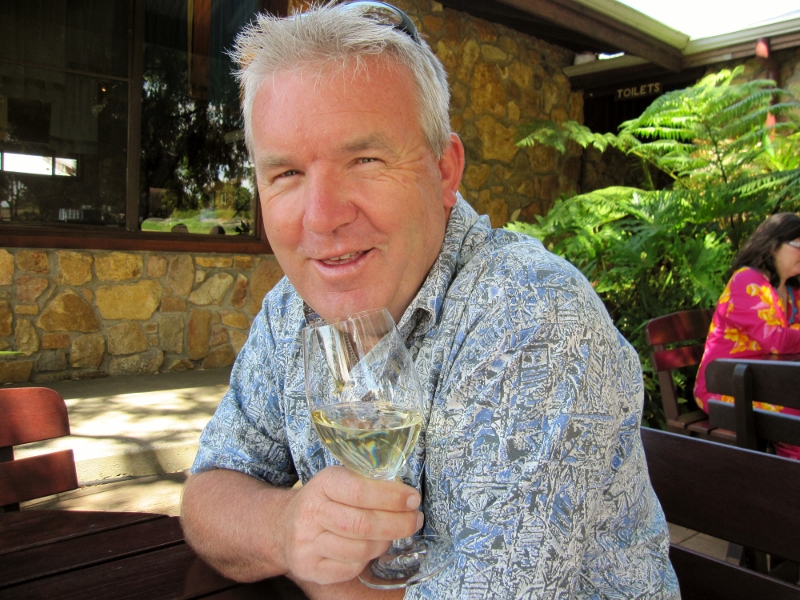 We chose a park to stay at in Margaret River because it was supposed to have powered sites by the river which didn't eventuate…out of the trip so far, it was our worst pick in choosing somewhere to stay.  We have learnt that in future we will check a park out before entering and getting caught out like that again. (No gold stars for this one!)
Remember that the good things in life come in threes – wine, chocolate, and cheese…and we found Margaret River offered all (woo hoo!)  Our stay included visiting a variety of wineries – some of the larger ones, but also some of the smaller boutique styles.  Larger ones included Leeuwin Estate for tasting and lunch (good wines, fantastic meal), Voyager Estate (the grandest cellar door and gardens that we've ever visited…anywhere in the world!),  Xanadu Wines, Vasse Felix (oldest winery in Margaret River with great reds and whites).  Smaller wineries included Cullen Wines (biodynamic), and Windance Estate Wines
A trip to the Margaret River Chocolate Company was a winner – even better with the free tastings.  I hope they didn't see how many times I went up for seconds…!  Anyway, we can recommend the dark chocolate rocky road and the milk chocolate macadamia block…very morish!  We also visited the Margaret River Dairy Company – some more cheese has been added to the already overflowing fridge, and a visit to Margaret River Nuts and Cereals for some muesli and nuts was also a must.
Thankfully our visit to Margaret River came to an end and it was time to head up to Busselton.  Our cupboards and fridges definitely couldn't accommodate any more, and somehow I don't think we need to shop again until Broome…but then again, Perth and the Swan Valley isn't far away, so we'll just have to see if we can make some more room! 😉
Stay safe…
Grant & Linda.
Kms Travelled Total  

6,108