Back in Cairns, we hung around here for a few days. We took a day trip up to Kuranda, and enjoyed going up on the Skyrail while spending a few hours looking around before coming back by train.  We also had a chance to visit the Cairns Indigenous Art Festival which was on during our stay in Cairns, and we were able to catch up with artist, Lea Stevens, who we originally met in Cooktown and had painted a piece for us.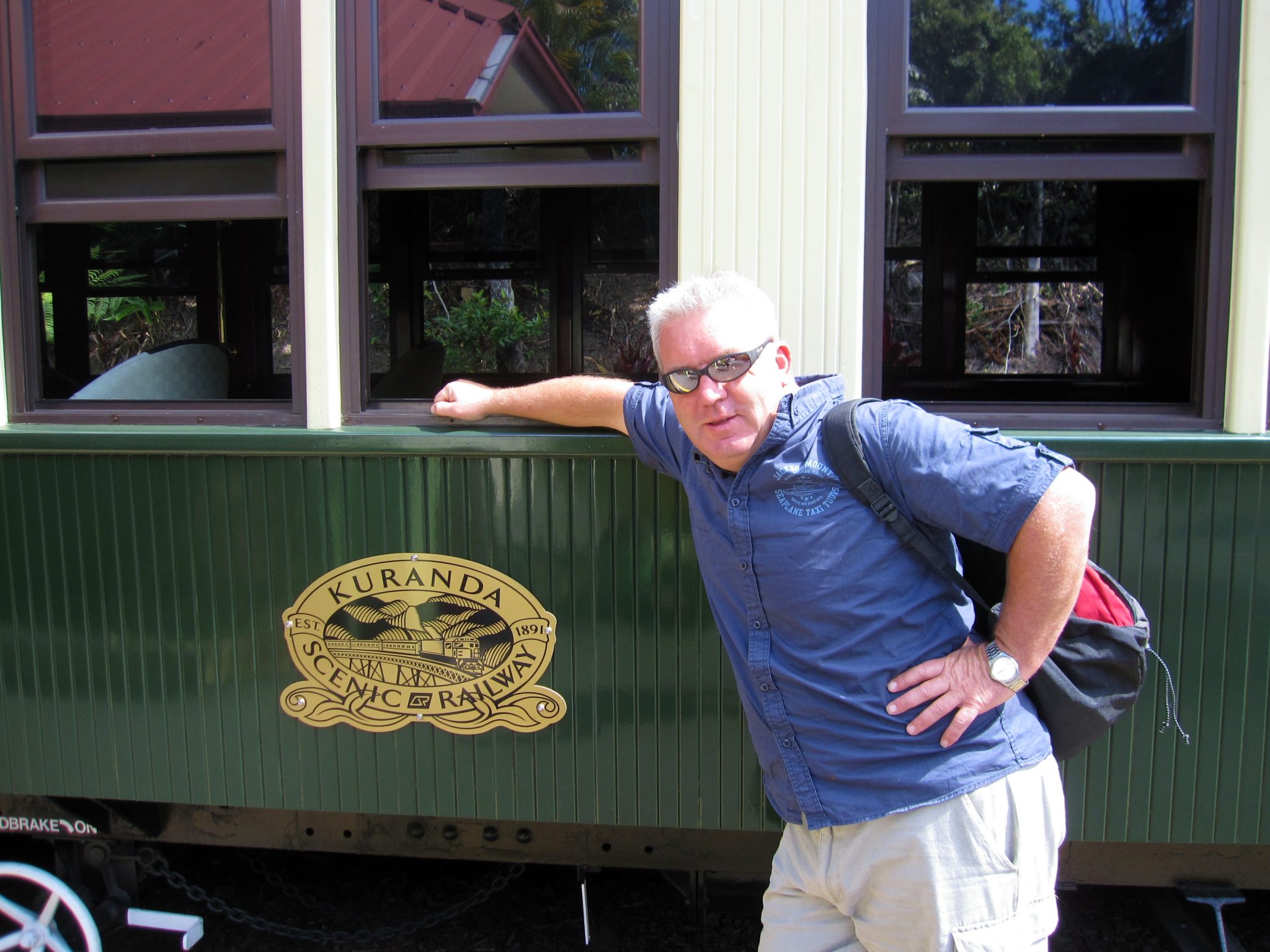 Our last stop in Cairns was to an art gallery, and after another two pieces purchased, we left and called in at Mission Beach for a couple of days.  Finding the weather pretty cool and windy, it was a short stay and we continued to Tully and onto Rollingstone (about 55kms north of Townsville).  We'd heard on the travelling grapevine about a great park to stay at right on the beach and it definitely was worth the stop!  Still finding the weather windy, Grant had a chance to get the kite out again and gave it a bit of a workout.  This was a great place for some R&R so we stayed for a few days.
Time to hit the Whitsundays.  Beautiful scenery greeted us as we arrived at Airlie Beach; this must be one of the prettiest areas in Queensland.  The water is a gorgeous colour, but still the wind was blowing….we were beginning to ask ourselves whether we were ever going to get to the Great Barrier Reef.  Airlie Beach was also surprisingly a lot quieter than what we had expected given we were there right in the middle of tourist season.
Further south saw us stop at Rockhampton for a couple of nights before continuing on.  Hearing about the town of 1770, we'd heard we could get to Lady Musgrave Island on the Great Barrier Reef from here.  When we arrived, the wind had finally dropped (yay) so we booked our cruise.  What a disaster it turned out!!!! Getting on the boat and sitting by the galley, we could smell what was like sour milk (not nice)!  Then, leaving the wharf an hour and a quarter late (due to generator problems), we soon left the protection of the bay before venturing out into the open sea.  The boat lurched up and down as waves crashed all around us for the 90 minute "journey from hell" to the pontoon located at Lady Musgrave Island.   Having Grant sitting next to me and seeing him break out in a cold sweat for the entire journey didn't make me feel well, but then just imagine how we felt seeing the crew walking up and down the aisles wearing disposable gloves and walking past us with "full sick bags" as many passengers had brought up their breakfast…some on numerous occasions!  Although Grant and I had taken sea sick tablets, something was definitely wrong….they weren't working!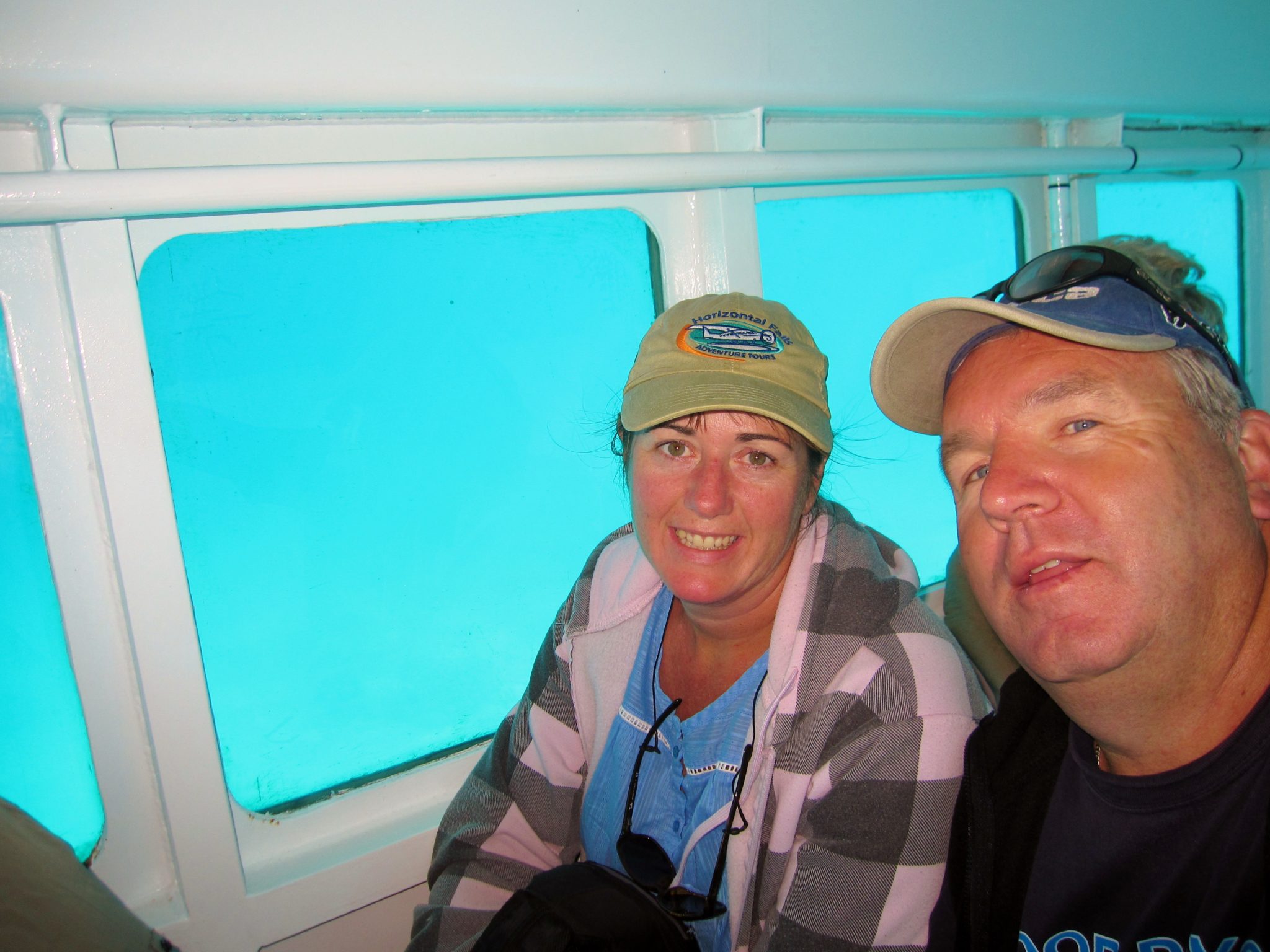 By the time we arrived at our destination, we were both written off   We couldn't stomach any morning tea, the buffet lunch, or afternoon tea (what a bummer)!!, we couldn't stomach getting into the water to go snorkelling on the reef, so the only activities we participated in during the whole day was a quick walk around the island to see heaps of Black-naped Terns preparing themselves for flight, and a short 10 minute ride on the semi-submersible boat.  The rest of the time, we sat like two wallflowers just passing the time.  What a complete waste of money!
Arriving back at the van, Grant slept the effects off and came good the morning after, whereas I was sick almost for a week.  Believing that my immune system must have taken a severe hit from the seasickness, I suffered from nausea and headaches for several days.  So unfortunately our memories of the cruise aren't too favourable…..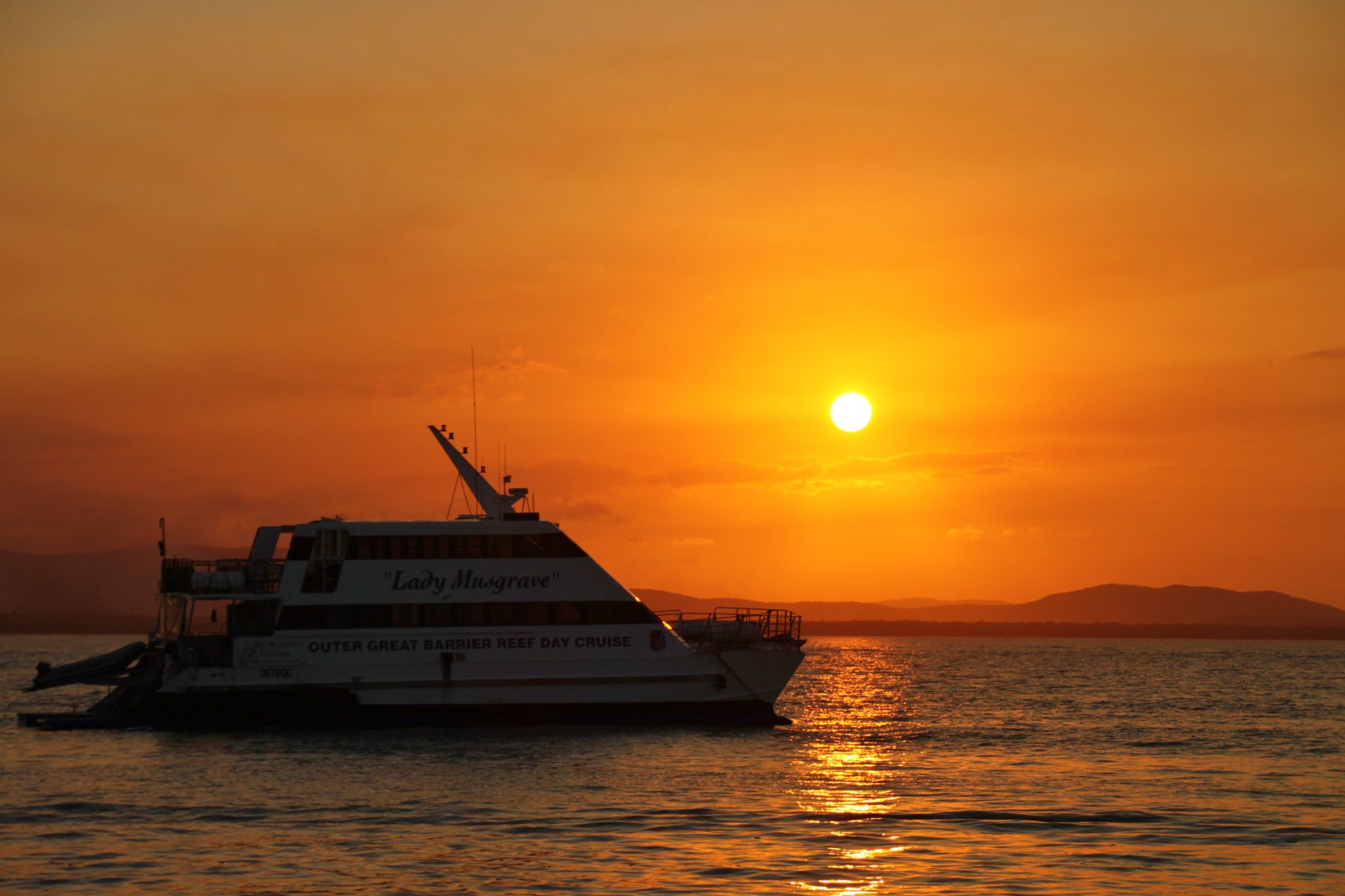 On that (sick) note, that's it for this post  As we continue south, we next stop at Bundaberg to check out the Rum distillery and the Ginger Beer factory, we have a great catch up with some friends at a strawberry farm in Beerwah, and we really play tourists at the Gold Coast theme parks.  Catch you then.
Stay safe,
Grant & Linda.
Kms Travelled Total  28,661