Days 11-18
Day 11 – Today we packed up fairly early and Grant was keen to continue our trip on the OTL road which meant a couple of crossings before getting back on the bypass road.  We left Eliot Falls and only needed to travel a short distance before arriving at Sam Creek.  It was a little disconcerting as many people were camped but not many crossing and they were all watching!  Getting out to check which path to negotiate over the crossing, the depth wasn't the issue as such, but it was more which exit to take with the trailer, as many exits were chewed up.  Deciding on the route, Grant made his way across the creek, probably around 600mm at its deepest.  The exit was a little messy, but he made easy work of it before I got back in the car and we continued on.
Around another 5kms further on, we came across Mistake Creek.  This one didn't look all that nice especially when we turned up and someone ahead was reversing from the crossing to say that a bush track to the left of us may be the better option to get to the creek.  We watched as they went in – down a fairly steep bank, sliding in some mud sideways towards the creek!! then bottoming out as they entered the creek.  Mmm.  This would be interesting with the trailer.  Finding a branch and wedging it to the right side of the track to help stop the sliding, Grant again drove in – no problem!  I worried for nothing…..Before I knew it, he was in and out of the creek and off we went again.
Arriving at the Jardine ferry, we paid our money and across we went.  The road north had really deteriorated – to be honest, it was bloody crappy.  The corrugations were that deep we think you could have laid a wine bottle in the corrugation and not hit it if you'd driven over it!
A quick stop at Bamaga for some bread and lunch and we continued our last leg to Punsand Bay, our home for the next few nights.  Having stayed here previously, I was a little disappointed when I saw that the campground really hadn't progressed a lot in 17 years.
Day 12 – Well today was the day we were going to reach The Tip.  Driving the final 20kms through a variety of scenery from bushland and rainforest, we arrived at the car park just after 9am – it was almost full!  There is normally two ways to reach the Tip from the car park, however with the tide still in, we walked the "inland" route about 500m up over a hill to see the sign down below.  We finally made it!  It was blowing a gale, but that didn't matter.  Taking heaps of photos, we sat there for a while and took it all in – the views across to York Island and Eborac Island were magical and it was just great to be there.  All the dust and corrugations were worth it!
A coffee back in the car park and we continued our sightseeing.  Next stop, Somerset.  This was the home to the explorer, Frank Jardine, who herded a few thousand cattle up the Cape and settled here.  It was an amazing feat when we look around and see the landscape in which he would have undertaken this journey.  Known as a "hard" man to the Aborigines of the time, Frank is also buried up here – his grave overlooks a pretty beach on the eastern side of the Cape.
As the Cape is also famous for involvement in WWII, we took a look at some old crash sites including a DC3 and a Kittyhawk – a sad reminder of the many lives lost in extremely difficult conditions.
Not completely content with our morning visit to the Tip, we went back again!!!  This time, we drove back for sunset.  When we arrived, there was only one other car in the car park this time  And better still, they were leaving when we arrived.
The tide was also out so we managed to walk on the beach this time; we followed the pretty coastline, and then walked over a few rocks before again "reaching the sign".  But this time, Grant had a plan.  We brought one of our favourite bottles of red (Noon Winery), cracked it open and had a toast as we started to watch the sun set.  Surprisingly, we thought the sun would set directly to our left at "9 o'clock", but in fact the sun set at around "11 o'clock" enabling me to get some nice photos.  To be honest, it was one of the best sunsets I'd ever witnessed as the sun dipped behind some clouds and then showed itself again, turning pink on the way down.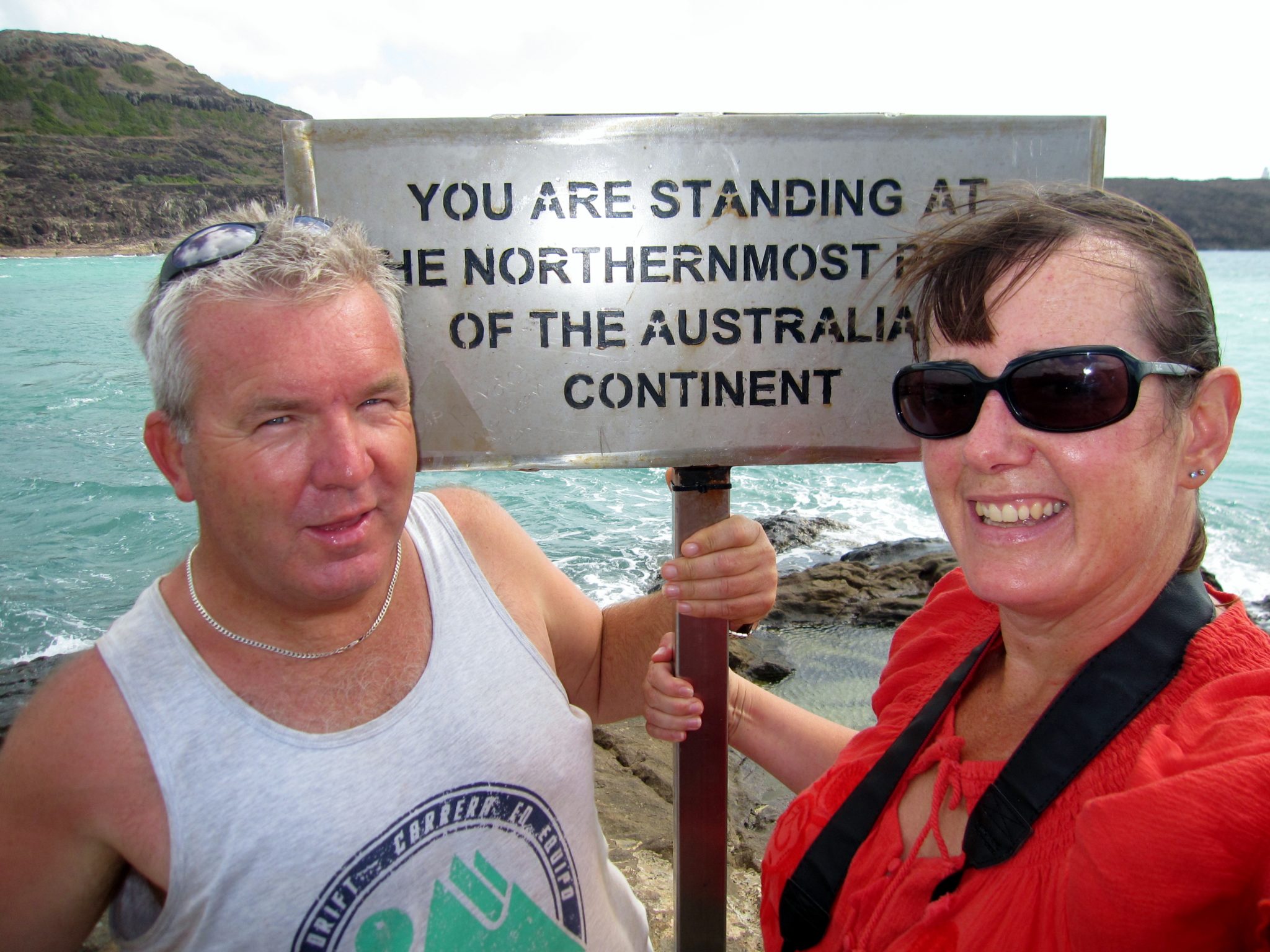 Whilst I was madly taking photos, Grant also had "another" plan.  He'd brought his kite with him and wanted to "fly it at the Tip".  Well it sure was windy enough!  Before long, it was up in the air and it was magical seeing the kite bobbing around in the wind – just great to watch.   As it was starting to get dark, we unfortunately headed back to the car and drove back to camp.  The weather up here is pretty humid – maximum 26º and minimums not much different at 23º!  We have been sleeping with a 12v fan on – besides keeping us cool, it makes great white noise when there's noisy neighbours!
Day 13 – We were lucky this morning as we'd booked to go to Thursday and Horn Islands and a boat was going to leave from the beach about 50m away from us.  Taking the 1 hour cruise over to Thursday Island, we hopped on a tour bus and were taken around the island by our local tour guide, Thomas, who was a real character.  Stopping at the fort, we saw the cannons still in place (installed to protect from Russian invasion in the late 1800s  – it never occurred!), learnt about the local culture, even learnt that there are 274 islands which form part of the Torres Strait with the furtherest one away being only 50kms from Papua New Guinea shores, and that Thursday Island shares the hospital with them for emergencies!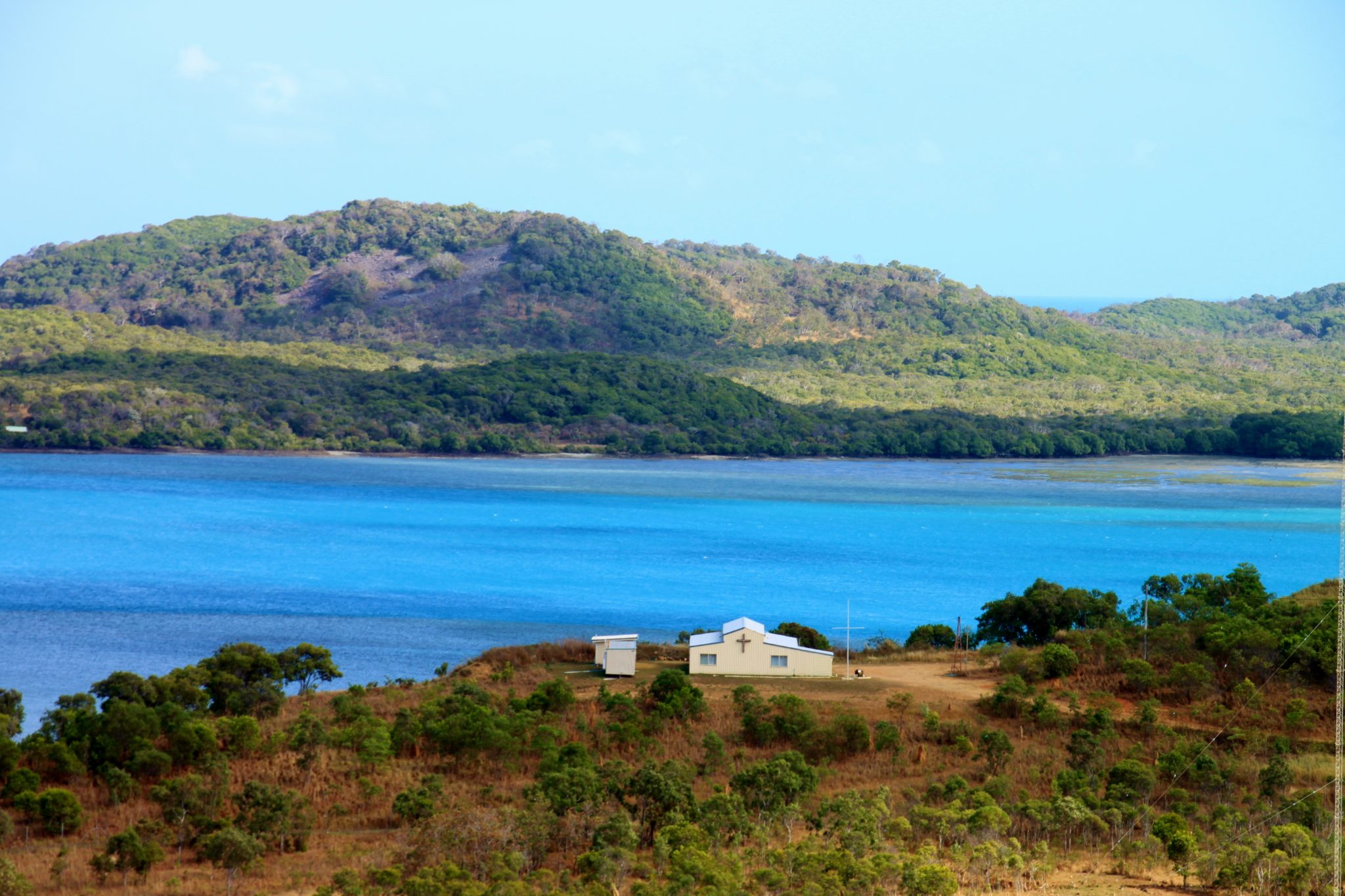 Later in the morning we boarded a boat and were taken to Horn Island – this island had a large involvement in WWII as it was heavily bombed and our tour included visiting significant sites in relation to the War.  A good tour.  On our way back to camp, our boat stopped briefly next to a cairn on Possession Island – a little history lesson here – Captain Cook in 1770 landed on this island and declared the Australian coast British Territory.
Day 14 – Our time up the top had come to an end and we needed to head back down.  But again, Grant had another plan!  He'd been talking about burying "treasure" up the tip – something his workmates knew was on the cards…something for them to one day come and retrieve.  Well it's been done….he found "the spot"….dug a hole….and buried the treasure!    You guys will now just have to wait for the map!!!
After two hours of organising the treasure hunt, we finally got moving.  Those bone shaking corrugations were still horrendous as we left Bamaga and headed back towards the Jardine River ferry.  One point here – don't ever arrive at the ferry around midday as the ferry operator is on a lunch break and pretty well comes back when he's ready (over an hour)!  Once across, we continued on the bypass road until dusk and decided to free camp.  Locating a Main Roads department dam, we pulled in next to it and just set up camp.  Thankfully the dust was staying out of the camper, but it covered absolutely everything on the outside!
Day 15 – Continuing our journey south, we are overtaken pretty early by some maniac Victorians.  We'd seen them at the Tip and had taken some photos for them, however their driving was very ordinary.  Overtaking when there was mountains of dust, who knows how they could see what was coming ahead!  Making our way into Laura, we dropped in at the Cultural Centre for some history lessons of the area (both indigenous and pastoral history), we ended up camping the night at the back of the Quinkan Hotel.  (Quinkan is the name for the local indigenous art for the area).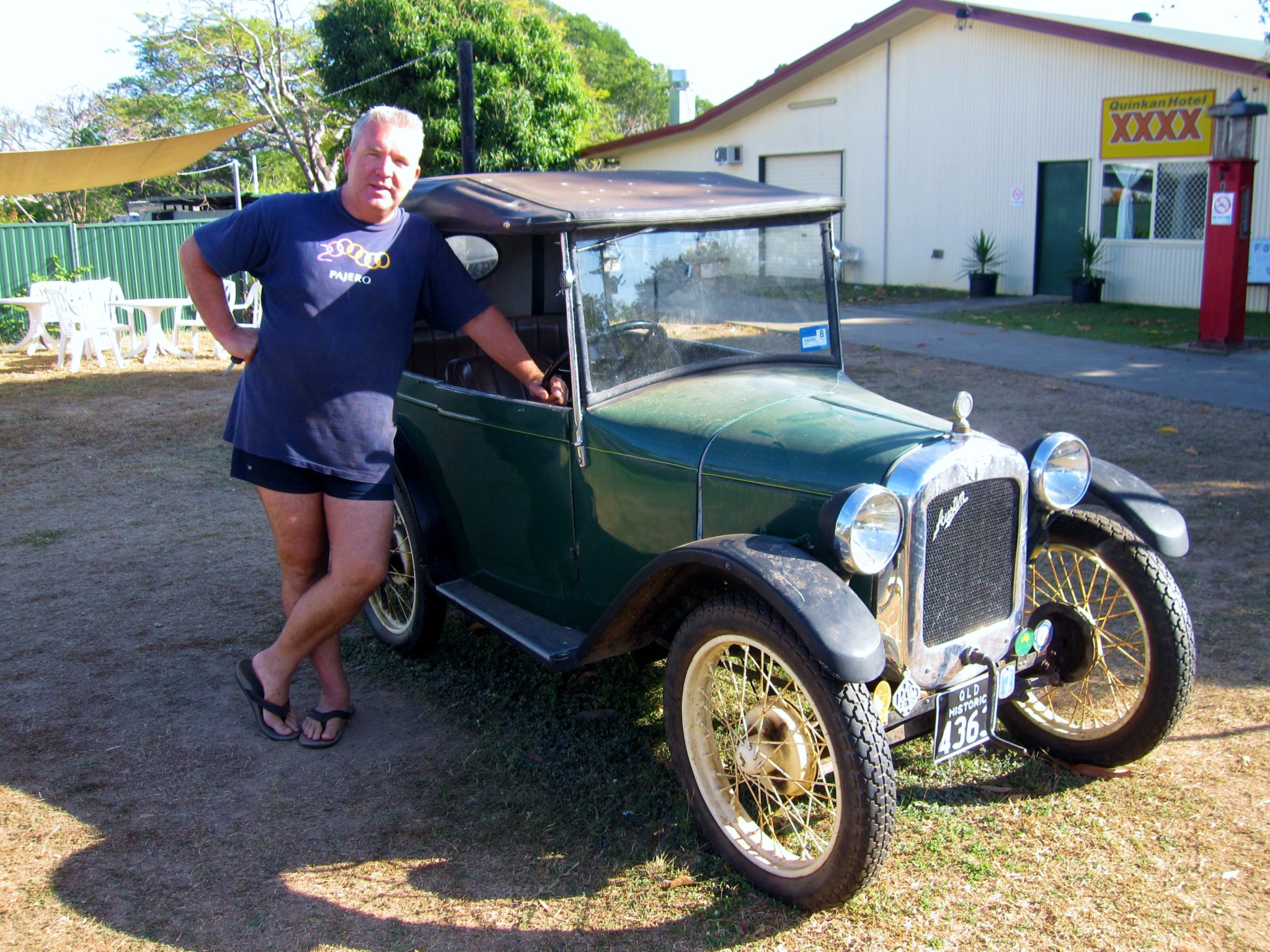 Day 16 – Only two more nights to go in the camper!  I can't really complain as it's been great to set up and pack up, however Grant has a few issues with its design as some of its features haven't always been practical!  We decided not to head back directly to Cairns so we called in to Mareeba for a quick look around and a visit to an amazing place, Coffee Works.  Mareeba has four coffee plantations and this was an outlet where not only can you do tastings of coffee and homemade chocolates, they also have an amazing coffee museum, Coffee World.  Well we paid our entry fee and there were 21 different coffees to try.  There was also around 16 different chocolates to taste….as much as you could eat!!!   This place was oh so worth it (well we thought that at the time!!!).  We spent around 3 hours here drinking coffee and stuffing our faces with chocolate, wandering through the coffee museum and by the time we left, we both felt very sick!  Both being  "wired" that night and having a restless night sleep, it would be fair to say that Grant overdosed on the coffee (having full shots rather than just a tasting) and I ate way too much chocolate!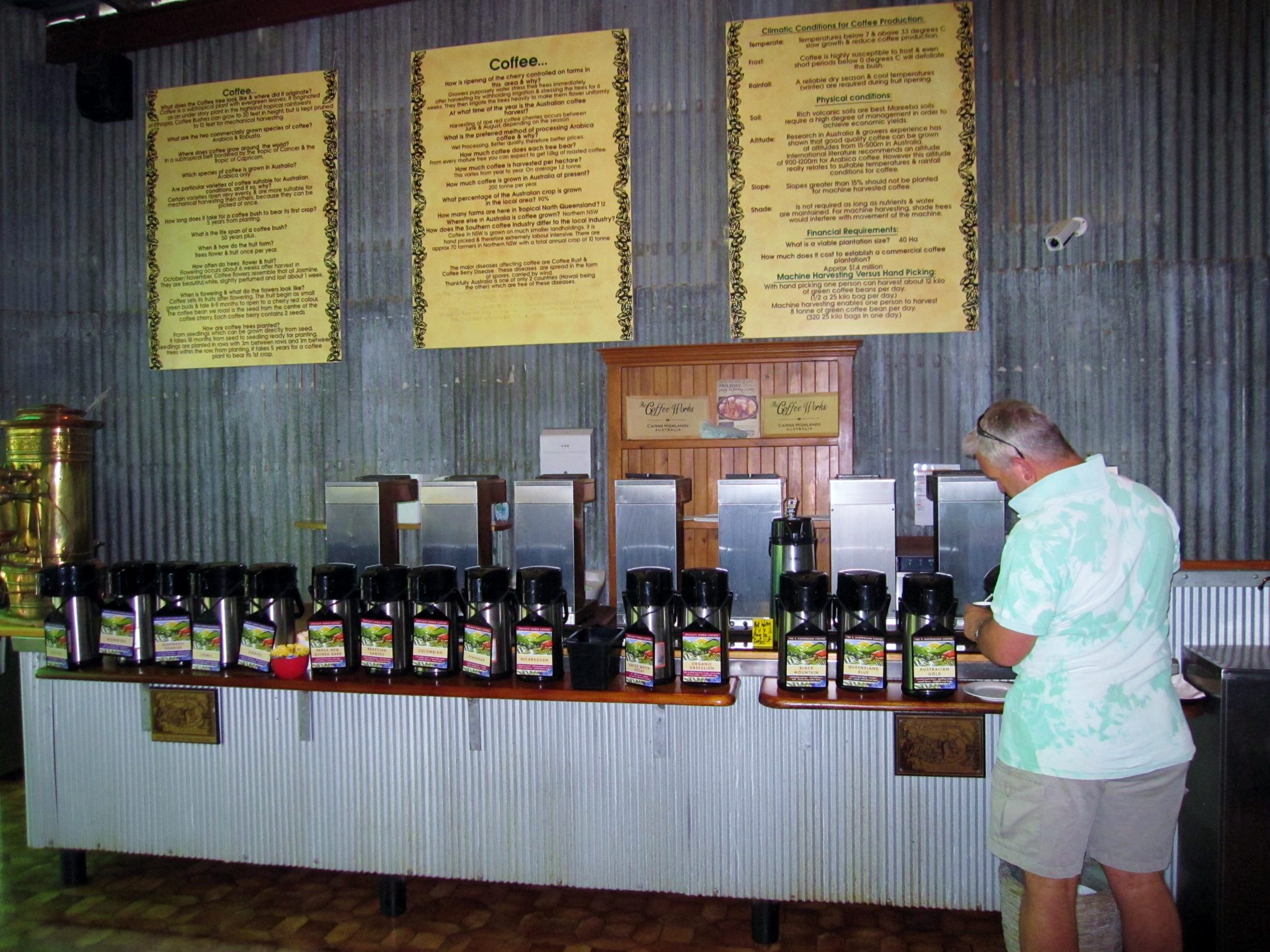 Day 17 – A drive through the Atherton Tablelands was on the agenda for today.  Both of us not being able to face coffee today!, we visited Gallo Dairy for some cheese and chocolate tasting.  We continued to cruise around the tablelands by visiting the Curtain Fig Tree, Millaa Millaa Falls (very pretty), Malanda Falls, and stopping for lunch at a huge Queenslander style hotel in Malanda which was steeped in historical photos from the early 1900s.  Our last stop for the day was Mungalli Creek Dairy for some yoghurt and feta before heading back to camp.  Talk about a cold night – it went down to 7º!
Day 18 -Well our Cape York Adventure has come to an end – our next stop is back to the van in Cairns and then to decide where to next.  The trip to the Tip has gone pretty well with no major dramas.
Highlights of the trip for me – top of the list would be the amazing sunset at the Tip, the visit to Thursday Island and Horn Island was really interesting, and the expression on Grant's face upon finally reaching the Tip was priceless.  I'm really grateful that we made it back safely and who knows, the next time we come back, the whole trip might be on bitumen!
Stay safe,
Grant & Linda.
Kms Travelled Total  26,985