Only a stone's throw from the laid back Kimberley town of Broome is where you'll find the breathtakingly beautiful Dampier Peninsula. There is little doubt why this region continues to be a popular destination with visitors when its oozes so much natural beauty. It's here where stunning turquoise-coloured water meets the whitest of sands and deep rich red cliffs. And in fact, you could easily think they've chosen the Australia flag colours after this region. But the Dampier Peninsula is also renowned for something else, as this area has some of the largest tides in Australia and provides numerous opportunities to experience them firsthand. 
For the traveller, there's loads to choose from when it comes to finding a spot to soak it all in. But make your way 220 kilometres from Broome towards the top of the peninsula, and you'll reach the Cygnet Bay Pearl Farm. Besides being a working pearl farm, there's a variety of accommodation and tour options to entice visitors, as well as the onsite restaurant offering a range of Asian inspired dishes including their unique pearl meat offering. 
The Brown family are truly pearling pioneers within the region who have opened their doors to share their own story. But they also educate visitors about the history of pearling, and how a modern-day Australian pearl farm operates in these massive tidal waters. Naturally, Cygnet Bay had all the ingredients for us wanting to visit, so we set up our camper in one of their secluded campsites (with power and water mind you), and a quaint, but fully functional amenities block with hot and cold water.
The charm begins when you turn into the property and along the driveway which runs for a few kilometres. It's here you pass a range of nautical pieces, boats, machinery and general marine type artefacts. Once arriving at the carpark, it's easy enough to follow the signs and walk along Cygnet Bay's "main street", where you'll find lovely green lawns, large trees and flowering bushes which provide plenty of shade on a warm Kimberley day.
Lara and the ladies from Reception made us feel extremely welcome and provided us with loads of information about the property – details about the campground and our site, tours on offer, walks, their sensational infinity pool, and fishing info. So there's plenty to keep visitors occupied during a Cygnet Bay stay.
As Cygnet Bay is a fully operational working pearl farm, you can learn how it all works by simply jumping on a tour as we did. The tour takes you around the land base part of pearling and covers the history up to the present day. And learning how the pearl technicians work to ensure the oyster produces top quality pearls was very interesting. But the tour was taken to another level when a shell was opened revealing a magnificent pearl inside. Not only was that exciting, but fascinating to learn how the whole process works from start to finish.
All around the peninsula the Kimberley tides are massive, and while you can experience these from the shore as the tide rolls in and out, there's little doubt the best way to experience them is directly on the water. One of the many tours offered at Cygnet Bay is one which gets visitors up close to the giant tide movements. It's not every day where you see a rocky shelf reef rise out of the ocean! In fact, what's really happening is the water drops around it as it rushes out to sea, and you're left with incredible waterfalls and boat throwing whirlpools along the way. It's a bizarre yet fascinating experience and something you really need to experience for yourself.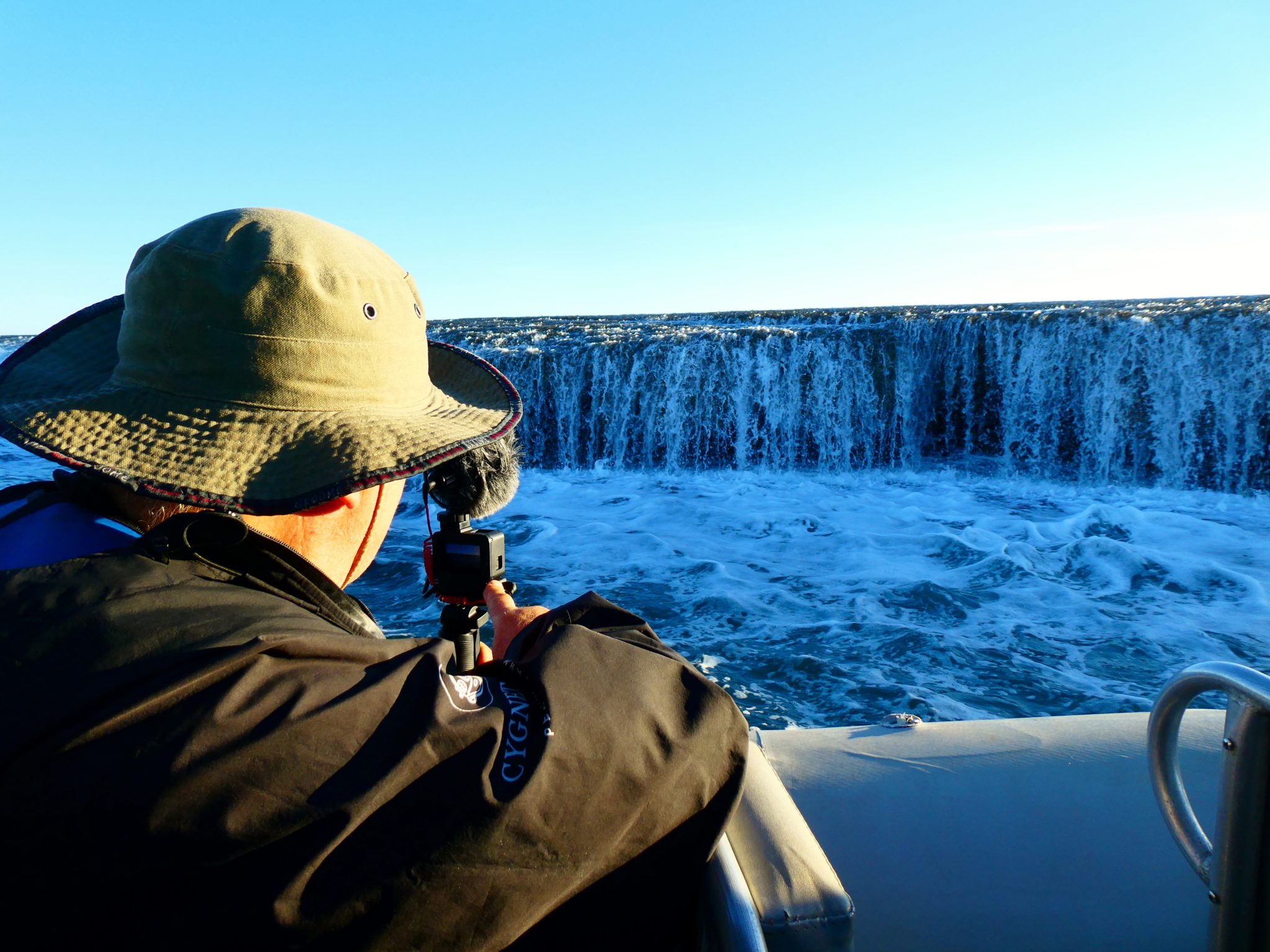 The entire Dampier Peninsula is also culturally significant, and there's a few cultural tours to explain its history from an indigenous perspective. At Cygnet Bay, we joined a tour with local Terry Hunter, but we'll cover his tour separately. Another benefit of staying at Cygnet bay is its excellent location. Whether you're looking to explore further up the peninsula at One Arm Point or back south to Kooljamin, Lombadina and Beagle Bay, Cygnet Bay makes a great base.
To keep the hunger pangs at bay, the restaurant holds nightly happy hours up on the deck next to the stunning infinity pool, and meals are available either inside or outside on the verandah. There were many good menu choices which made our decisions difficult. So to satisfy our tastebuds, we opted for a bit of everything by visiting a few times and ordering anything from the beef burger through to the share style Asian inspired seafood dishes that suited us to a tee.
The guys at Cygnet Bay also have accommodation options covered whether you're travelling in a caravan or camper, or perhaps looking to set up your own tent. But they also have a range of onsite options as well, including seaside shelter quarters through to tent options and the more luxurious Safari style tents. So they really cater for everyone.
We only wished our schedule could have allowed a longer stay as Cygnet Bay is an excellent place to relax, learn all about the pearl farm and just kick back and soak in this piece of paradise. We have no doubt that one day we'll be back and pick up exactly where we left off.
For more info, head to Cygnet Bay Pearl Farm
Catch you next time!
Grant & Linda