After arriving back in Kununurra, it took us a while to get back into the swing of things with heaps to clean. That red dirt gets into absolutely everything. Having also been used to our own company over the past month or so was a total contrast to being back amongst so many other travellers in the caravan park – it was now full.
Spending a few days back in Kununurra, we did a variety of things – took a day trip up to Wyndham – the view from the amazing Five Rivers Lookout is again one of those views that photos just don't do justice.   The Wyndham port is undergoing a facelift with a new jetty so it was a hive of activity the day we were there.  On our way back we called in to the Grotto (another famous landmark out of Wyndham), snapped some more pictures of boabs and returned back to Kununurra.  Sightseeing in Kununurra also included a drive to Kelly's Knob (a lookout) to see the sunset, visited some Aboriginal art out of town, and had a look at Molly Springs, also just out of town.
A visit to Packsaddle Road saw us buy some cheap local bananas, and also to have a look at some great metal artwork by local Joe Grace.  A shop in town was also closing, so in for some cheap CDs and Grant buys a harmonica???. What the?
Visiting Kimberley Fine Diamonds, I arranged to have a necklace made incorporating all things Kimberley – a boab, an Argyle diamond, and Zebra Rock (local striped stone).  While we were there, the jeweller showed us a necklace he'd made which Baz Lurhmann's wife wore to the New York movie premiere of "Australia".  When returning to pick up my necklace, I sheepishly asked whether I could try it on and take a quick snap, and to my amazement I was allowed to (check out the pic).  It was stunning…and so it should be at nearly $200k. The pink diamond (triangular in shape) alone cost $80k. How nice it would have been to have left with it on….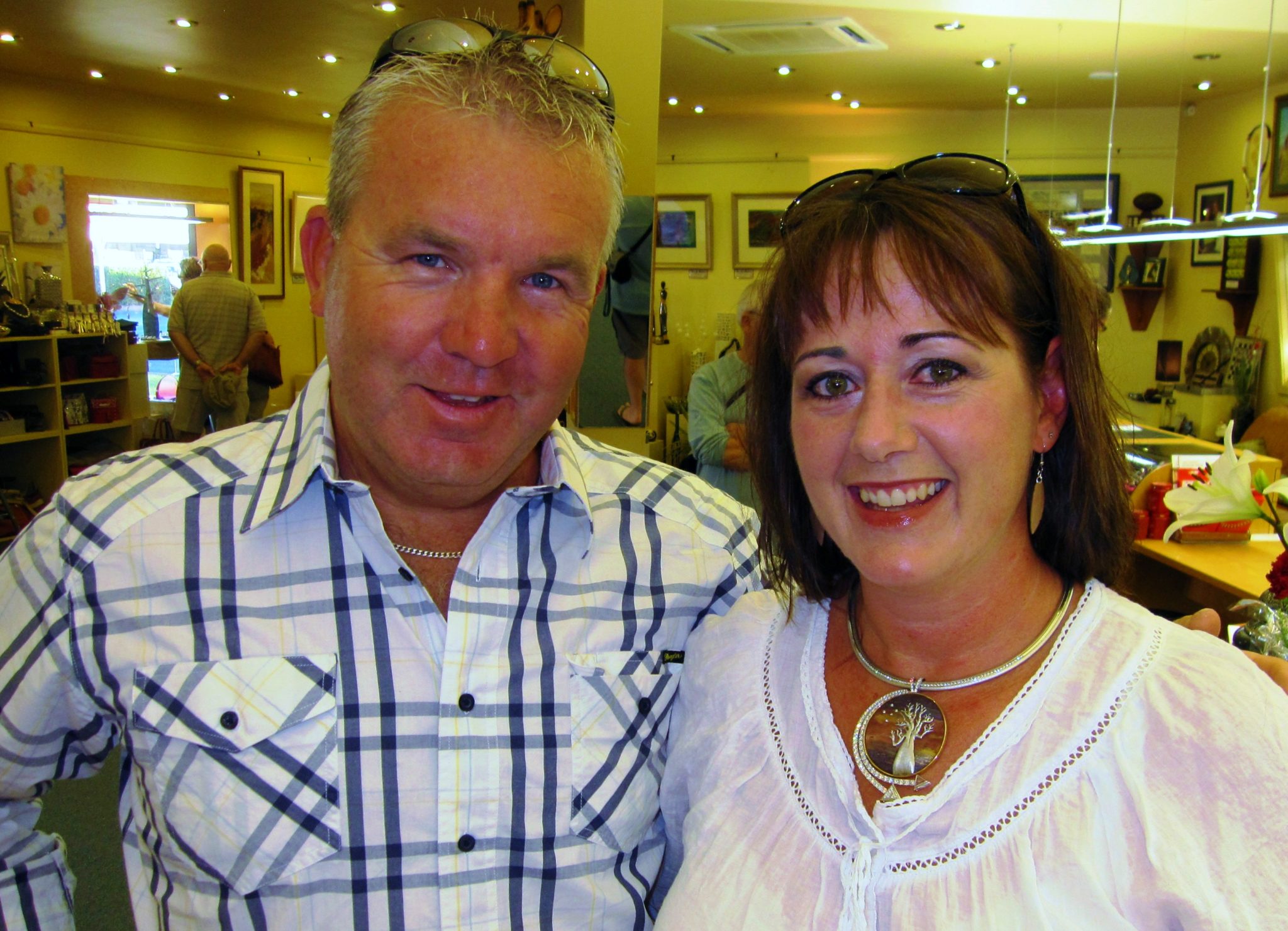 Our last few days included heading to the Kununurra Show which was a lot of fun as it was a typical country show.  I think I surprised Grant, as earlier in the week I said that I wanted to enter into a couple of competitions.  Madly practicing my cooking (especially not having really used the van's oven all that much), Grant was able to sample lots of scones and raspberry and white chocolate muffins for the few days prior.  Come show day, we were up before 6am cooking and then took our exhibits over to the showgrounds to be judged.  Well as luck would have it, the muffins scored 1st prize and the scones 2nd prize.  It was a lot of fun and as we could freeze the practice runs made earlier in the week, we now had morning teas sewn up for another couple of weeks!   Grant even got asked at the show to be a judge for a cook off between a local and and a tourist (Matt Preston, eat your heart out!)
Time to say goodbye to the Kimberley….I'd dragged our feet long enough, and as much as I knew it was time to move on, it was difficult after nearly 3 months.
Back on the road, we headed east and stopped for an overnighter at our previous free camp (Camp 194 in the Camps book).  It was definitely tourist season as the place was choccas.  Leaving early the next morning we arrived in Katherine; shopped, refueled, Grant bought a didgeridoo (God help me!) and we headed south to Mataranka.
Staying overnight, we first visited Bitter Springs in the morning.  Talk about a tropical oasis.  Swimming in thermal pools among a beautiful natural bush setting, the water was crystal clear, lovely and warm (around 34º), and only a couple of other people swimming.  What a gem of a place this was.  We then took a short drive to the Mataranka thermal springs that most people know of. Here the setting was more of a man made swimming pool and was pretty well packed with people.  We only stayed a short while before heading back to the car and making our way down to Daly Waters.
Arriving at the park next to the historic pub, we checked in and got ourselves set up.  Later in the afternoon we went to check out the pub, renowned for being the oldest in the NT.  Once inside, you're amongst a heap of memorabilia pinned to the ceiling and walls – you definitely need a sense of humour here!  Booking in for dinner that night for their famous "beef and barra", we enjoyed the local entertainment followed by a fantastic meal.
Leaving Daly Waters we headed east to Borroloola in the Gulf.  Thinking we may put the boat in here, that idea was shortlived.  With the unusually cold weather we were experiencing, fish weren't biting, so it ended up being an overnight stop only.  On the road and heading south, we drove towards the Barkly Highway Roadhouse stopping overnight before then at a free camp next to a huge windmill (which creaked and groaned all night).  The road was a single lane bitumen road and wasn't busy when we went through, but it had probably some of the best diverse landscape we'd come across in the NT, along with a magical sunset. It was one of those days where I stayed awake as Grant drove so as not to miss out on the scenery.
We're loving being back in bush settings once again, and our next stops will be Lawn Hill Gorge, Karumba, and Undara Lava Tubes.
Stay safe,
Grant & Linda.
Kms Travelled Total  21,619