Time to continue our trip on the Darling River Run with our first stop being Menindee.  The road was dirt all the way through except for 7kms in the middle, and after driving the 130kms on a bundle of corrugations with the van on the back, we were more than happy to see the black top given we were often reduced to speeds as low as 30kms per hour.  To find a suitable camp, we consulted our trusty "Camps 5" book and decided to head out 12kms from Menindee on dirt to the Burke and Wills campsite at the weir, as it was one of the places you could camp for free.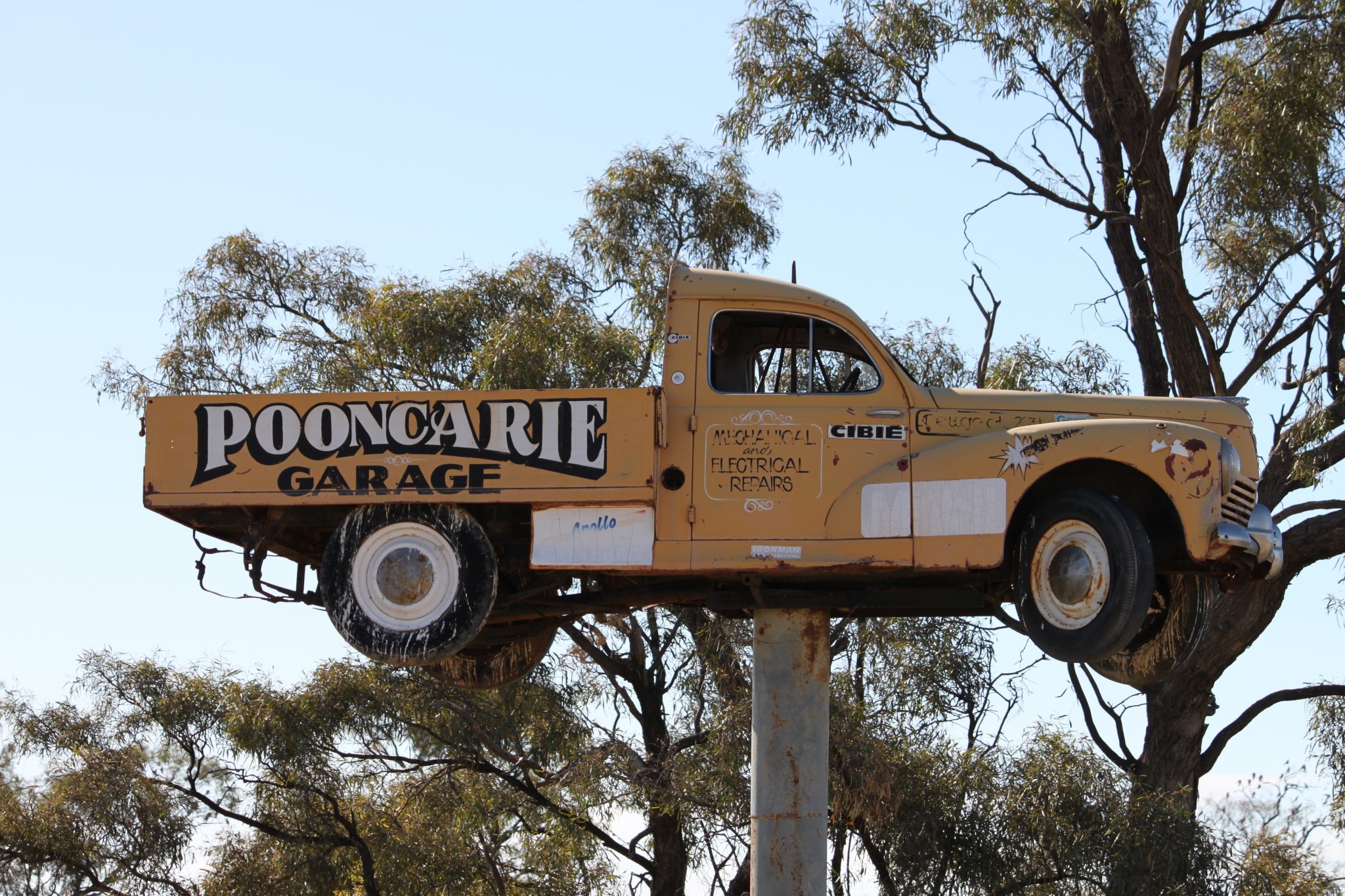 After finding a suitable spot (it was busy), we set up camp, but felt we had been spoilt for choice at Pooncarie in comparison, as the B&W site was a real dust bowl…it was hot, overcast, full of flies, and had many more campers!  To top things off, at around 11.30pm it began to rain, and I panicked that we were going to be rained in (the last thing we wanted to be was stuck there)!  Thankfully the rain didn't last long and we packed up first thing and decided to move on as the skies were still looking ominous and we didn't want to take the chance.
That day we didn't travel far as we still wanted to put the boat in around the Menindee Lakes. The lake system is made up of several lakes, and when full, holds 2.3 times more water than Sydney Harbour.  We found a park about 8kms north of Menindee at Copi Hollow and booked in for a few nights.  The park is owned and run by the Broken Hill Speedboat Association – our campsite had lake frontage, lush green grass and was a much better pick than our previous night!
We've recognised that it's most important to follow a routine whilst away not dissimilar to the routine we have at home. To support this, we have a saying…."Life's too short to drink crap wine, coffee, chocolate, and cheese"!  Below is an example of "Cafe Kangy" in full swing, with Grant making THE BEST coffees, and on this occasion, Adelaide's Kyton Bakery freshly supplying our lamingtons…well not really, they're fresh out of our freezer 🙂
All along the Darling River Run, many stations have opened up their properties to tourism, and offer a variety of farm stays to the public.  Leaving the van in Menindee, we headed back on the dirt with the boat and tent, and called in to Kinchega National Park.  The park incorporates a few of the lakes around Menindee, as well as an extremely large old woolshed which was used from the 1800's until the mid 1960's.
After a short stay at the woolshed, we continued south about 50kms to spend two nights camping at Bindara Station which was established in 1849. We were greeted with a fantastic old property which included a beautiful homestead, and we camped right next to the river.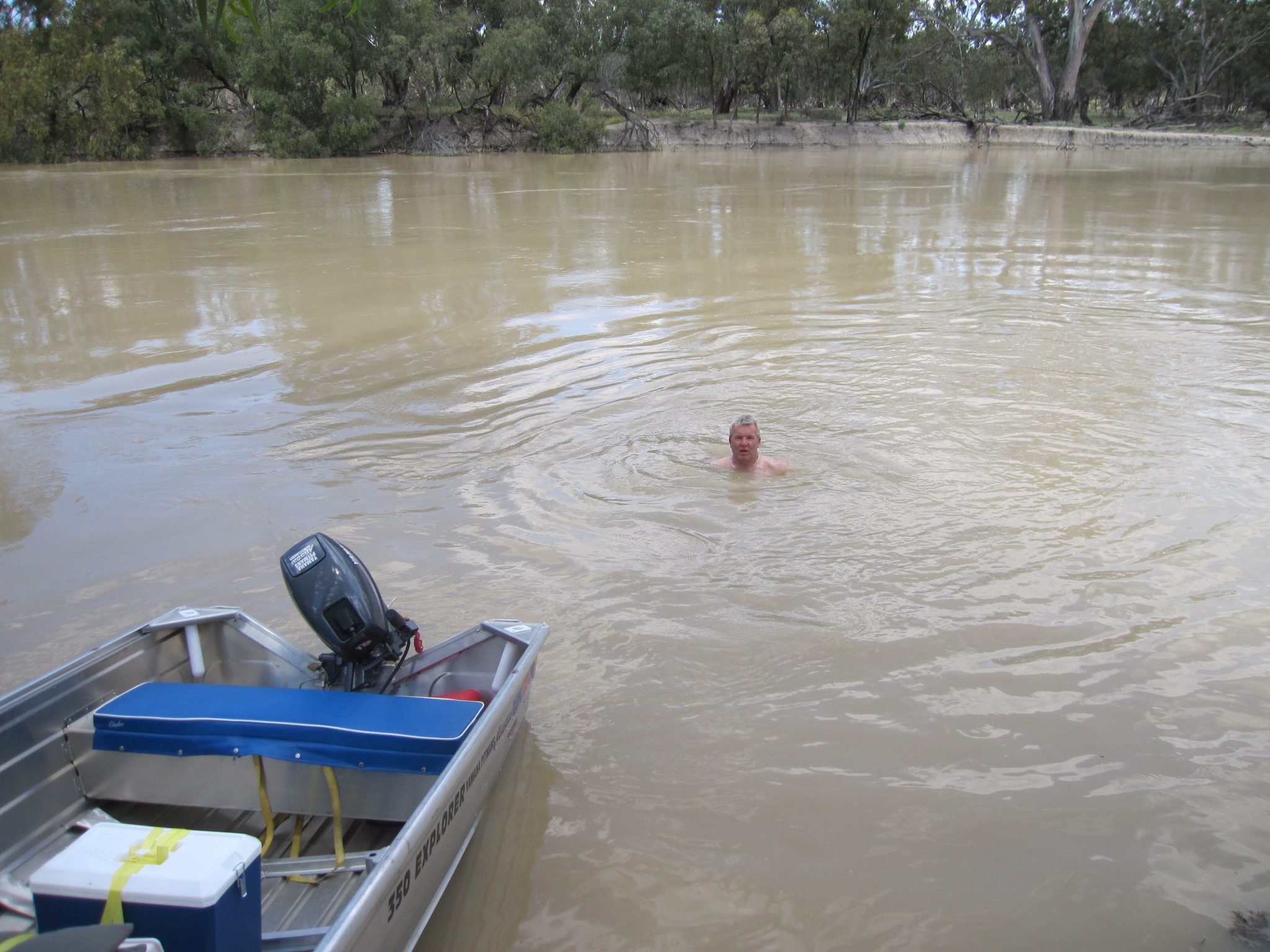 The weather was hot on both days (almost 40º), and the flies and mosquitoes were oh so friendly!  Once we got the boat in, the scenery didn't disappoint – it was a haven for bird lovers and we were lucky enough to have the river all to ourselves whilst there.  To keep cool, we ended up swimming in the river a couple of times…the water was cold, but worth it.
Upon our return to Copi Hollow, the clouds were black, and we were greeted with a great lightning show and some rain.  Grant was really happy a cool change had arrived!
Join us in our next post as we continue the Darling River Run.  Until then…..
Stay safe,
Grant & Linda
Kms Travelled Total 
1,399