Now that we have some more time and since the "star" attraction has now been revealed (at least the side profile), we have had many requests to share more info. So over the next few blogs we'll look into it a bit closer as to what makes up an Urban Escape Vehicle.
So, what are the Factory specs?
It's a 2013 Toyota Landcruiser VDJ79R GXL MY13. The colour is Graphite with Grey Trim, and it's a 4 door 5 seat Cab Chassis.
The vehicle is fitted with the 8cyl Diesel Turbo Intercooled 4.5litre (4461cc) with 4×4 Dual range, 5 speed Manual Transmission and has 3500kg Towing capacity.
So there you have it – from this platform we have a great starting point. The basic vehicle spec met our check sheet in all areas, and it's from this reliable trusted workhorse that has a very long outback heritage, we begin….
So where do we start, let's talk:
Up Front and Protection
The vehicle is fitted with a black steel bullbar which is super strong, off this is the side protection rails which are integrated into the side steps protecting the sills.
Back up front, the bullbar is fitted out with a TJM Wireless 12,000 pound electric winch with plasma rope, just in case we need to do a recovery or assist others. This winch in the future is going to be used with a custom made boat loader, but more on that later (Linda has different views on this one)!
There are dedicated recovery points integrated with the bullbar and chassis, and the underside has a TJM black steel bash plate to protect the alternator and lower pullies.
To light up the way looking for that special camp in the dark are a pair of Light Force HID lights that can have various covers fitted depending on the conditions.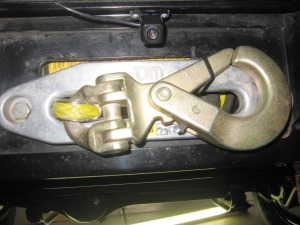 Also fitted to the bullbar is the UHF Aerial, a Go Pro Camera quick connect bracket, and lastly a small front view camera has been installed to assist in finding that perfect line when doing difficult 4×4 rock crawling.  More on that later.
So there you have it, nothing too out of the ordinary and what you would expect most 4x4s to have when leaving the blacktop looking for those remote far out of reach places.
Next blog we'll talk suspension. Till then, stay safe and live it to the max!