When asked to write an article about ourselves and our set up, it's not until you really start to think about what to say, you realise how hard it is to write about yourself. In a nutshell, we're adventurers of sorts, so kicking back and sipping cocktails around the pool is far from what we consider a holiday. Grant has always been a camper in some shape or form, and I started hitting the 4×4 tracks in my late teens. Together, we've owned a range of 4x4s, campers and caravans over the years, and visited some sensational destinations both in Australia and overseas. So that's enough about us, let's talk about the good stuff – our set up.
With both of us loving remote travel to follow intrepid early explorers, we had a vision two years ago to build up a dedicated touring vehicle which would allow us to truly escape everyday life – you know, the go anywhere, do anything type. That's when we decided the Toyota 79 series was going to be the one. After six months of frustrated searching, we thought we'd struck gold when the vehicle we ended up purchasing came onto the market.
THE VEHICLE
Our 4×4 had already undergone some simple upgrades such as suspension, bullbar and driving lights prior to purchase, but what made it completely stand out was its unique canopy. This wasn't any regular 79, as the vehicle was a concept prototype dubbed the "Urban Escape Vehicle", built by Aussie camper manufacturer, Conqueror Australia. Their design included building the canopy to fit the lines and width of the Landcruiser – all while incorporating many of the features from their go anywhere campers.
We knew the vehicle still needed work to meet our long term travelling needs, but boy, what a great base we had to work with. We did a recce to the Kimberley's Munja Track and another to WA's Gibson Desert, where we got to know the vehicle and found what worked for us, and what didn't. We came home knowing it wasn't going to be a simple canopy rebuild, but more of a holistic approach to the entire vehicle – it had to be systematic, and of course, budget driven.
THE MODIFICATIONS
ENGINE & SUSPENSION
We found the Toyota power plant needed a slight tweek, so we opted for the Steinbauer performance module to give us that low down torque. We modified the dual three inch exhaust to accommodate the additional fuel tank we fitted and to work around the existing water tank. We also added an additional fuel filter prior to the OE filter set up. The existing three inch lift is courtesy of Tough Dog suspension with adjustable shocks and an upgraded spring pack. We've also added some airbags for when we're fully loaded, but adjust these as necessary.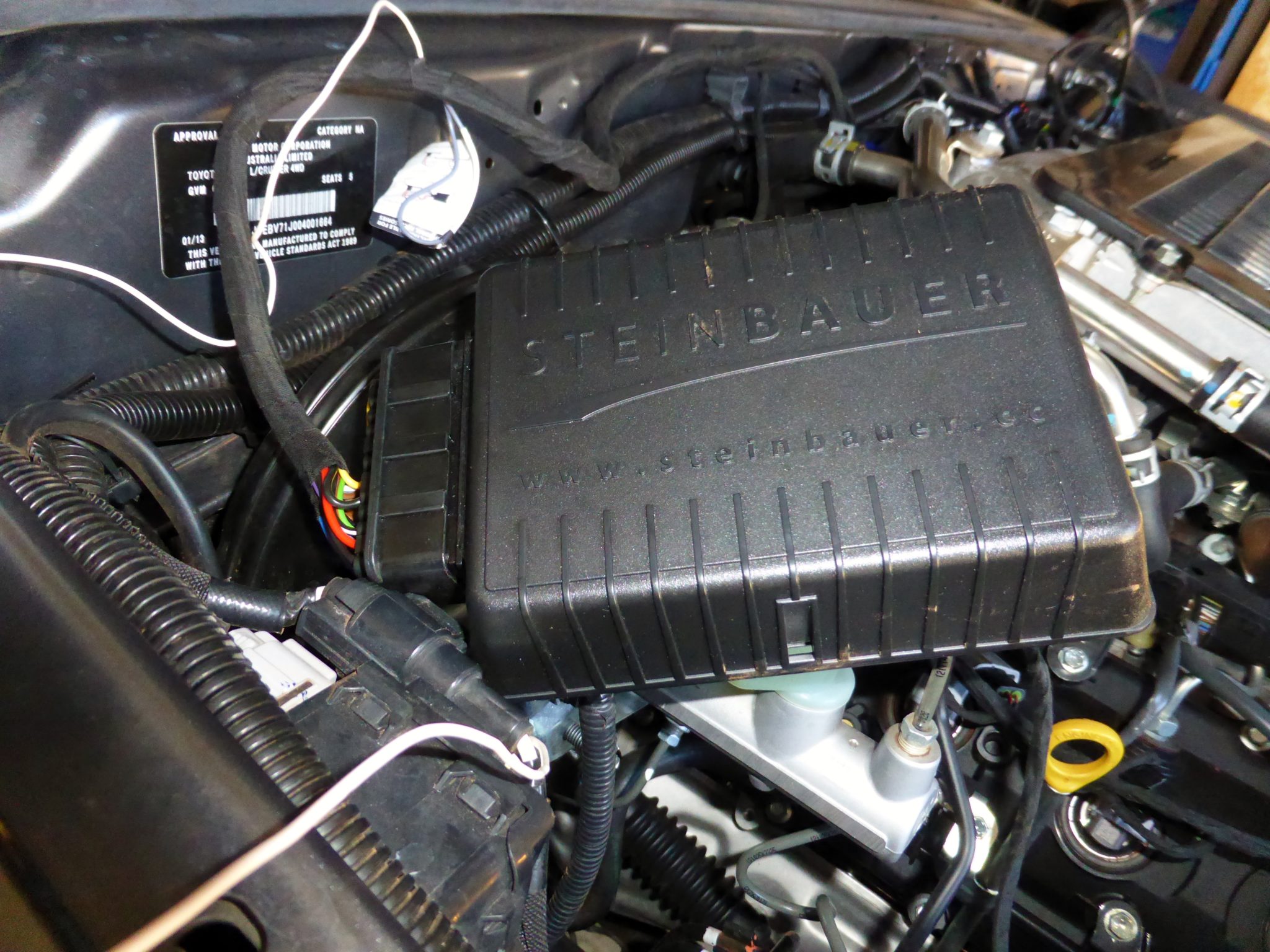 New 35" Cooper STT Pros tyres and 16" Dynamic rims were fitted which we've also used on our camper to make everything interchangeable, and we throw an additional spare tyre and tube up onto the vehicle's roof rack. Vehicle and camper tyre management has been taken care of using internal tyre sensors which provide real time figures.
CABIN
This is still very much work in progress. Communications are handled through a rooftop console mounted UHF radio, Spot and a satellite phone. Navigation is covered via an HN7 and Hema app, along with mapping software in the DIN mounted Parrot (an android based touch screen unit), which is also handy for displaying engine diagnostics, and an onboard Toughbook looks after data backups. Pillar pod gauges have also been added for displaying the charging performance of 12v electric circuits, EGT, boost and oil pressure.
A Waeco console fridge keeps our drink and snack supplies cold, while another fridge is kept in the cabin's rear seat floor area. A Redarc 1000w inverter has been installed close by for charging, along with a number of 240v and 12v outlets. Seats are on the list for future upgrades, but for now they're covered with waterproof and stain resistant covers, and the entire cabin is decked out with sound deadening floor covers. A dual twin ARB compressor is mounted under the driver's seat which feeds a compressor tank mounted under the canopy, and we've added multiple outlets around the vehicle for super quick compressed air access.
ELECTRICAL
We've left no stone unturned here by working with Redarc to design a suitable power solution. Their BCDC controls an Optima auxiliary battery which drives the 12,000lb winch, doubles as a spare cranking starter battery, and supplies power to a 12v charging circuit inside the cabin. Two Revolution 100A/h Lithium batteries have been fitted in the canopy to supply 12v power to the canopy, but also back into the cabin via a separate circuit which is managed by a Redarc BMS30. Solar is covered via two Redarc solar blankets (150w and 190w) that quickly connect to the vehicle's solar Anderson plug sockets.
Inside the canopy is a fully fused control panel with circuit breaker protection for a multi 12v outlet and master switches. Internal lighting are LED units and external lighting includes Lightforce HIDs on the bullbar, a Lightforce 20" 200W LED bar on the roof rack, and two Lightforce 10W ROK 10 LED units at the rear.
CANOPY
The external shape and design have remained the same, but the internals have undergone a complete redesign. We were looking for a solution that would allow us to mix and match the use of the canopy, ie anywhere from an empty shell, to maximising the space with a functional kitchen and tool/spare part storage solution. The original design had far too much weight located at the vehicle's rear (74 litre fridge, fridge slide, 2xAGM batteries), so naturally we worked to move the heavy stuff forward. The inside has also been completely insulated and fitted with marine grade carpet, while the outside has been finished using a Raptor coating which is strong and durable – it fits the image we're after and can be easily touched up.
We provided some specs to Drifta to custom build our modular storage solution – the passenger side incorporates an upright Waeco CR65 fridge up front, and a pantry style approach for food and utensil storage. We chose an upright fridge over the more traditional chest type with drop slide to reduce both weight and space. An integrated slide out table has been incorporated which is used as a prep area, but also transforms into a dinner table if needed.
On the driver's side, the 12v charging station, tools, spare parts and miscellaneous gear is kept in drawers and on shelves – again, any heavy gear has been moved up front. Another integrated slide out table has been fitted and operates the same as the passenger side one. On the vehicle's rear are two gas bottles which we can interchange with small water containers when needed. There's another storage area inside the rear door where other spare parts and food can be stored under a false floor.
There's two aluminium roof racks up top to throw the Maxtrax, jerry cans, space boxes, jack, roof top tent or Foxwing awning, depending on the trip. Underneath, we added a Long Range 95 litre auxilliary fuel tank taking the total to 225 litres, and the custom 65 litre water tank works a treat.
CAMPER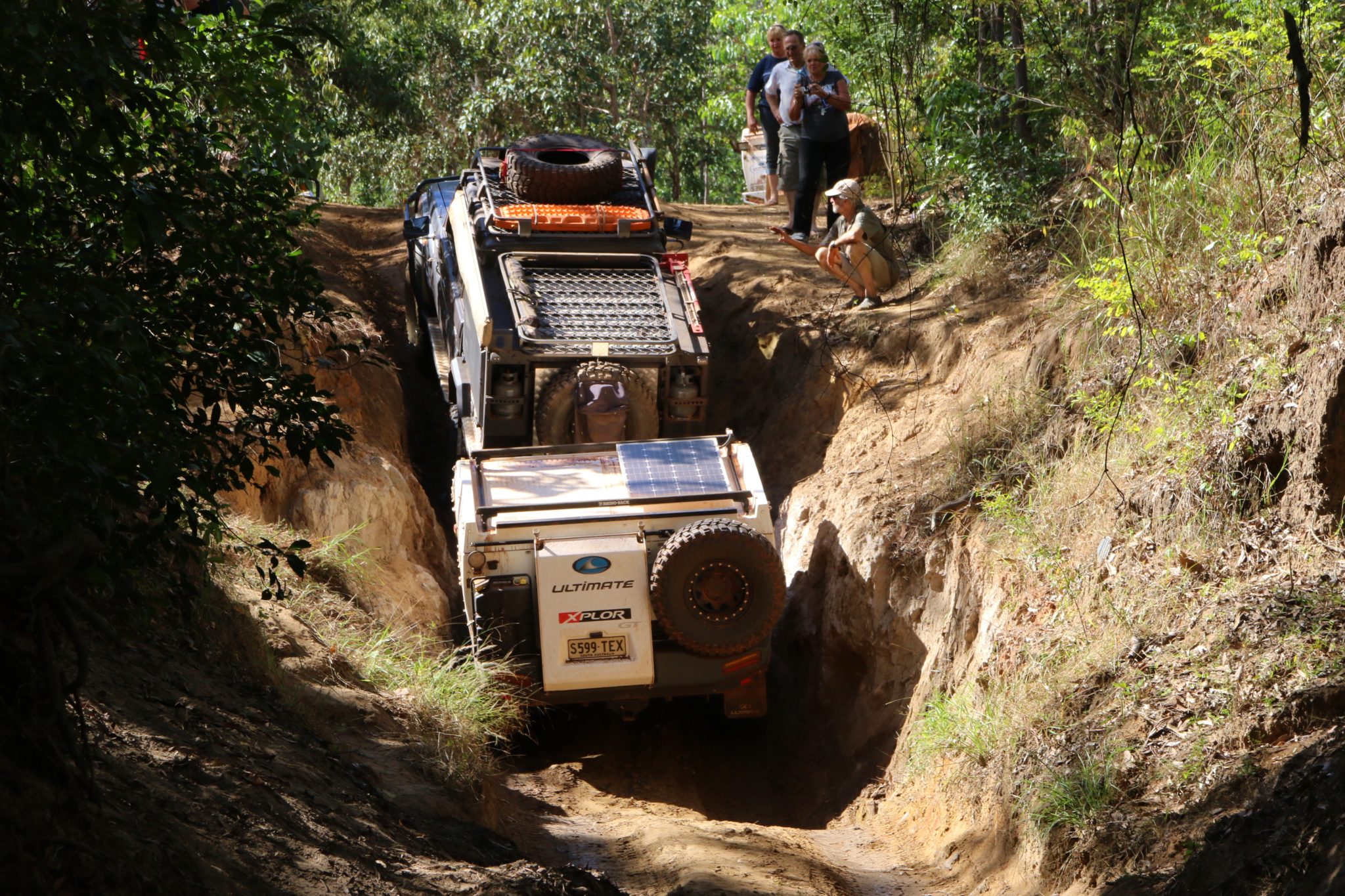 We switched over to an Ultimate Camper earlier this year as it's well matched to our style of travel. The fact we've got its 35" wheels directly interchangeable with the vehicle is also a massive bonus, and you hardly know it's on the back when travelling. The camper is completely self-sufficient having its own solar set up and two 100A/h Revolution Lithium batteries which are managed by a Redarc BMS. Add the camper's short drawbar into the equation, and it makes cornering one of the best in class.
Our complete set up is still a work in progress with the future mods list ever increasing! Inside we're looking at Recaro seats, an upgraded sound system, and another overhead console, while outside we're currently investigating strengthening the drive train and improving the gearing and braking system. We're loving the changes we've made so far, and with a trip planned in 2017 back to WA's western deserts, our set up's flexibility means we can now pretty well escape to anywhere in comfort.
Catch you next time!
Grant & Linda