When heading out onto the iconic Gibb River Road from the east Kimberley end, Emma Gorge Resort is your first stop destination, and only 50 kilometres from Kununurra. But before reaching this gem, stop at the Gibb River Road turnoff to take a photo by the iconic Gibb sign, and take a moment to look around because those stunning Cockburn Ranges will completely blow you away.
Emma Gorge Resort is part of the El Questro Wilderness Park and it's a bitumen run all the way to the resort turnoff. So it's suitable for non-standard four wheel drives. The two kilometre drive in from the turnoff is on a good graded gravel road with two small creek crossings with rocky hard bottoms that could have water in them when you visit.
Having visited the gorge on numerous occasions in the past to walk it and have coffee and cake at the resort, we thought it was time to stay on site and check out their facilities, as many of our followers need accommodation stays.
Our accommodation for two nights was one of their safari-style tented cabins which are perfect for a couple or four people. Cabins consist of a queen bed with two single beds in an open plan room, and each has a moderately sized bathroom complete with a glorious rain style shower, toilet and basin.
Cabins are fitted out with all your linen requirements, and a complimentary tea and coffee station is provided. There's limited 240v power, but enough to recharge camera and phone batteries, supply lighting, and run a pedestal fan. The cabins are raised off the ground for ventilation on a wooden floor and have 1.5m high walls, while the remaining structure above this is a combination of canvas shade screens and a shade cloth tropical roof. We'd describe them as a tent with the lot, and it's a form of glamping in a remote, yet rugged and beautiful environment. The soft lighting outside each cabin adds to the charm and tranquillity of the place at night, and we loved the nearby boabs were also lit up to further enhance the mystical landscape.
It's easy to see why Emma Gorge Resort is a popular destination for tour bus operators, and we saw several come and go during our short stay. When it comes to meals and refreshments, the restaurant and bar area caters for all your needs having a fully stocked bar with lots of cold beverages and barista style coffees with cakes. Each night we dined at the restaurant on its raised wooden deck. It's an open roof pergola style structure in a relaxed setting on a warm balmy night. Soft mood lighting and candles on small to large tables are provided, or you can opt to sit out under large market umbrellas on the lower entrance amongst the grass tree lined area.
The menu is a la carte style with entrees, main course and desserts, and there's also casual meals such as burgers and salads available to cater for a variety of tastes. Generally, we found the tour bus operators were catered for at the opposite end with their own separate dining areas. If you're simply looking for a drink or coffees, then their low soft lounge chairs with coffee tables could be the go. We found dining to be inviting and relaxing and enjoyed our Emma Gorge Resort experience.
Our Tip: Stay in the onsite accommodation to get an early start for the gorge walk. Not only will it be cooler first thing in the morning, but you can beat the crowds and have this unique place almost to yourself.
We took full advantage of being onsite and took to the gorge hike at first light. Having never previously hiked here so early, we were rewarded with large amounts of birdlife and very few other visitors as we walked into the gorge. As the morning sun rose, the escarpment walls turned a rich red colour, while a gentle breeze moved down through the gorge to cool everything in its path.
The walk is graded a class 4 and will take approximately an hour to reach the gorge end. The track progressively gets harder, so simply take things slowly. Towards the end of the walk, you'll need to climb over some large rocks in places, but when you see that beautiful waterfall at the end with its crystal clear pool at its base, you'll know it's well worth the effort. The falls were still flowing during our visit, and the towering 65 metre red gorge walls either side of us were simply breathtaking.  What a magnificent place to experience, and we had this all to ourselves for a while!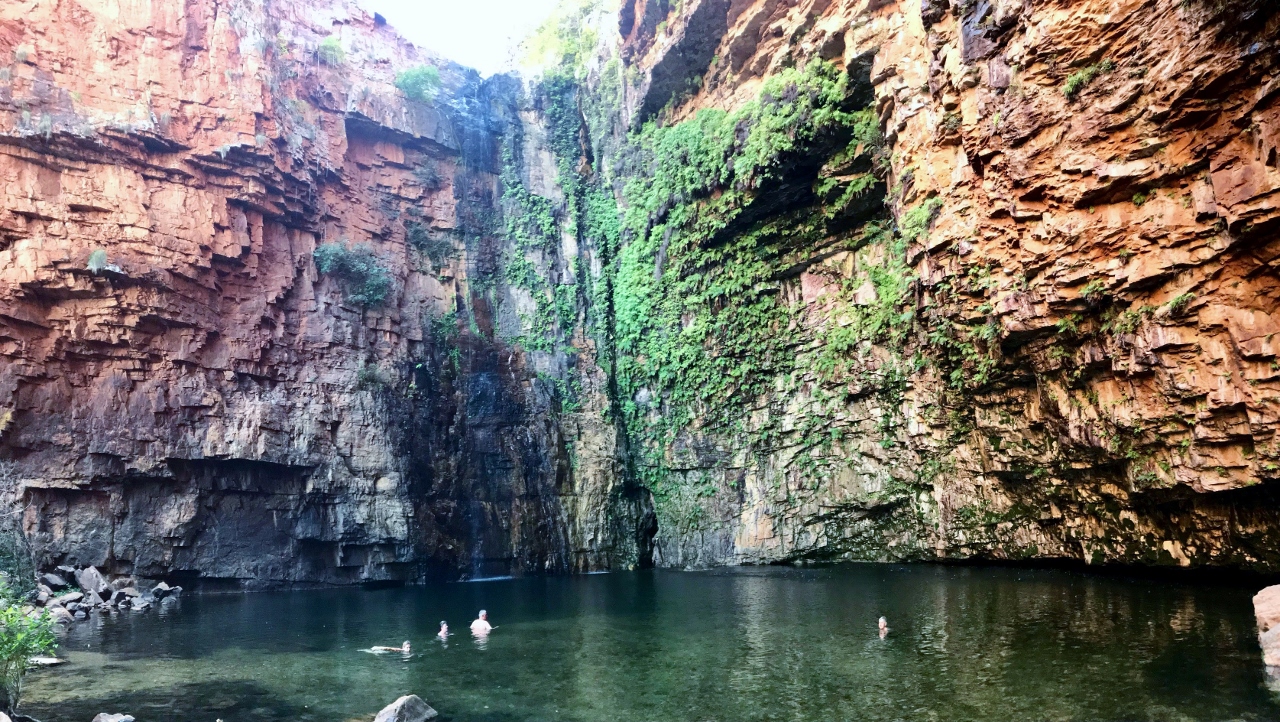 Returning to the resort, it was a quick shower, a dip in the resort pool, and coffee with banana bread at the resort's dining area. Not a bad way to start the day!
We found Emma Gorge Resort an excellent place to stay and have as a base. Tours can be booked from the resort for a whole range of activities at El Questro, but we'll wait until we get there as it's the next stop on our Gibb River Road Adventure. We're pleased we took more time to explore more of the resort than the gorge alone, and with our batteries now fully charged, we're ready to tackle our next adventure.
Catch you next time!
Grant & Linda
My Aussie Travel Guide