There are numerous caravan parks and different styles of accommodation in Kununurra, and it always pays to do some research beforehand to find something that suits your needs, and within your budget.
For our recent visit, we chose the Kimberleyland Waterfront Holiday Park after having stayed a few years ago. And as we'd heard some renos and upgrades had occurred since our last visit, we thought it was time for us to check them out.
Like most holiday parks, accommodation includes unpowered and powered grass tent sites through to a range of cabins. But more recently, they've added four luxurious style waterfront cabins that are truly a premium accommodation option. You don't get much closer to the water here, when their proximity is directly in front of Lake Kununurra! The views overlooking the lake and the rock formation known as Sleeping Buddha are something you need to experience for yourself. And as we found, those views are simply spectacular at any time of day.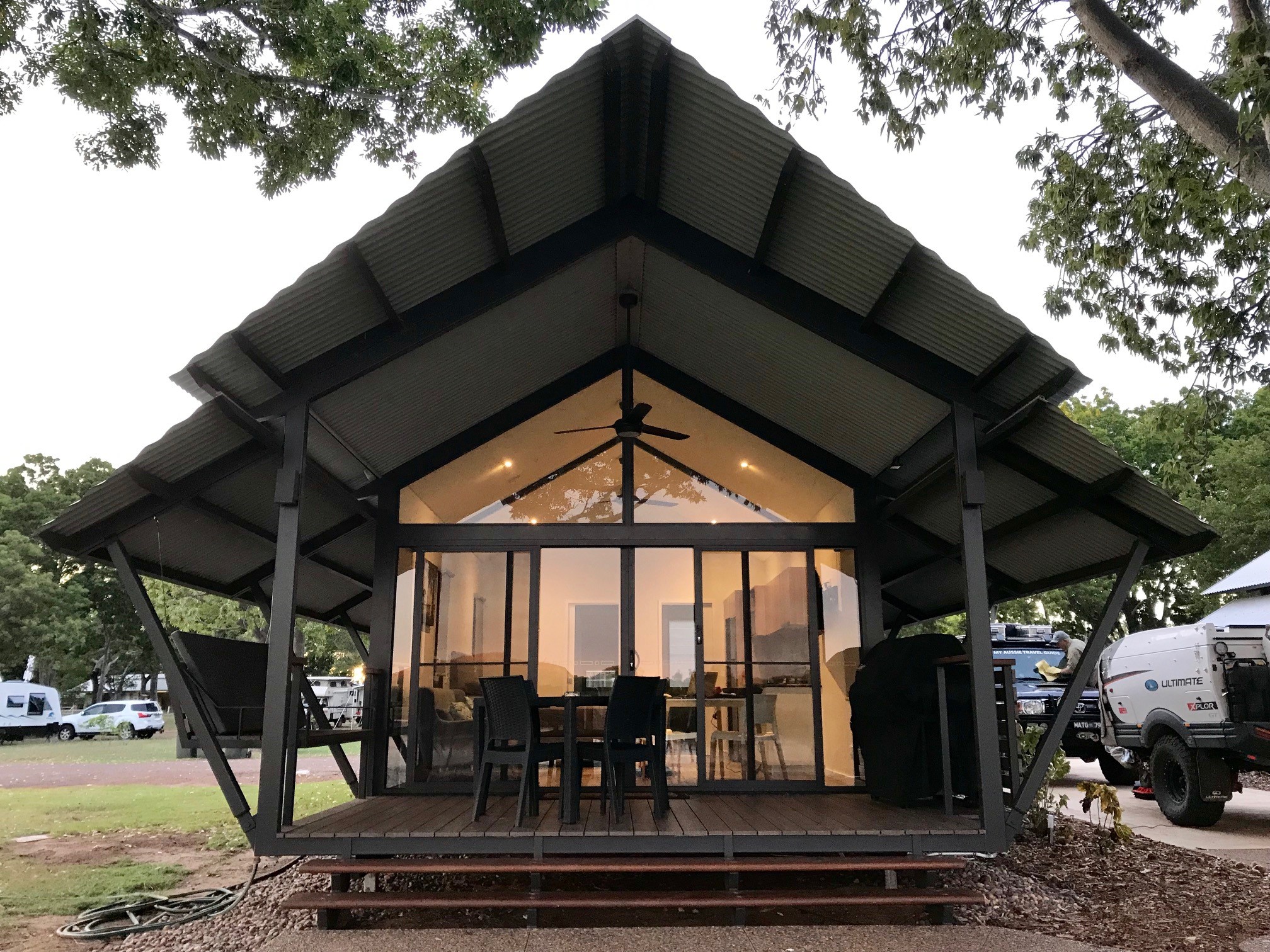 We checked out the family cabin for a couple nights which we found is well-equipped with all the trimmings. Each cabin has a raised balcony and comes with a massive hooded BBQ, table and some seating, plus a lounge perfect for chilling out with a book, circular fan and mood lighting. With all these inclusions, it was difficult not to spend all our time chilling out on the deck.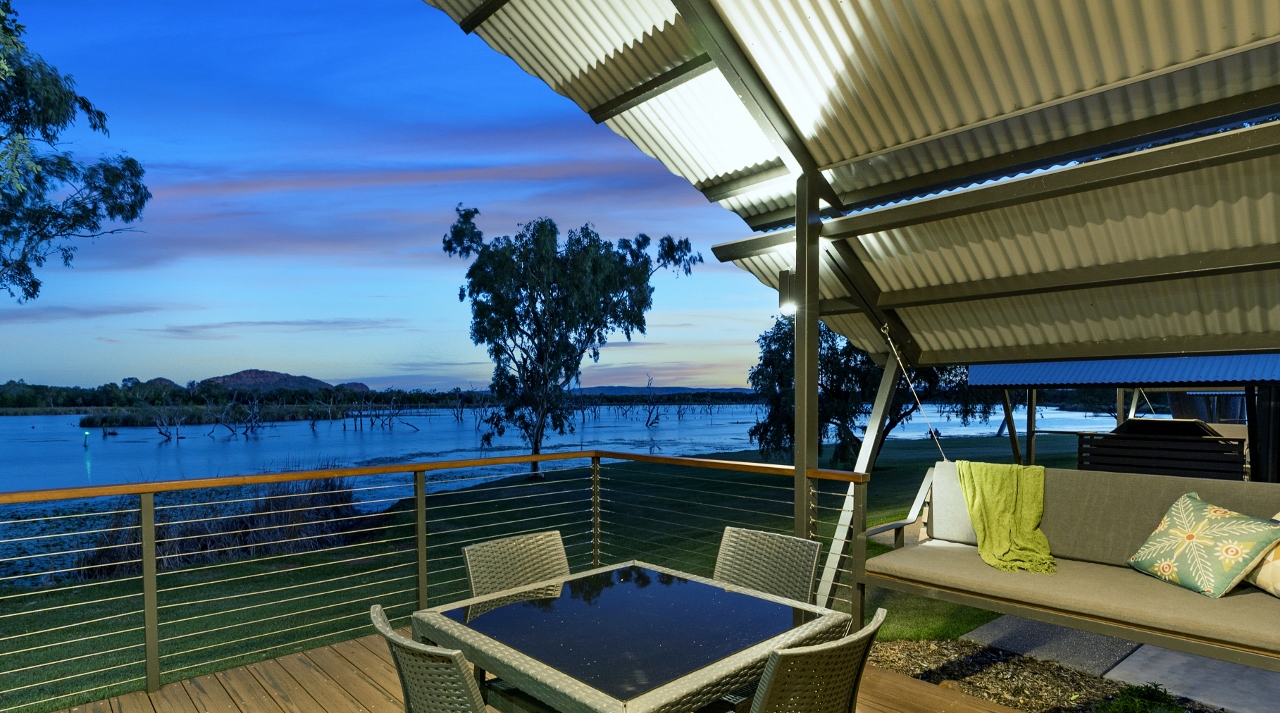 Entering the cabin through the large screen and glass sliding doors, an inviting open plan lounge area awaits, and is equipped with a large TV that can be viewed from anywhere in this open plan format. This is something we really liked. There's also a large table to seat four adults, a well-equipped kitchen, and an oversized queen size bed. The lighting controls can all cleverly be dimmed to suit the mood, and a couple of large ceiling fans and dual zone air conditioning allow you to climatically control the temperature. Adjacent to this open plan area is a large ensuite style bathroom with an oversized shower, and a separate bedroom with two bunks and wardrobe storage is also provided in this family cabin. The quality of these cabins is very luxurious, and with that view, we found it difficult to leave. There's car parking available directly outside the cabin which could easily fit our vehicle and camper.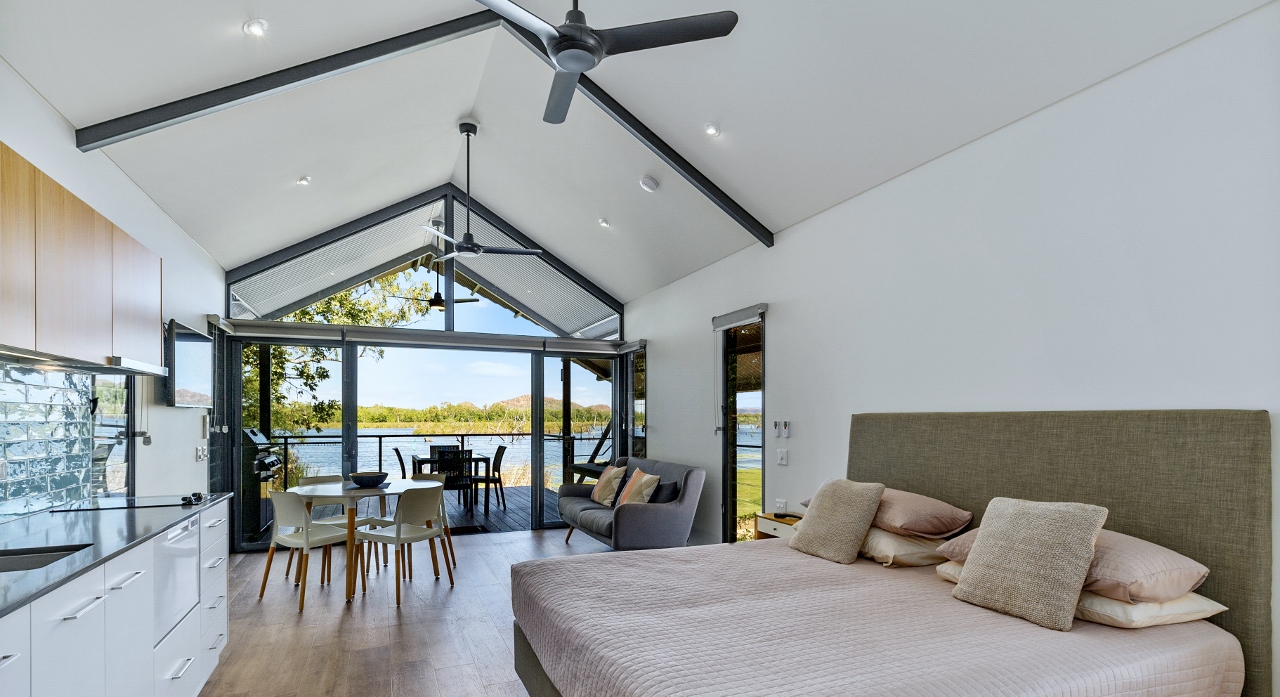 After spending a few days soaking up the luxurious cabin atmosphere, we were keen to set up our camper on one of the few beautiful grassy waterfront sites. These types of sites are very popular, so we advise ringing well in advance to make any bookings. These sites have drinking water and power available, and are a higher nightly rate considering those spectacular water views and proximity. But it's worth it, when we had visitors such as a jabiru, egrets, swamp hens and other birds regularly coming by. Even a special daily visit from regular, Gummy (a freshwater local crocodile).
Taking a walk around the park, we found there's a variety of sites and sizes to choose from. Many sites are shady with grass, some sites have concrete slabs, while others had shade cloth matting. There's a boat ramp located within the park although the sites around here are unpowered. A modern camp kitchen is equipped with BBQs, gas burners, microwave, a large community fridge, and plenty of seating.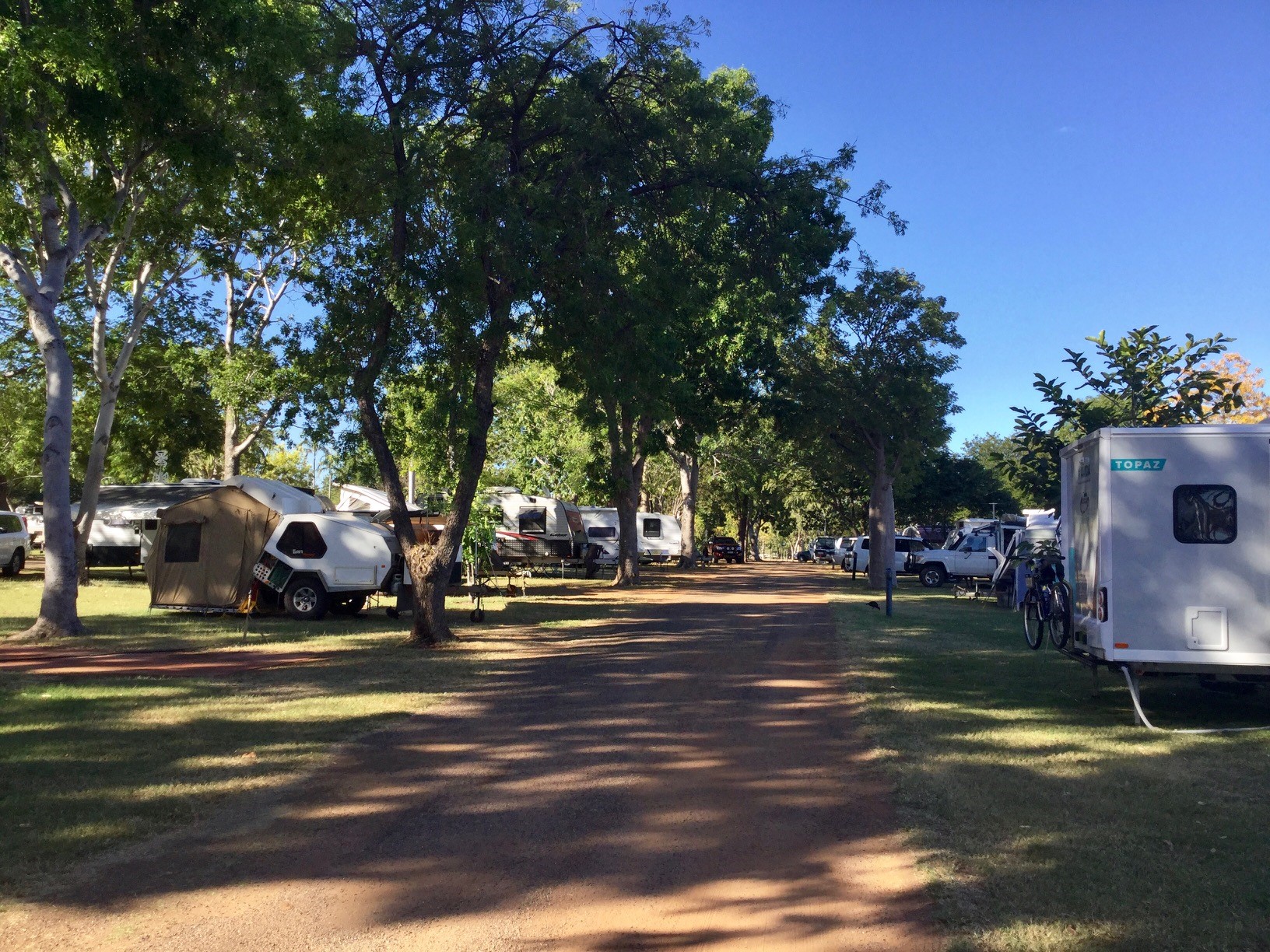 Adjacent to the pool is a grassy seating area, where a pancake breakfast is available once a week.  Speaking of eating, a communal happy hour with local entertainment is provided including some nibbles. Simply BYO drinks.
Like a night off from cooking? Another new initiative introduced at the park is a weekly dinner located by their café area. We found this to be an excellent spot to meet up with fellow travellers and pick up a few touring tips. The Spilled The Beans café is otherwise open daily, and an excellent choice to grab a coffee and try some locally fresh baked cakes. Most of the daily tours pick up from this point, so it's a perfect gathering place to kick start your day.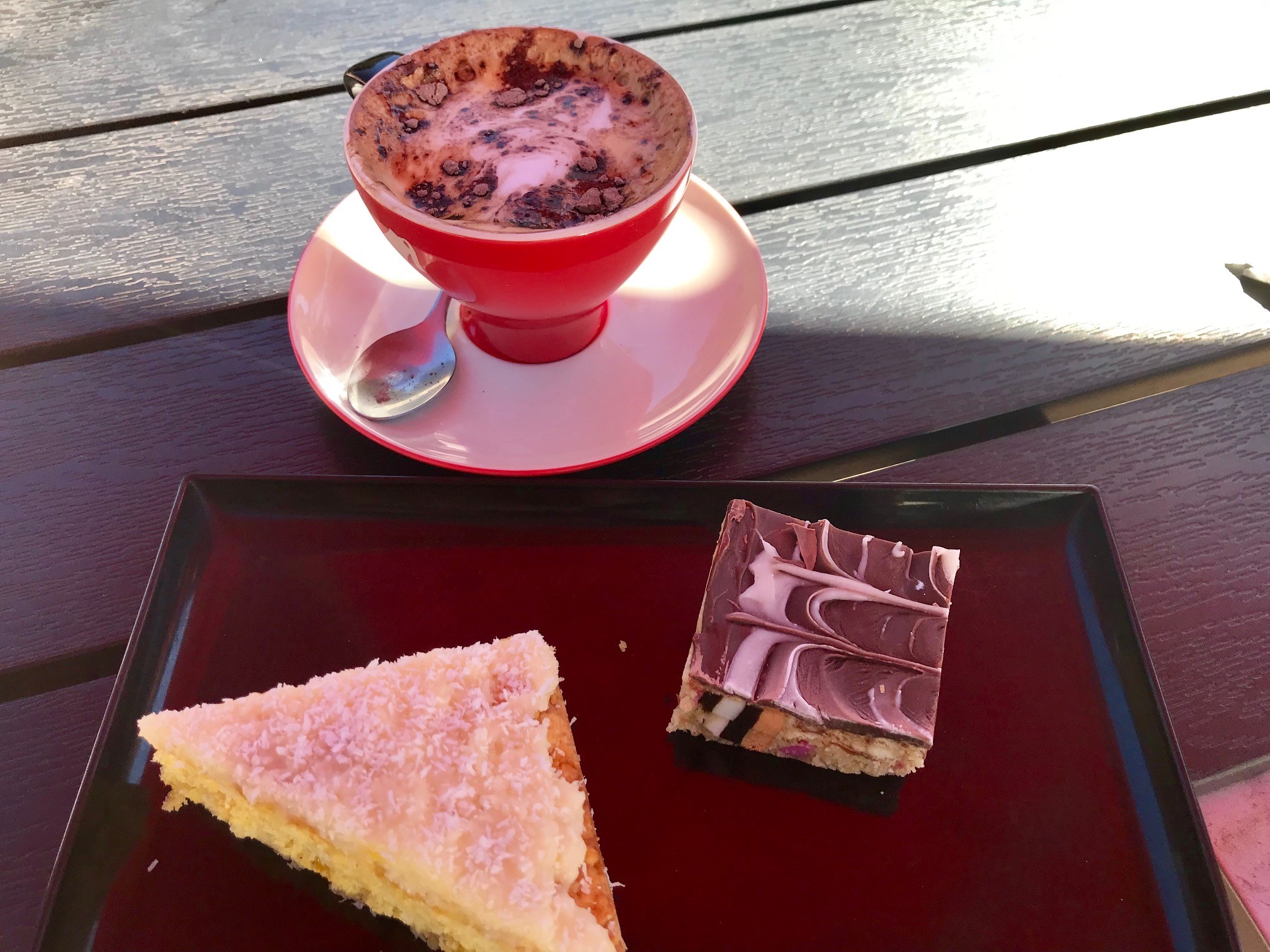 Kimberleyland has two main amenities blocks – one is in the centre of the park and is an open-air style, while a more modern block with doors, yellow lighting, fans and modern fittings is located at the eastern end of the park. Amenities blocks include laundry facilities. A couple of satellite smaller amenities are also available close to the camp kitchen.   
Other features worth noting include excellent wi-fi for park guests, a small kids' play area with sandpit, a large waterfront grassed area to play ball games or to take a stroll, and a small tinnie can be launched from the park's boat ramp. Rare Gouldian finches can be seen in the park's aviaries, and the park is home to one of the largest boab trees around town. It's a tree-lined park and generally has dappled shade throughout the day. A boom gate requiring a pin number has been provided and the park is fully fenced. Being located close to the main road and next door to Celebrity Tree Park, its central location means it's within walking distance to shops and eateries.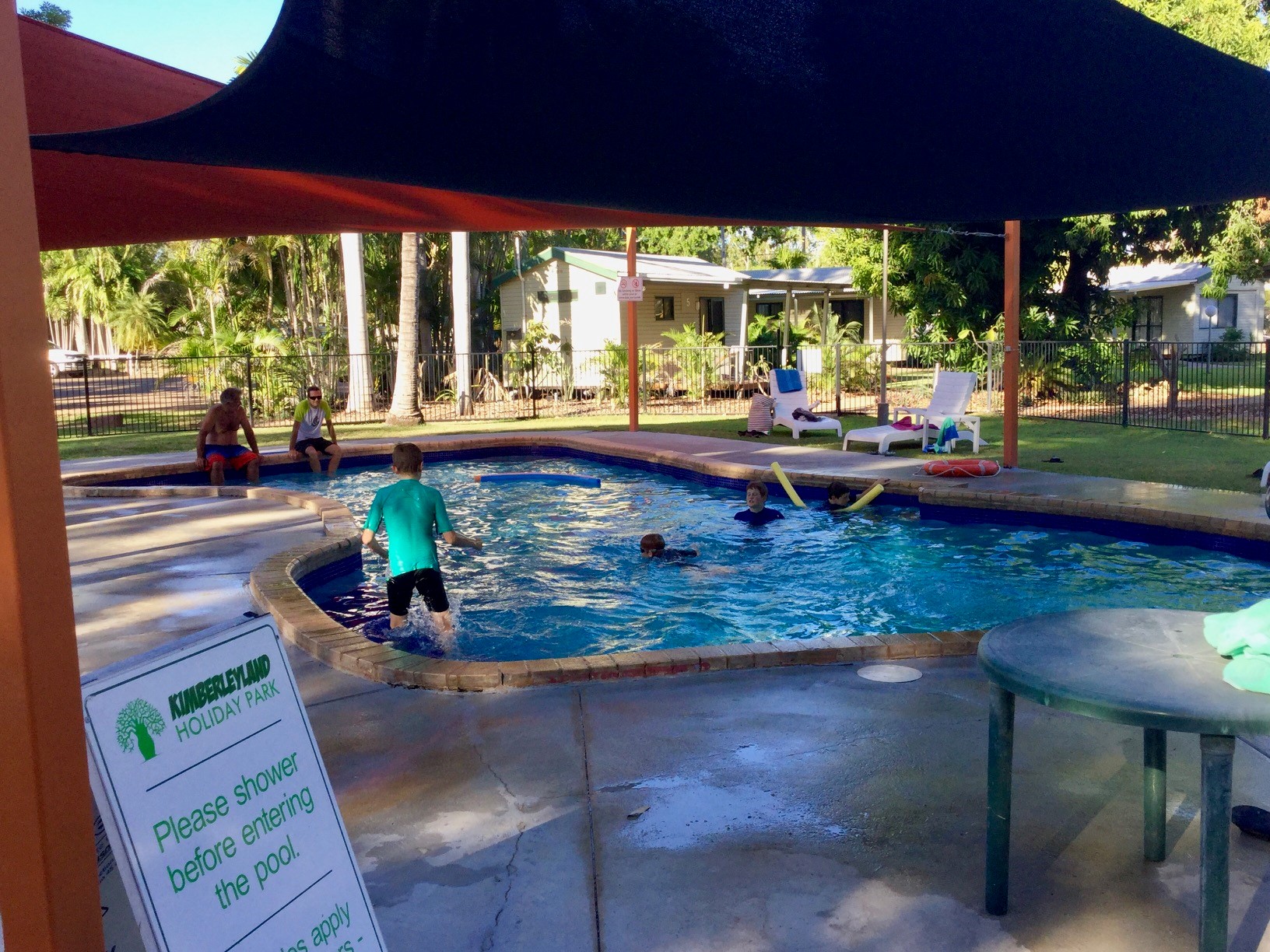 We certainly enjoyed our stay at Kimberleyland Waterfront Holiday Park and found it a sensational place for an accommodation choice. And having that waterfront view over the lake definitely makes for a very relaxing and chilled out stay. So if our visit is anything to go by, we too think you'll find it as hard to leave as we did! 
For more information, check out Kimberleyland Waterfront Holiday Park.
Catch you next time!
Grant & Linda
My Aussie Travel Guide