Nestled in 10 hectares of natural bush setting, Moonlit Sanctuary Wildlife Conservation Park comprises a range of animal habitats and provides an ideal environment for visitors to connect with more than 60 species of native animals, some of which are rare and endangered.
Our visit to the sanctuary was one of our selected attractions along the Go Beyond Melbourne route which we were really looking forward to. Yes, the kids get a kick out of being able to hand feed kangaroos and wallabies, but I'm quite happy to admit that even us big kids do as well.
Conserving native wildlife is really what Moonlit Sanctuary is all about, and the sanctuary has now been operating for more than 20 years, thanks to founder Michael Johnson. As a passionate wildlife conservationist, Michael fulfilled his vision when setting up an environment where visitors could experience and learn about rare and unusual Australian wildlife.
Arriving at the sanctuary, we found it easy to get around. A series of meandering paths allow you to explore the bushland, where many different Australian mammals, birds and marsupials can be found. The addition of interpretive boards along the path was a good inclusion, as they provide a variety of information about the animals along the way. One main area of focus for the sanctuary is education, so visitors go away with a greater awareness about caring for animals.
You could say the show arena is one of the hubs at the sanctuary – this is where educational talks by the keepers are regularly held throughout the day. We swung by to listen to reptile keeper, Josh, who clearly had a strong passion for all things relating to reptiles. For this talk, Josh was keen to share his knowledge about one of his prized snakes nicknamed BHP (Black Headed Python). Luckily, Linda doesn't have a snake phobia because BHP was soon draped around her neck before she knew it leaving her with no chance to change her mind. Nice one Josh!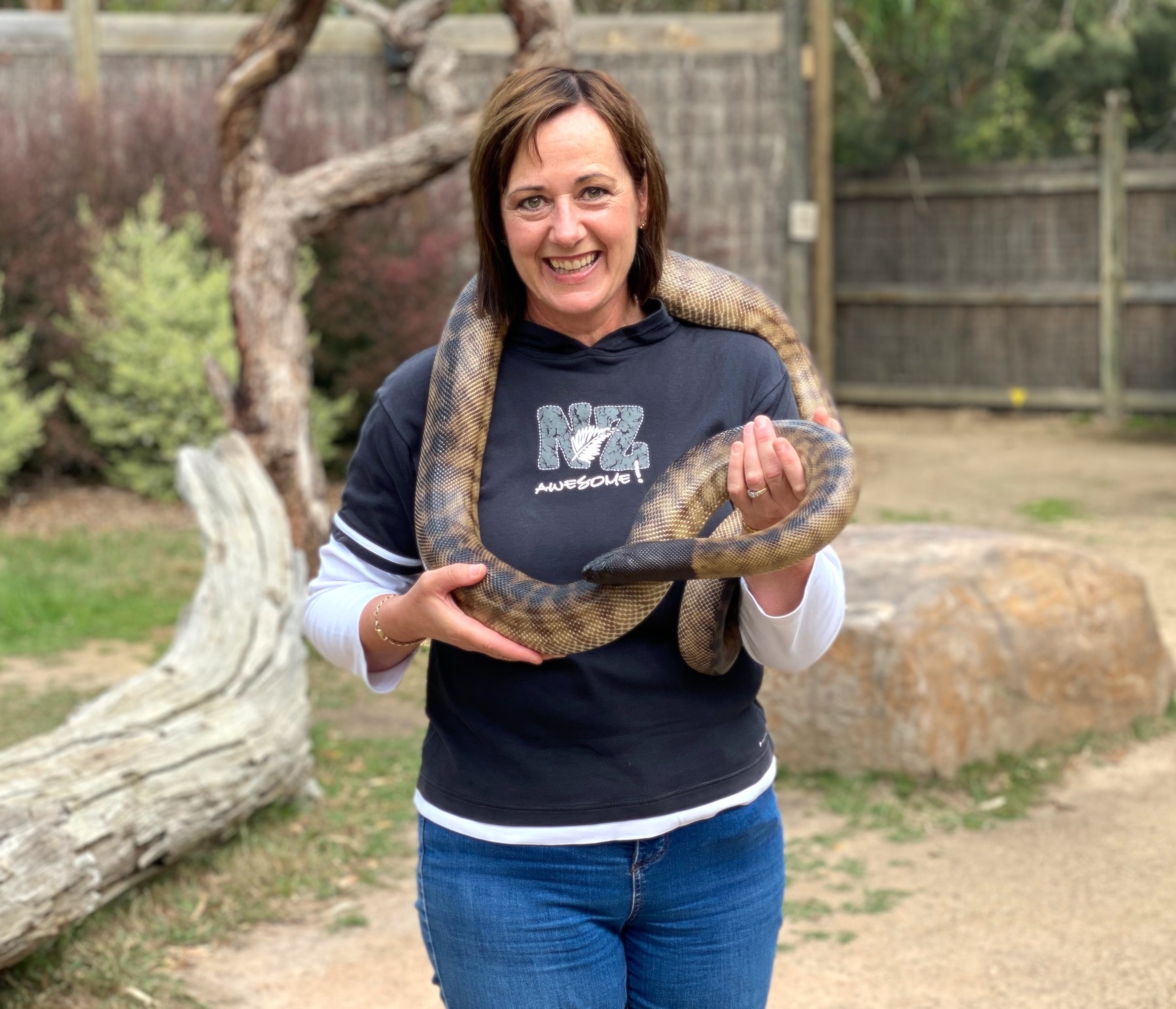 Alongside the keeper talks, the show arena is the location for the daily Conservation in Action wildlife show. This popular show provides informative insights into different species and how their conservation status is progressing.
Other activities at the sanctuary include a range of encounters which will have you up close and personal with wombats, dingoes and koalas. Or, you can even go behind the scenes as well. These are all very popular tours with visitors, so it would pay to book in advance before visiting.
Feeling hungry or thirsty? The sanctuary has you well covered here, with the Wetlands Café and the Blue Gum Kiosk being places to keep those hunger pangs at bay. Both facilities offer a range of food and drinks, or you can BYO your own picnic.
But there's also more to Moonlit Sanctuary as it also charms visitors by night. Many of the animals at the sanctuary are nocturnal, so a night tour is an excellent way to see them after dark when they come to life.
In a nutshell, our visit to Moonlit Sanctuary Wildlife Conservation Park was a rewarding and memorable experience. While we were animal lovers well before having visited the sanctuary, we've come away with a greater awareness of our Australian animals and congratulate the sanctuary for its excellent conservation programs it has in place.
More details for visiting the sanctuary are available here.