When Western Australia has some amazing destinations which are full of breathtaking natural beauty, the Pilbara region is no exception. From sparkling coastal waters through to rich red desert regions and everything in between, you could say the Pilbara has it all.
I've always been an advocate for jumping on a tour with a local as it's is a perfect opportunity to get a taste of the region when you can learn so much in a short time. Owner operator, Clinton Walker runs Ngurrangga Tours in the Pilbara, and is a descendent of the Ngarluma and Yindjibarndi people. So you could say this region is pretty well his backyard.
Clinton's tours range from one day through to three days, but he also offers customised tours like the one I joined over two days. With our group travelling from Karijini National Park, we arranged to meet Clinton at Millstream Chichester National Park. Under normal circumstances, Karratha is Clinton's regular starting point for his tours which is a little over an hour's drive away from Millstream.
What a perfect destination we had to start our tour! As a 240,000 hectare park in the middle of the remote Pilbara, the Millstream Chichester National Park is truly an oasis in the desert. It's stunning landscape consists of numerous permanent spring fed waterholes and Fortesque River pools, which are all tucked within the rolling spinifex hills of the Chichester Range. Having previously travelled to some very remote destinations around the country, I find it so hard to go past this raw natural Australian beauty.
After arriving at the park and introductions taken care of, Clinton ushered us towards the park's camp kitchen. None of us complained mind you, as it was lunchtime. Sensational aromas were wafting from that direction and I was definitely keen to learn more.
At the camp kitchen, I knew the aromas weren't coming from the wraps and fresh fruit I could see in the ice box, so it had to be the camp oven which Clinton later revealed to be a pot of kangaroo-tail stew. Served up with some homemade damper, this stew was full of flavour and the damper allowed the obligatory soaking up of the remnants left behind in the bowl. This was sensational Aussie bush tucker and a real crowd pleaser – I couldn't help but think what a great tour introduction.
With hunger addressed, it was time to walk some of those calories off and explore the park. Our first stop was the stunning Fortesque River landscape by Deep Reach Pool, where Clinton performed a special welcome to country ceremony down by the water and shared stories of this culturally significant place. We were then given the opportunity to take a dip in the water which was welcomed by all.
Other swimming spots within the park included Python Pool which is a park favourite for all visitors. It was easy to see why when it's just a short 100 metre walk before being greeted with rich red towering cliffs and a permanent freshwater plunge pool located at its base. It was a picture-perfect attraction and there were no complaints amongst the group when Clinton gave us another opportunity to hit the water.
During the tour, we learnt there's nearly a dozen different trails of varying difficulty and length available in the national park, so it's not surprising it's a perfect destination for campers and bushwalkers. Clinton explained walks start from a leisurely hundred metres through to a lengthy 8 kilometres, so there's something to cover a range of fitness levels.  
The varying landscape provided loads of opportunities to stop and explore the surrounding area. Clinton constantly shared his knowledge on various plants and their uses, and gave us opportunities to touch, taste, smell and dig for bush tucker during our tour. He also eagerly pointed out landmarks and shared their stories, so my note taking worked overtime with all the information he passed on.
Late in the day, the bus pulled out of Millstream as we headed to Karratha. As much as I loved Millstream, I was also eager for what Clinton had planned for us the next day.
The following morning, the day started with a visit to the very picturesque Hearson Cove. As to why this piece of paradise is a popular spot with visitors and locals could have something to do with the rock oysters which can be prised directly from the rocks, or perhaps it's the mud crabs to be found in between tides. But I could see it's also an all-round welcoming destination and would make the perfect setting to simply have a picnic overlooking the sparkling water while the kids have a kick of the footy.
Another reason I was excited to be in Karratha was a visit to Murujuga National Park, as this was one destination I'd longed to visit for years. In a nutshell, the park is overflowing with petroglyphs of various sizes that date thousands of years, with each being painstakingly etched into the rocks along the Burrup Peninsula.
After a short walk from the car park, it was quite clear the rock art here is simply prolific. There's so many examples in this open-air art gallery that this location has been deemed to have the highest concentration of rock art in the world. It's an extraordinary claim to fame for the region and something I'm glad I had the chance to experience firsthand. The art consists of all sorts of birds, animals and other symbols – there's even a very clear image of the extinct Tasmanian tiger. I found Murujuga to be quite a spiritual place and could easily have spent more time here. Hearing Clinton share a range of stories helped me to connect them to other cultural experiences I'd had elsewhere in remote Australia, and I was keen to further my knowledge as much as possible. 
Our tour concluded with a visit to the small town of Dampier – home to the infamous Red Dog. This well-loved four-legged local was somewhat of a celebrity around the Pilbara during the 1970s. And while he had a series of owners, Red Dog pretty well did his own thing and travelled extensively around the region on his own to become a bit of a Pilbara mascot. A movie based on his life around the Pilbara was released in 2011, with a second released in 2016.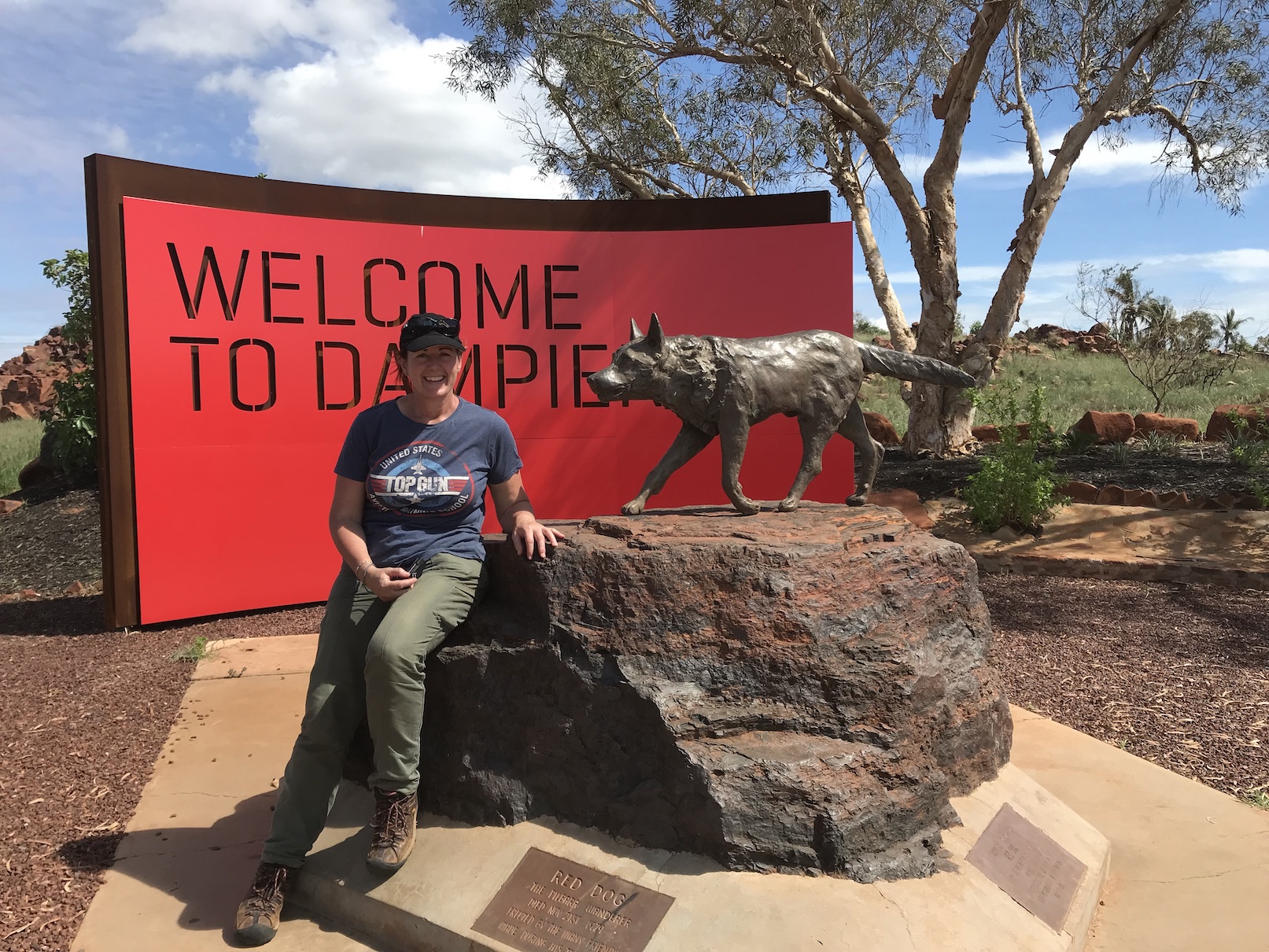 If you're travelling to the Pilbara, there's no doubt it's full of attractions you can visit on your own. But if you're keen to learn about the local indigenous culture directly from a local, and experience some fascinating sites which you may not otherwise experience, then add a tour with Clinton to your list. His passion for offering visitors a unique experience of the Pilbara as seen through his eyes is simply outstanding.
For more information about Clinton's guided tours, visit Ngurrangga Tours.
Linda was a guest of Tourism Western Australia.