We arrived in Emerald which is a service centre for all of the mining industry surrounding the town (coal and sapphires).  We decided to come this way to try a different route going home….bad idea!!!  On our first night, we basically got washed away with 162mm of rain being recorded in the park.  We knew rain was on its way, but no one knew it was going to be torrential!  The rain was relentless…starting at about 6pm and not stopping until about 8am the next morning.  We would have had much more fun in the boat!  Grant said it reminded him of the water test booth at the end of the chassis line.  Not a good memory he assures me.
With all the rain, we suffered a hit and our van took on water.  We know there was about 6 inches of rain that fell, well throughout the night, we emptied about 40 – 50 litres (yes you read right) out of the van!  We used buckets, towels, bowls, anything we could to try and reduce the flow of water which had multiple exit points!   We took it in shifts to empty buckets etc., but neither of us had much sleep.
As a result of the rain, all roads out of Emerald (all 4 of them) were closed, so it was a waiting game for the next few days.  We shopped for a few supplies (and a tarp) the day after the rain, and you would have thought everyone was Christmas shopping at the supermarket.  There were people EVERYWHERE, stripping the shelves of goods in a mass of panic buying knowing that roads were closed and more supplies would not be forthcoming for a while.  Fortunately for us, we already had all the essentials we needed (there weren't any left on the shelves anyway) and we were just stocking up on a few extras.
Whilst staying in Emerald, we chose to stay at Lake Maraboon which is about 18kms south of Emerald – it's a man made lake which is about 2 times the size of Sydney Harbour, and has been dammed…the water supplies the town of Emerald.  Naturally, many locals were concerned at the overflow of the dam given that in 2008 it caused the town of Emerald to flood, so people were eagerly watching to see how much water was actually going over the dam wall.  We went to take a look to see the volume of water spilling over…it was an amazing sight.
So for the next few days, we were continuously on the internet trying to keep up to date as to when roads were being opened (in between eating and drinking).  We managed to use the camp oven a bit (and drink some great McLaren Vale reds), so all was not lost.  One benefit of the park we were staying at was all the birdlife – not shy of people, they would welcome a feed or two daily….
Starting to go a bit stir crazy after 4 days, it was great news to hear that roads were finally beginning to open.  As soon as we could, we headed back to Barcaldine and then south, as unfortunately the route we wanted to take (which was south down to Roma) was still closed.  We struggled to avoid the wet even heading that way, hitting a thunderstorm on the way at Tambo, which then followed us further south to Augathella where we camped for the night.  We saw some great electrical storms this past week, but it seems it doesn't matter which way we go, we just can't seem to avoid getting wet.
The next few days saw long drives as we headed further south, staying at Bourke (another thunderstorm), and then on to the Riverina district where we first called in at Merriwagga.  A couple of posts ago, I mentioned Blackall, Queensland being home of the "black stump".  Well, NSW also wants to claim it at Merriwagga, however it's claim to fame is a more gruesome story…Apparently a bullocky was travelling through the area in 1886, and whilst he tended to the cattle, the wife unfortunately died whilst preparing the evening meal after the camp fire raged out of control.  When people expressed their sympathy, the bullocky simply said "When I returned, my wife was dead…she looked just like a black stump"!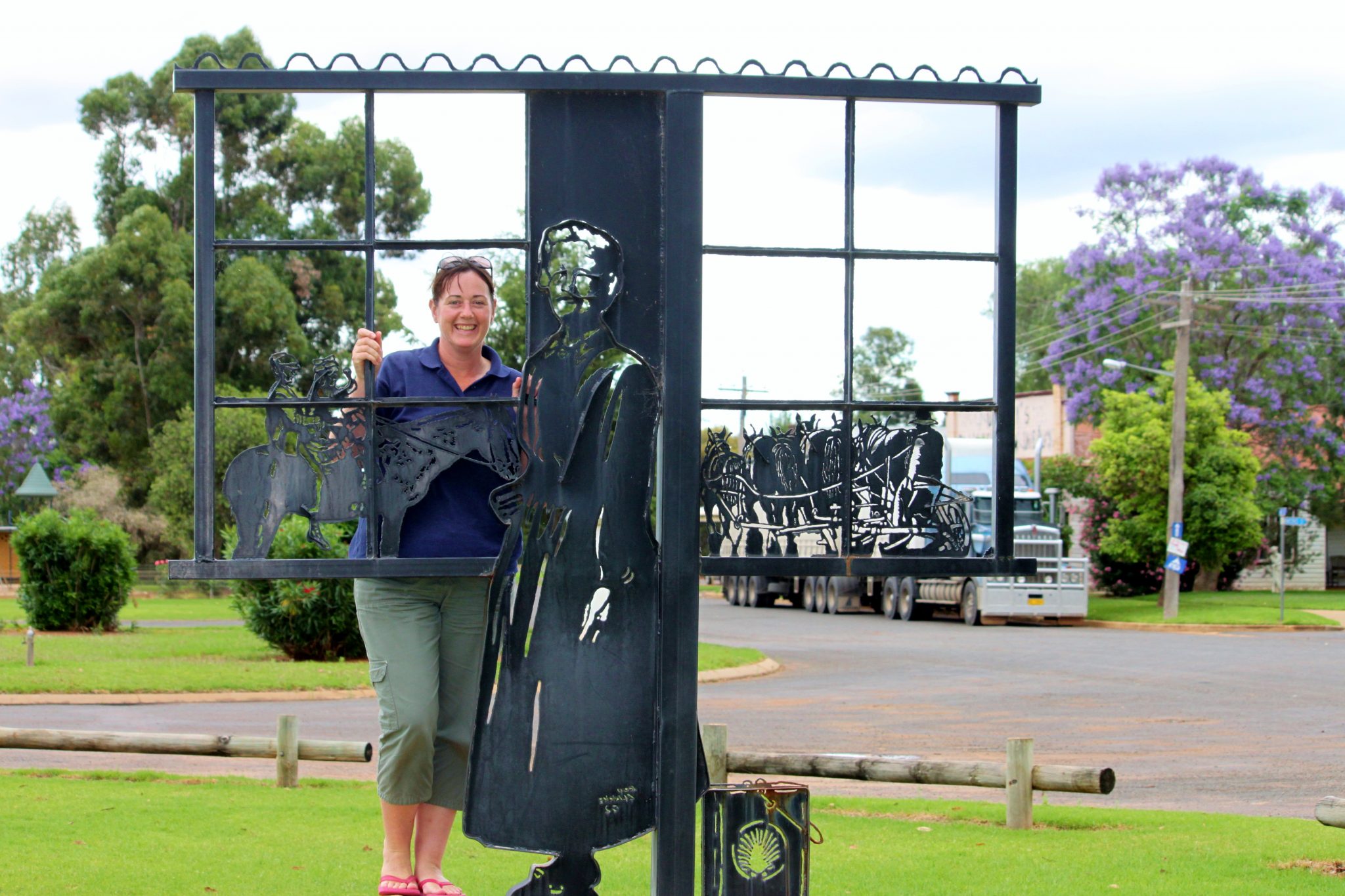 Moving on to Griffith, we chose to stay here for a few nights.  Having a strong agricultural landscape which includes citrus, grapes, nuts, and cherries, irrigation for the farms comes from large canals which surround the town and are fed from the Murrumbidgee River.  Griffith has a strong Italian community and heritage which suited us to a tee, as we frequented a few of the italian cafes and restaurants (great sweets), as well as visiting a couple of local wineries during our stay, McWilliams and Warburn.
Leaving Griffith and heading further south, we passed through Jerilderie, stopping to visit the museum to learn about Ned Kelly's visit there in 1879 to hold up the local bank.   Further on, we stopped at Deniliquin, famous for its annual ute muster, and finally arriving at Echuca.
Our next few days will be spent at Echuca before heading home for Christmas, bringing the first 7 weeks of our journey to an end.  Another post to come once we arrive home…
Kms Travelled Total  

7,362