Upon arrival in Esperance, we were greeted with a really pretty coastline.  A quaint seaside town, Esperance beaches were very inviting with white sand and turqoise water – it was unfortunate the wind was blowing a gale and the temperature in the low 20's.  Packed with a thermos and some munchies, we followed a great scenic drive which took in all the coastline around Esperance – the views were magic!
After a couple of days, we packed up and continued our journey – this time heading off the beaten track to Hyden to visit Wave Rock.  Whilst rather isolated and not on a lot of tourists' itineraries, it was a place that we wanted to visit and we're glad that we did.  We stayed at the Wave Rock Cabins & Caravan Park located right next to Wave Rock which looked rather new.  They had a great set up and we happily would recommend this park.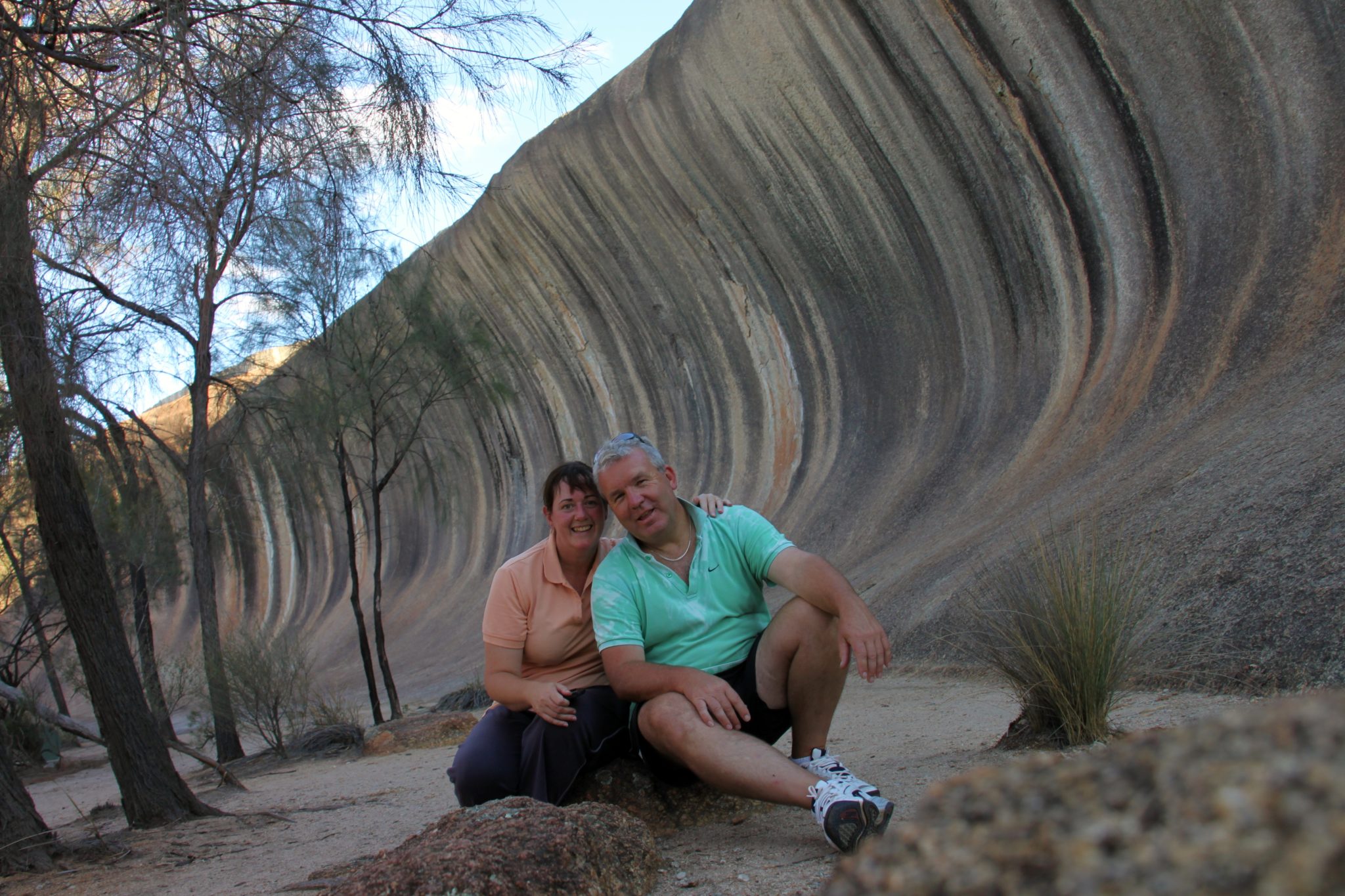 After a quick set up (given that we didn't need to unhitch), we put on our walking shoes and went for a walk to the Rock – the colours were very impressive especially with the afternoon sun hitting the rock.  After a walk at the base, we headed up on top of the rock to experience some great scenery of the surrounding area which included seeing a couple of ornate dragons (picture at top of page), before Grant nearly stepped on a small snake (I've never seen him move so fast)!  The evening was rather mild, so we sat outside under the stars sharing a bottle of sparkling red and had a nice Valentine's Day dinner.
Next morning, Grant had me up and out early to go for another walk before the morning sun really heated things up.  A good walk of around 5kms, we passed some interesting sights – the "Hippos Mouth" (granite boulders), some salt lakes, kangaroos that looked extremely relaxed, and some Port Lincoln parrots.  Back at camp, it was time for a quick breafast followed by packing up as our stay at Hyden was only an overnighter so we moved out before the heat really kicked in.
On our way to Albany, we passed through Kondonin and Kulin  – an amazing sight greeted us on what's known as the "tin can highway" just out of Kulin – many of the farming properties had decorated their road frontages with "tin art" dedicated to the town's annual horse race.  Stopping for many pictures and having a bit of a chuckle, we continued through the awesome Stirling Ranges before arriving in Albany late in the day.
We very quickly realised that there was lots to see and do around Albany.  A trip to the Information centre saw us armed with many brochures which also included info on the wine districts which surround the area.  Staying at Emu Point, we found a great park right next to the beach and set up camp for a few days.  Not far away was the marina and a fabulous place for salt and pepper squid and chips, the Squid Shack.  Receiving many good reviews, it was a great "no frills" place to casually have some lunch overlooking the water (and the squid was some of the best we've ever had).
Next day we were off to the Whaleworld museum for a couple of hours.  Whaling was a mainstay of the town for many years until 1978 when the whaling station ceased operations and has now been converted to a museum.  Albany's history also includes being the place where Australian troops sailed from in 1914 to Egypt and then onto Gallipoli.  Later in the day we drove out to Mt Romance to test out many of their products.  Mt Romance is a sandalwood and sandalwood beauty products manufacturer based in Albany and sends their products both Australia and worldwide.
Albany's coastline is very picturesque, having two main harbours, a few islands which can easily be seen from the mainland, and some great natural wonders, ie Nature's Bridge and some blowholes.  North of Albany we visited Mt Barker (an agricultural and wine district), visiting two of the wineries, West Cape Howe Wines and Poachers Ridge where we also squeezed in some lunch.  The region's whites and cool climate reds were on offer, but we really enjoyed the Marsanne (a wine based on a french white grape) at Poachers Ridge.  We ended up sending some wine home, but also ended up getting a couple of bottles of Marsanne to take with us.
A visit to the area also had to include the local Farmer's Market which was similar to the one at Willunga (except more expensive!), and the Porongurups which has a national park and is also another wine district.  A stop in the national park enabled us to hear heaps of birdlife and admire the many tall karri trees before heading back to the van and pouring over maps as to where to head to next.
Stay tuned.
Grant & Linda.
| | |
| --- | --- |
| Kms Travelled Total  5,321 |     |