When it came to arranging a makeover for the 79 Series canopy, it wasn't something we did lightly. We'd already had the vehicle for nearly two years, so we had plenty of time testing out what worked and what didn't before making any changes. Our original canopy set up had way too much weight at the rear, so our primary aim was to move all the heavy stuff up front.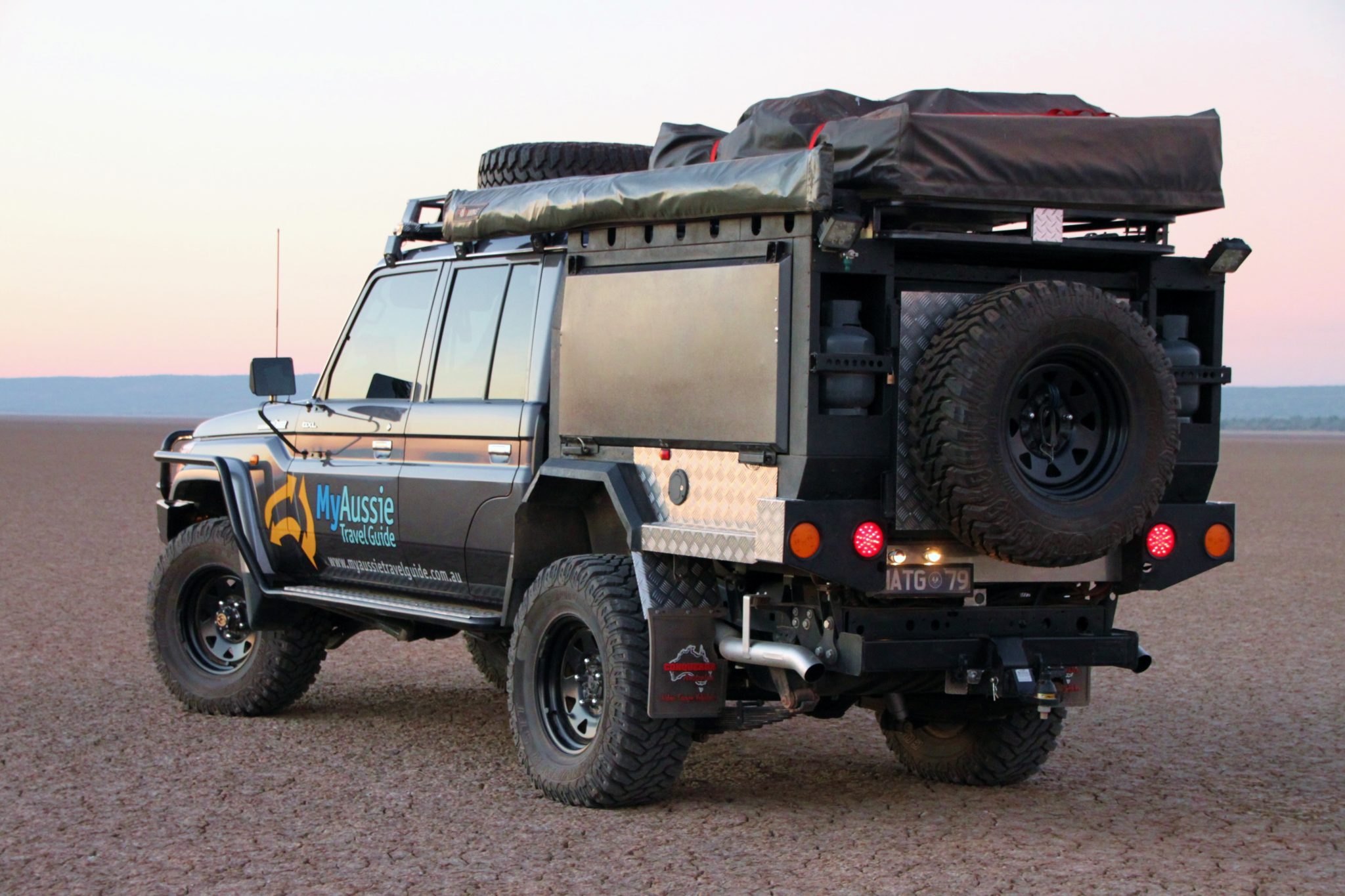 So before explaining the changes we made, here's the original concept, starting at the rear door – a 72 litre fridge/freezer slid out on a drop slide – the weight in these two items alone was massive. Then located either side of the fridge under a false floor right at the very rear of the canopy were two 100A/h AGMs, so more excessive weight. Thankfully the rear door itself only had the one spare wheel which works well – we had considered modifying the set up to include a second spare wheel like many other 79's, but decided against it due to the weight factor.
On the passenger side, there was a large opening, but not much space because of the 72 litre fridge/freezer. You'd shove what you could in there (chairs and a few other things). The standout feature on this side was the full wet bar – yep, you read it right – the 79 came with a bar set up for 6 bottles of your favourite drink, and above this was insulated cut outs for 12 glasses. Let's just say the set up was well used when camping! That set up of course isn't practical for long term touring, so rightly or wrongly, it had to go.
When we bought our 79 series, it came complete with the bar layout and glass holders
The canopy opening on the driver's side also had a large opening, but not much space because of the fridge/freezer. We could fit a couple of tubs in with food/drinks, but the space just couldn't be well used in its current configuration.
So we spent countless hours trying to come up with a design that would work for both of us – Grant wanted something that could work for tools, spare parts, recovery gear and 12v stuff, and I wanted something easy for food prep and food storage. Then we still had to fit things like chairs, drinks and a few other things in somewhere.
As Luke and the Drifta team had provided our drawer set up in our Pajero some years earlier which was one of the best investments made for our trip around Oz, it was natural we wanted them to do the work this time around on the Landcruiser. To really do the job justice, we completely gutted the interior and started from scratch.
The new design needed to accommodate our needs, but also had to be easy to remove if needed. So we were looking for a flexible design – we ended up having it made in modules – this means we can take out sections if it's not needed for a trip, or we can even have the whole lot removed in under 30 minutes to return it to an empty canopy.
For the design, it really has been divided into three zones – the passenger side is pretty well used for day to day living. We found the chest style fridge/freezer wasn't appropriate in our canopy, and we already had one of these in the rear of the cabin. So to best utilise the canopy space, we decided on an upright fridge and went with the Waeco CR-65. We use this fridge for breakfasts, lunches, snacks, and drinks. Next to the fridge is a deep drawer which is used for food storage. Above the drawer is a shelf, so its use is flexible. Under the drawer is a slide out shelf which can also be pulled right out and doubles as a dinner table.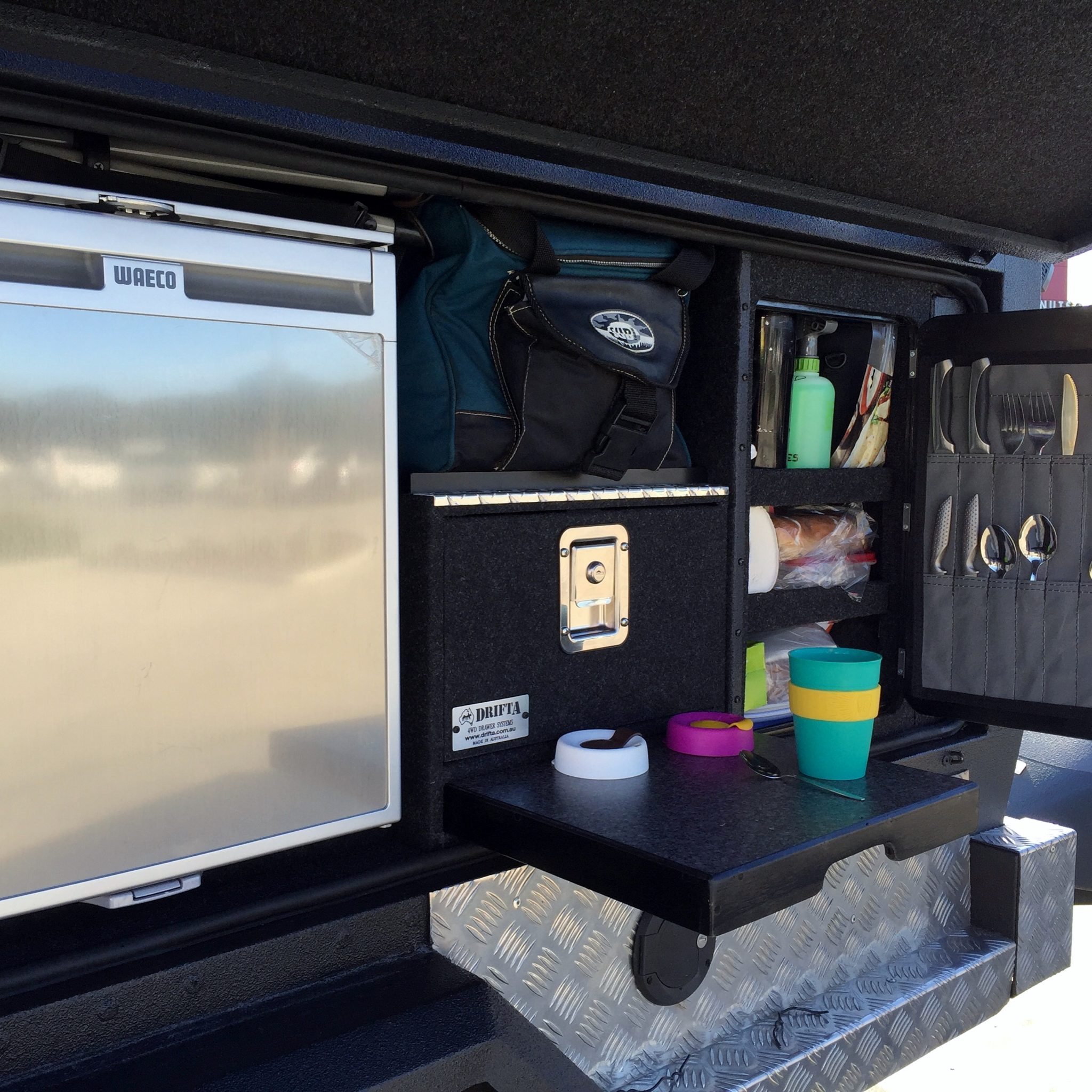 I really love the cupboard next to the drawer – this is where we keep all sorts of gear – tall stuff goes on the top shelf. Another shelf holds plates, bowls, etc., and another shelf holds some snacks. I ended up designing the cutlery holder that hangs on the inside of the cupboard door – our rear canopy door originally had this concept, and as it worked so well, I just knew I wanted it again.
The canopy itself is actually cleverly designed because at the base of my cupboard (behind the aluminium checkerplate in the pics) is another storage area which is accessed by removing the bottom shelf. This is where one of the original AGM batteries was stored. I now use it for more food storage, but lightweight packet stuff.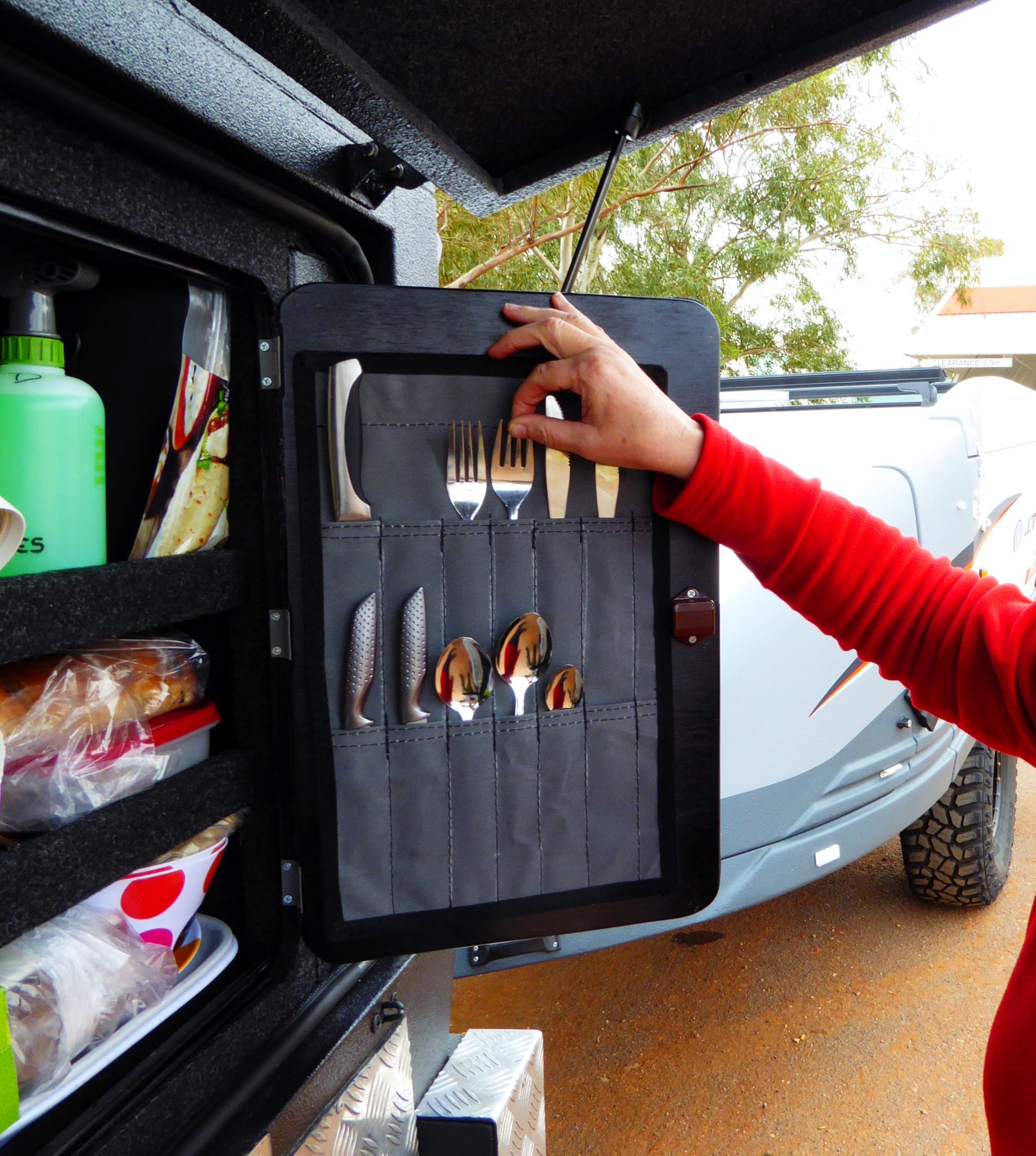 The driver's side has a couple of deep drawers for tools, spare parts and recovery gear. There's a large area above the drawers which is useful for a range of other items. There's another slide out shelf under one of the drawers which also doubles as a table if needed. Towards the canopy's rear is a section with some shelving – the top section is where all master 12v switches are kept, and underneath is general storage. Under the bottom shelf on the driver's side is where another original AGM battery was stored, but is now home to some lightweight stuff.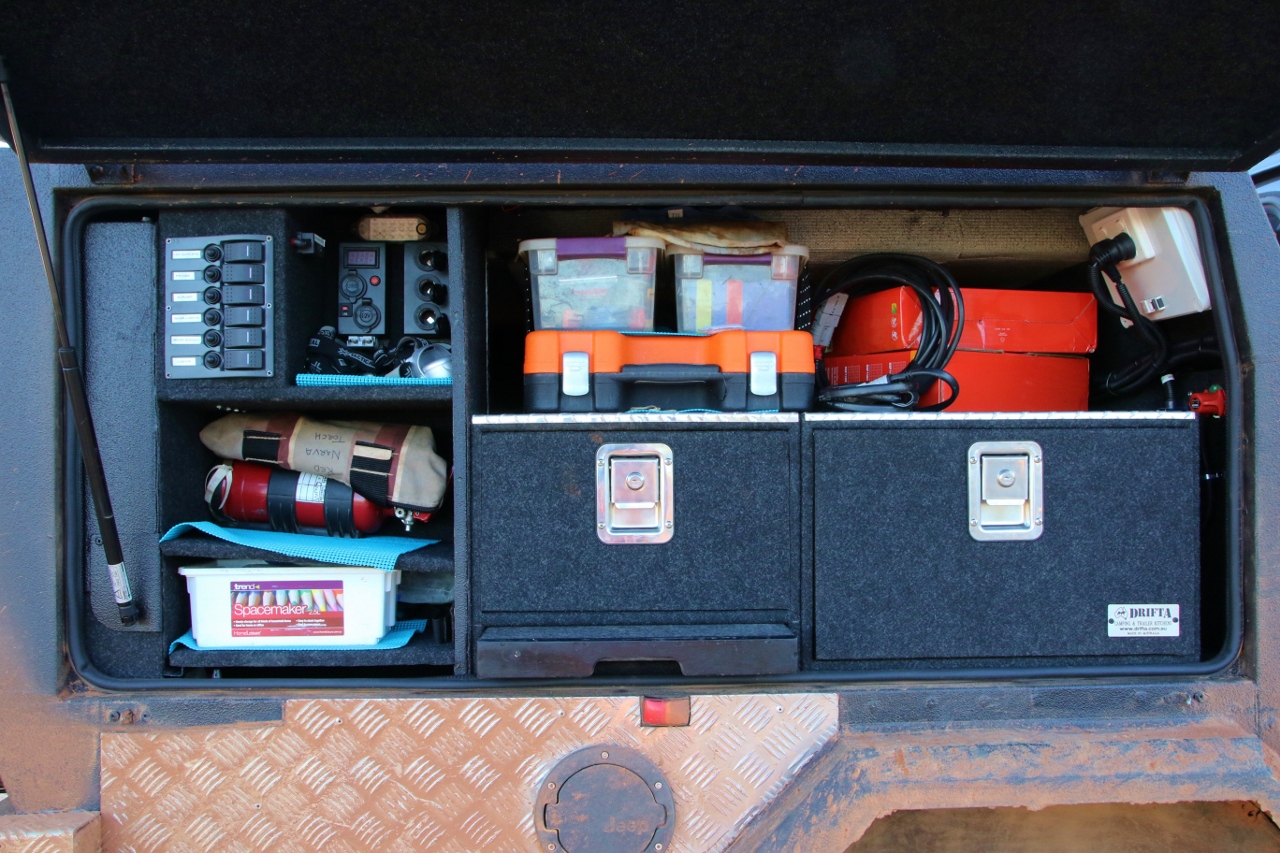 Now when we open the canopy's rear door, there's a false floor where items that aren't used regularly get put. Up higher, there's some space which runs the entire length of the canopy where we slide in our chairs. Funnily enough, we don't use all the area here in this back section, so it just depends on the trip as to what gets packed.
So the new design has a lot of the heavy weight now up front in the canopy. We've changed from AGMs to two Revolution lithium batteries that now sit up front under the false floor, and there's a REDARC BMS up front as well. We'll cover the 12v gear in a separate blog. To finish the canopy off, we completely replaced the insulation and marine carpet which we've found keeps the entire canopy really cool and repainted the exterior with Raptor to match the vehicle.
We can't be happier with the new layout – we've tested the design now on a recent trip, and it delivered everything we wanted. Most importantly, we've taken a lot of weight off the vehicle's rear. Thanks to the guys at Drifta – they've done an amazing job, and they helped steer us in the right direction with the concept. This new design makes touring a dream – there's now a place for everything, and everything has a place.
Catch you next time.
Grant & Linda