Deciding to base ourselves at Mansfield for a few days, we took day trips around the area given that we'd heard the road up to the Mansfield State Forest was windy and steep.  First stop was Craig's Hut.  Made famous in the film "The Man from Snowy River", the scenery from the hut was nothing short of spectacular, as there was amazing 360º views of surrounding hills, and with crisp fresh mountain air blowing in our faces, it fuelled our thirst for a hot coffee (thankfully we brought a thermos)!  Craig's Hut is one of many cattlemen's huts in the High Country which are now used by walkers for overnight stops, and although the hut was purposely built for the film, it's still used by walkers and day visitors like us.
Driving on, the road meandered down the mountain passing many wildflowers out in bloom, so it was a great time to visit.  The journey was really enjoyable, but slow, due to road conditions (and Grant having to stop the car for me to take photos)  Next stop was Mt Buller.  We loved it here!  Having visited a few of the ski villages now, it was good to see how they all compared, and as there was no snow, the slopes were covered in lovely green grass with pretty purple wildflowers which were daintily swaying in the sunny afternoon breeze.
We also did a day trip from Mansfield to Jamieson.  The local berry farm had some delicious jam, and we also visited a private museum located close by to the berry farm which had heaps of memorabilia (some would call it crap)!  However, we were also surprised to find there was a shed full of old cars (some which had been restored), and we ended up spending a couple of hours just browsing.  So it was a great find.
As we left Mansfield, we found ourselves at the infamous Bonnie Doon.  Aaahhh the serenity!!!  Funnily enough, we actually stumbled across the Kerrigan's house in the movie "The Castle" as we drove around, and even funnier, the house was for sale!  Advertised for $188,000 for a shack that needs some serious work, Grant's only response was "tell them they're dreaming"
On our way to our next stop, Bendigo, we paid a short visit to Shepparton.  One of Grant's haunts years ago in his EH Holden Club days, you must stop here if you want some shopping bargains at the SPC Ardmona factory sales outlet.  Some serious bargains came in all shapes and sizes…stuff that we probably didn't need, but I couldn't resist a bargain!
Choosing a free camp for the night at Green Lake (in between Shepparton and Bendigo), it proved a popular stop with a few other travellers.  We were able to pull up right next to the lake which was an amazing sight, and the lapping water lulled us to sleep on a beautiful balmy night.  Lucky that we were here on a weekday, as we could see the lake would be extremely popular with boaties and water skiers on weekends.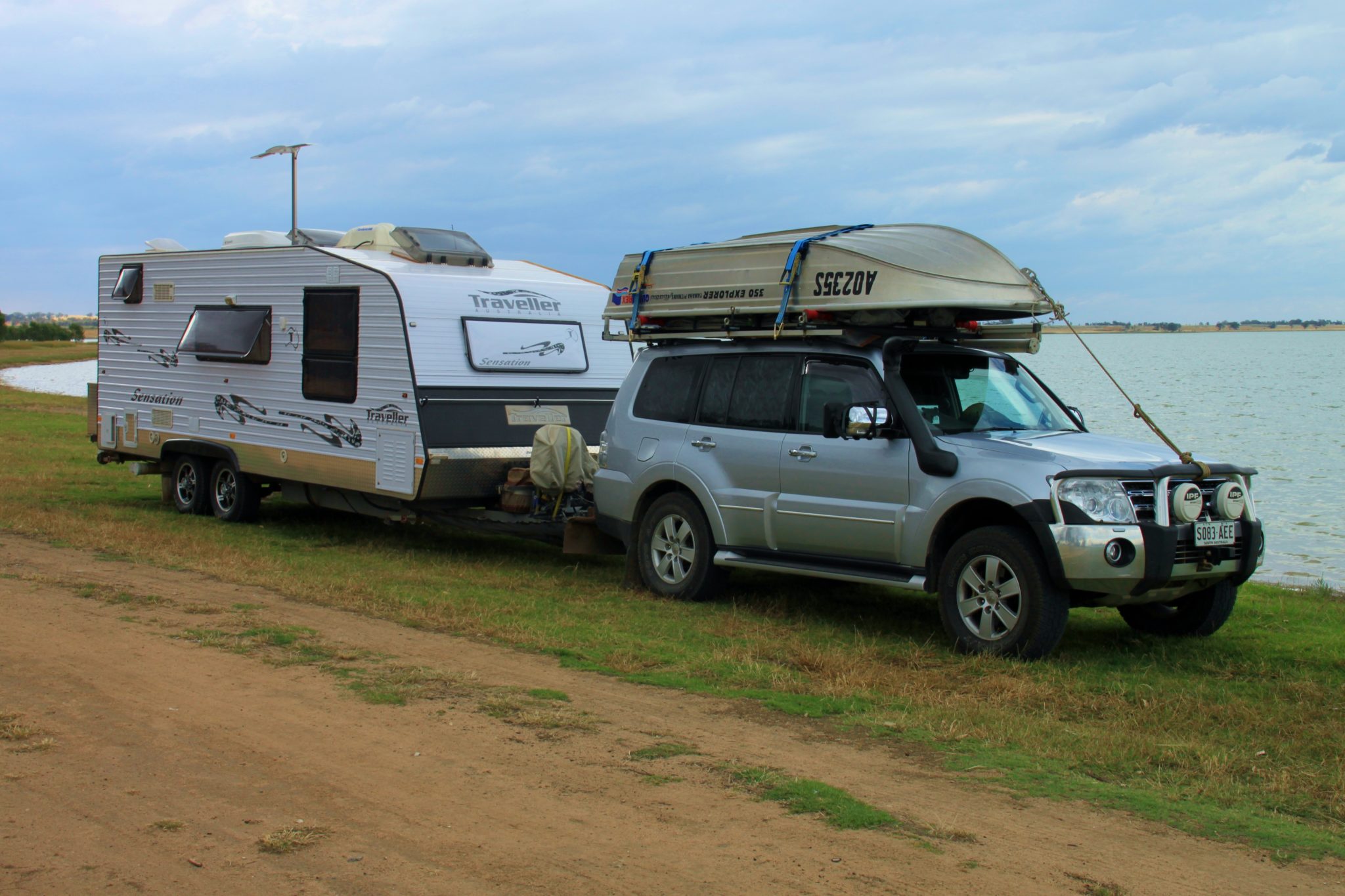 In the morning it was only a short drive to Bendigo, and before long, we'd unhitched and headed to Leisurefest (Bendigo's Caravan and Camping Show) for a look around.   We'd also stopped at Bendigo to catch up with friend and ex work colleague, Chris and Monika, who moved to Bendigo almost 18 months ago.  We had a great time with them over a couple of days, having heaps of laughs, shared some stories, and admired their beautiful garden which they've established in their time there.  Well done guys!  We also were lucky enough to have them show us around the area with great stops at Heathcote (a fantastic bakery) and Kyneton (beautiful lunch).  We also had a walk around some of the gift shops around Kyneton with some good quality items on offer.
Whilst in the region, we visited other goldfield towns including Castlemaine, Maldon and Fryerstown, with Maldon and Fryerstown making us feel like we'd stepped back in time.  Both had quaint streets and many old buildings, and still had that old country feeling which we found is not always present in many towns we have visited.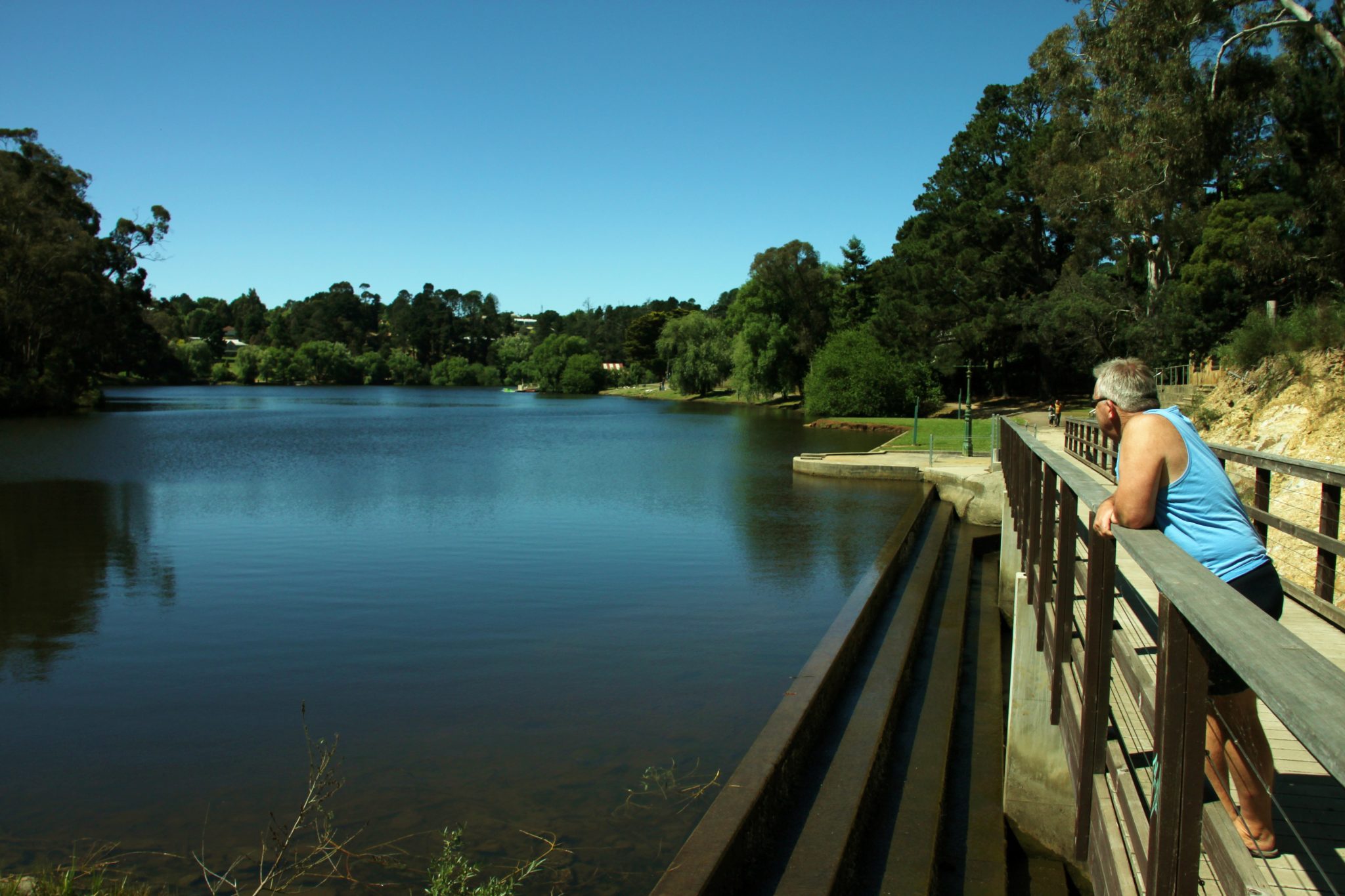 A visit to the Heathcote wine region was also on the agenda – the area is renowned for its Shiraz, so naturally we tried a couple of wineries.  In particular, we visited Munari Estate (northern Italy influenced wines), and Heathcote Winery.  We liked both wineries' Shiraz as we found them not dissimilar to McLaren Vale's.  Finding out that the cellar door manager from Heathcote Winery used to live a couple of kilometres from us was incredible….a small world!
Well, we're off to Daylesford next before we finally reach Melbourne, where we'll get to hang out with a phantom and sing along with angels.  See the next post to find out what that's all about!
Stay safe,
Grant & Linda.
Kms Travelled Total  38,183