Sensational Broome….aaahhh….where do we start!
Our arrival time here wasn't perfect due to an intense low pressure system hovering around the Kimberley coast, and there was a possibility of a cyclone.  The wind was strong, humidity was definitely up there!, and afternoon thunderstorms were the norm for the first few days.  So we were grateful to see the cyclone warning lifted after 3 days 🙂
Having visited here not long ago ago, we settled into "Broome time" pretty quickly.  Trying to mix up visiting some of the places previously visited with some new ones, we took a look through some of the art galleries, visited Cable Beach (as you do), and took a look at the oldest open air cinema in the world, Sun Pictures.  My birthday was nice and relaxing –  spending lunch at Matso's – a brewery serving the best ginger beer, and the food is excellent.  We loved it that much, and due to thunderstorms which dampened Grant's original plan for dinner, we ended up back at Matso's for dinner!  A must visit for anyone coming this way.  I loved my Kimberley style birthday.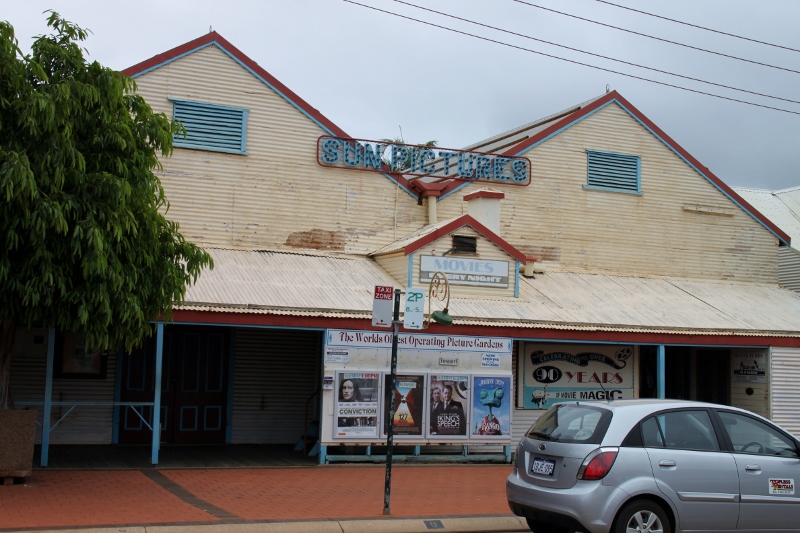 Our tour plans around Broome included a side trip up the Dampier Peninsula to Cape Leveque.  A place I'd visited some 20 years ago, it's still isolated, the road can still be rough, but wow, did we have a fantastic 5 days of camping!  Staying at Kooljaman, visitors have the opportunity of choosing their level of accommodation from what's on offer.  We wanted to be as close to the water as possible, so chose a beach shelter which we set up our tent in (left the van back in Broome due to the rough roads).
Just imagine living like Robinson Crusoe in a Gilligan's Island style hut, and that was us.  Having the shelter with a no power, just a sand floor and a cold water shower…what more could you need. The rest of the peninsula has opened up a lot more in recent times with a few of the Aboriginal communities welcoming visitors.
Visiting the most northern community, One Arm Point, we saw huge tidal flows of 11 metres + and toured the local trochus shell hatchery – these shells are collected, polished up, and exported to Italy to be made into buttons.  Locally, jewellery such as necklaces and bracelets are made from the shells.  Whilst visiting the hatchery, we were also able to hand feed barramundi!!, and learn about a wide variety of local sea inhabitants in their touch tank.
One our way back to Broome we called in to another community, Lombadina.  Here we viewed their unique church made of local timbers and paperbark, and tasted some of the community's locally made bread.  Yummo!  Our last stop was Beagle Bay, one of the first communities settled on the peninsula.  The community is well known for it's stunning church which was built in the early 1900s – the altar is decorated with mother-of-pearl and coloured shells and is truly stunning.
We thoroughly have enjoyed our time visiting Cape Leveque and surrounding communities  – a must visit area if you get this way.
Next post will see us returning to Broome for a few days before heading up to Derby and and then following the Great Northern Highway.  We're hoping that the rain gods have now permanently headed south for the winter, leaving us with that beautiful Kimberley sunshine we love…
Catch you next time!
Grant & Linda.
Kms Travelled Total  

11,817