Leaving Augusta, we headed towards Busselton, and did we strike a winner with the park!  The Mandalay Resort was the best we'd stayed at so far during this trip, and pretty well accommodated for all types of travellers.  Busselton's coastline was extraordinary – the water was a gorgeous turquoise blue, and with a wooden jetty spanning more than 1.8kms, it was an amazing sight.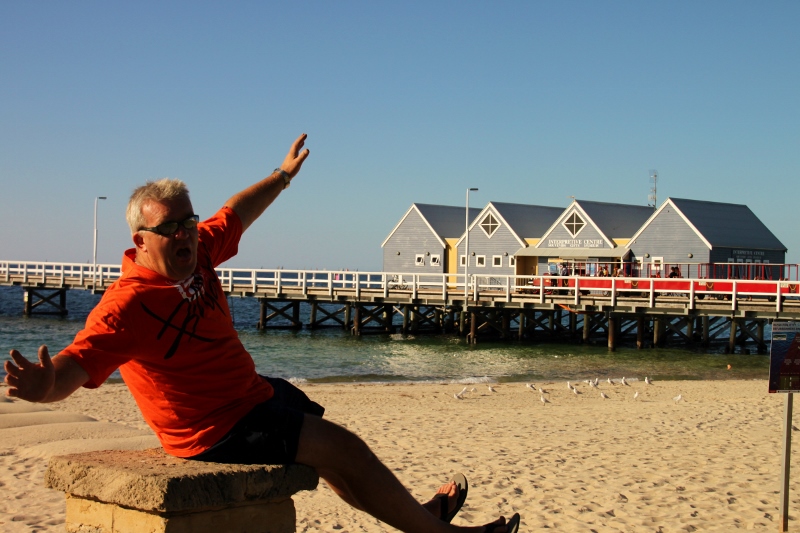 Further up the coast, we passed through Bunbury and had a quick look at Mandurah, before settling down for a few days at Fremantle.  We did all the usual tourist stuff…visited the wharf, markets, chocolate factory (yes, Fremantle has it's own 🙂 and even better, it was only a minute's drive from where we were staying).   We came across some buskers at the markets, and we loved their music so much, decided to pick up one of their CDs.  Perth's beaches were nice, although windy during our visit, and before we knew it, we were moving on – this time east of Perth to the Swan Valley for a few days in a bush setting.
A lesser known wine region just outside of Perth, the Swan Valley has gained popularity for its fortified wines, but also producing some nice reds, whites, and boutique style beers.  Thanks MF for recommending John Kosovich Wines, we really loved the reds. Another product coming out of the Swan Valley is the most awesome nougat from Mondo Nougat – it's fantastic!  Although previously not big nougat fans, they won us (well me) over….it's the best I've ever tasted.  To end our food and wine fest in Perth, a visit to Oggies Ice Cream  also in the Swan Valley saw Grant taste their new icecream – apple pie icecream…it was definitely unique!
Leaving Perth, we were really looking forward to getting out of the big smoke and head north.  Camping at Jurien Bay, we spent the afternoon at the Pinnacles in Nambung National Park. Made naturally from limestone, the landscape looked almost lunar like, and we were able to drive around a 4km circuit to view the structures, which on occasions, were taller than the Pajero.
We pulled in to Kalbarri late in the day and were greeted with another fantastic sunset.  Staying close to the beach, we could easily see the water which was tinted brown, and had occurred as a result of flooding from the Murchison River a week earlier.  Entering the Kalbarri National Park, the temperature was now quickly on the rise (around 38º), as we walked to the stunningly beautiful Nature's Window.  The view from the rock formations was great, as we looked to the Murchison River snaking it's way through the gorge below us.  We also visited other attractions around the Kalbarri coastline – the entire area is most picturesque with its rugged coastline, and is also famous for a few shipwrecks.
A highlight of our visit to Kalbarri was meeting some special people who showed us a great experience that money can't buy.  Their hospitality and friendship will always be remembered.  So much so, we will have an interim to explain what happened.  Stay tuned!
So that's it for now, our next blog will see us farewell Kalbarri and continue further up the coast to Shark Bay, meet the amazing dolphins at Monkey Mia, and then we hit the tropics!
Until then, stay safe.
Grant & Linda.
| | |
| --- | --- |
| Kms Travelled Total  7,290 |      |