When your camping trip is coming to an end and you're still a couple days away from getting home, what do you do when food supplies are looking a bit thin and there's no supermarket for the next 500kms?
When you've either got a few leftovers to use up, or there's not a huge selection in the fridge, there's no reason you can't have a good meal with just a simple few ingredients. Before leaving home, pack things like noodles and wraps and a couple cans of mixed vegies are all lightweight, they take up no room, and can easily be mixed in with any leftovers you may have in the pantry or fridge.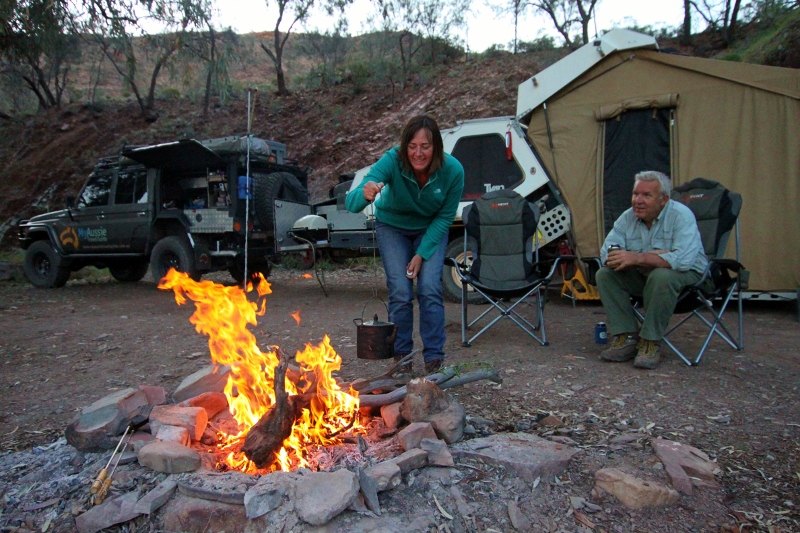 Generally, we have a swag of sausages leftover. We always travel with plenty as they're a cheap meal and can be used a variety of ways. On the last night before breaking camp, we have a cook up of all the sausages that we've got left over. Then once they've cooled, we bag them up in zip seal bags, and these are then used in our return meals on the road as we head home.
Lately, we have two sausage based recipes which have become favourites – sausage curry is one we like, as it's an easy one pot wonder meal (recipe below). Simply add some heated pre-cooked rice (available from supermarkets) and dinner's done. Then whatever curry is leftover, we'll use that following night as a filling for a jaffle, or simply make it into a wrap using some flat bread.
So while the camping trip might be coming to an end, it doesn't mean your tastebuds have to suffer on the journey home. Simply using some leftovers can see you still whipping up a gourmet meal in next to no time.
See you on the tracks.
Grant & Linda
SAUSAGE CURRY
Ingredients
Beef sausages (recipe uses 12 but you can adjust depending on how many you've got left)
2 onions 
1 teaspoon garlic 
1 tablespoon curry powder 
1 teaspoon garam masala 
2 cups vegetable stock 
2 cups any veg you have left
Method
Cook sausages and cut up into bite size pieces
Cut onions in half and slice
Fry the onion in a camp oven to soften
Add garlic and cook for 2 minutes
Add sausages, stock, curry and garam marsala
Add more curry to taste (if required) 
Cook on a low heat for 15 minutes
Add the vegetables
Cook a further 10 minutes and it's ready!