After spending a few days of non-event fishing at Karumba 😥 , we called into Normanton on our way back to see "Krys".  The original Krys is very famous…a saltwater crocodile killed in the Norman River in 1957 which was a massive 8.63 metres!!  Taking photos with the replica, it was hard to comprehend a croc can be so big.  The pic to the right is actually Grant (or part of him as some of him is inside Krys' mouth) so you can get the idea of how big this thing really was.  One of the locals in Karumba told us that a similar sized crocodile has been sighted recently, but the story remains unconfirmed.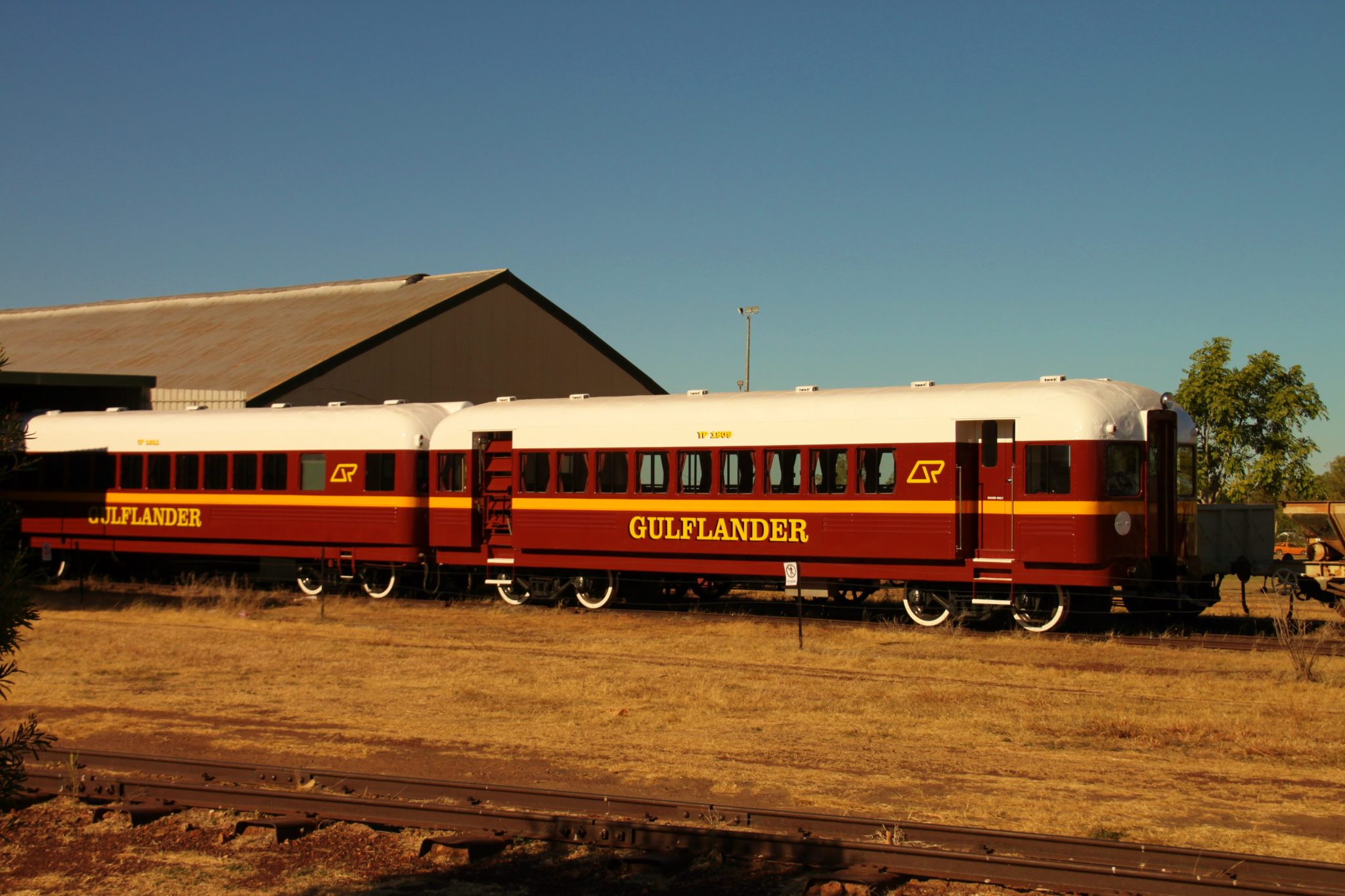 Our final stop in Normanton was to see the Gulflander train – it's an historical train service which was originally completed in 1891, but was never connected to the Queensland Rail network.  It now runs tourists from Normanton to Croydon (151kms) a couple of times per week.
Driving on the Savannah Way, we felt like we'd ventured into the Queensland outback once again. Staying at Georgetown for a couple of nights (gold and gem country), we ventured off the beaten track to Cobbold Gorge.  Located on a working cattle station, the sandstone gorge with 30m walls was different to anything we'd seen previously.  Taking a tour, we were able to walk to the top of the gorge for a top-down view, but the tour also included a boat cruise.  We made our way up into the gorge and watched as the walls often narrowed to only a couple of metres apart.   Spotting freshwater crocodiles and a night heron on our journey, it was a long way off the beaten the track to visit, but the tour was enjoyable.
Further east we called in for an overnighter at Undara Lava Tubes.  Around 190,000 years ago, there was a great deal of volcanic activity in the area.  The caves or "tubes" have been left behind as a result of the lava flow cooling, then stopping.  The longest tube apparently is over 100kms in length.  Over the years, the roof of the tubes have collapsed in parts, so armed with torches, we walked through a couple of the tubes.  Reminding us more of train tunnels, the tubes were cool and often contained fossils, but gave us a good insight to the volcanic activity from years gone by.
Leaving Undara, we were driving on single lane bitumen.  When a vehicle approaches, normally each vehicle puts their left hand tyres into the dirt so you can both share the road.  However, to avoid others flicking stones up, we normally always pulled right over so they could stay on the bitumen.  Well it had to happen.  Some idiot didn't slow down, decided to get off the bitumen and flicked a stone up on to our windscreen causing a huge crack.  Within half an hour, the crack ended up being nearly a foot long.  So needless to say we had to have it replaced which we would do upon reaching Cairns.  We continued on and crossed the Great Dividing Range – the scenery was now really changing.  Clouds were rolling in (we weren't wanting rain – it's been nearly 4 months since we've seen any!), but thankfully after just a couple of spits it stopped.  Arriving in the Tablelands we felt like we were in Tasmania.  With rolling hills, it was beautiful and green, there was heaps of dairy cattle, but it was clear the temperature was dropping.  Knowing that we were coming back this way after our trip to Cape York, we only stopped for an overnighter at Lake Eacham given we were due in Cairns the day after.  We stopped at Millstream Falls (renowned for being the widest in Australia).  There was heaps of water flowing and made a great stop for morning coffee.
So we're getting close to Cape York now…Grant wants to take the Telegraph Track up so who knows what will happen!  Hopefully we'll have lots of good stories and photos to share upon our return.  Until then…
Stay safe,
Grant & Linda.
Kms Travelled Total  23,430