It's hard to believe that we've already been on the road again for over 3 months!  However, given that we're in a great area in Australia, the Kimberley, I'd be quite happy for the trip to go really slow for a while.
Kununurra itself has finally had some growth since visiting here 12 years ago, having previously been unable to expand due to land claims around the district.  New housing estates have been established, but it's good that the old Kununurra charm still remains.  In I think Plan C or D of our trip, we were going to stay in Kununurra for a few days before venturing onto the Gibb River Road with the tent, however since our last post, there has been limited change in road conditions and many things are still closed.  So it's been decided….stay a few days for a quick look around, head to Darwin, Kakadu and Litchfield for a few weeks, and then return (hopefully the roads will then be open??!!)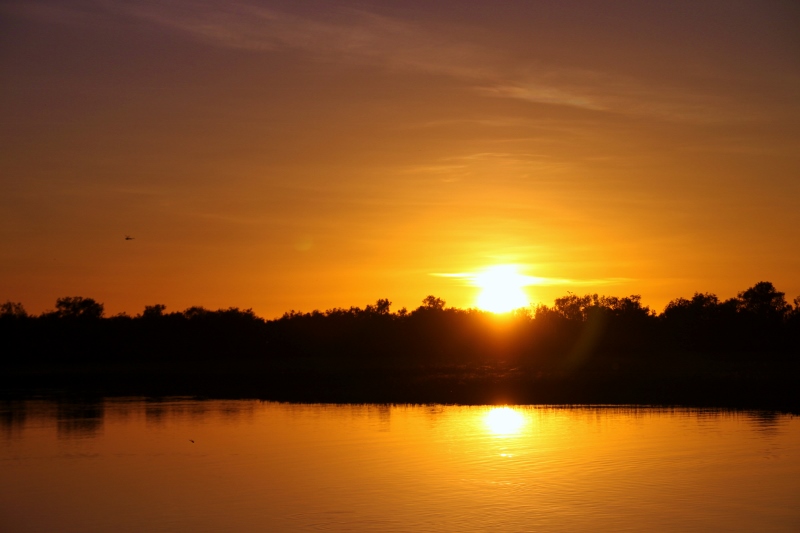 Whilst in Kununurra, we took a quick trip to Ivanhoe Crossing (the original Kununurra-Wyndham Road)…it was incredible – you couldn't even see any part of the road due to the amount of water going over, even the locals were amazed.    We also drove out to Zebra Rock to see various items made out of the unusual rock which is only found in the Kimberley.  We also called into Artlandish – an art centre full of Indigenous art.  We ended up sending some art home which were painted by artists around this region – the styles are varied which makes them all really appealing.
Moving on, and once over the border in the NT, it was a strange sight to see the speed limit at 130kms…I think Grant would struggle to get speeding fines here, Deano, although he reckons he'd give that speed a nudge if we didn't have the van on!  We did an overnighter at a free camp on our way to Katherine.    Arriving in Kakadu, we stayed at Cooinda for a night and booked the sunrise cruise on Yellow Water.  Setting the alarm was definitely something we had long forgotten :-), but 5.45am???  The trip was oh so worth it….we'd only just left the dock and we spotted a couple of crocs, heaps of magpie geese, and jabirus, and to top it off, the sunrise was pretty spectacular.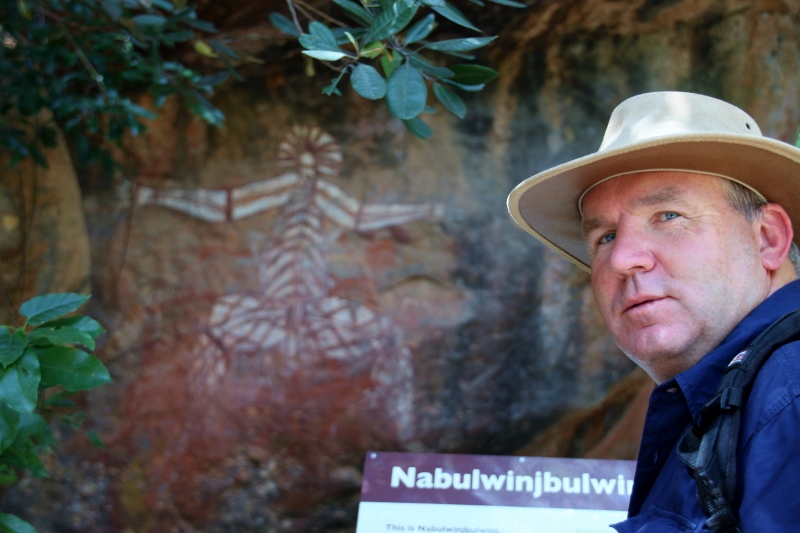 One of the crocs spotted was rather large (around 3.5 metres), and just as we pulled up along side, we noticed that it had caught a fish.  A quick snap with the camera as it took an almighty "crunch" on the fish was timely.  Not long after, several kites flew perilously close to the croc, diving down to the water to get some leftovers.  So close in fact, we thought we may have been watching his second course!
Back at camp, we were visited by a juvenile dingo on the scrounge for food before packing up and leaving for Nourlangie Rock.  Here we saw some Aboriginal art and had a fantastic view of the surrounding escarpment and plains.  A night in Jabiru at the Kakadu Resort was our final night in the park (all other attractions were off limits due to high water).
So that was a quick trip around Kakadu…with what we saw at Kakadu I think Grant was a little disappointed, so he's hoping Litchfield National park will be much better which we'll visit once we've finished in Darwin and head back to Kununurra.
Catch you next time!
Grant & Linda.
Kms Travelled Total  

14,458