We ended our last post indicating we were experiencing a storm in Menindee which was welcomed by all, but unfortunately for us, the amount of rain received put a dampener on us continuing the Darling River Run as the dirt roads we needed to travel on were closed.  We hoped after a day or two that the roads would be re-opened, so we decided on a detour to Broken Hill for a few days.
Whilst at Broken Hill, we did a few touristy things – visited Pro Hart's gallery, took a trip out to the living desert sculptures outside of town, and just browsed around.  A highlight of our stay was taking a day trip to Silverton where we toured an old silver mine called Daydream,  had a beer at the Silverton pub, and made a special trip to the Mad Max Museum which was high on Grant's "to do" list.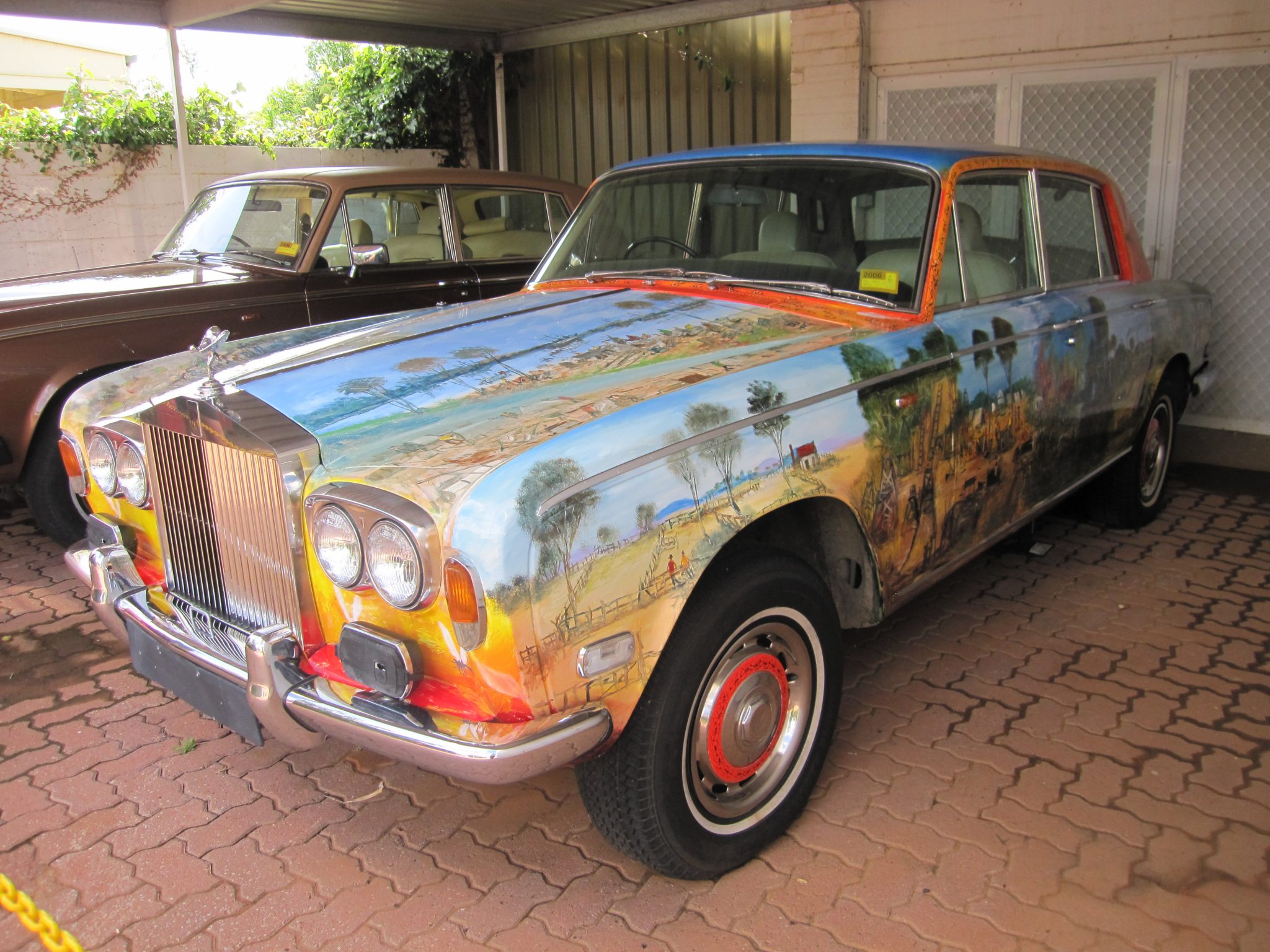 Travelling through this region it was clear that there has been plenty of rain as the amount of wildflowers was extraordinary.  It was the first time we'd seen Sturt Desert Peas in the wild amongst many others.
Leaving Broken Hill we headed east to Wilcannia and on to Cobar.  It rained all the way and was sort of like the "trip from hell", as water was all over the road and we had a habit of aquaplaning…not much fun with the van on the back. Anyway, we drove through Wilcannia and stayed at Cobar for an overnighter.  Did some sightseeing in the morning and then continued the 166kms to Bourke as the roads on the Darling River Run were unfortunately still closed.
We'd been told by many other travellers that Kidman Camp 6kms north of Bourke was a great place to stay – we checked in for a 3 night stay and it was pretty swanky for a park….palm trees, lots of green grass, and pretty roses which were in bloom.  Given we were staying here three nights, we were really hoping that by the end of our stay, that the dirt roads along the Darling (now south of us) would be open so we could do another station stay.  It wasn't to be, so Bourke would be the last point for us putting the boat in the Darling River.
The river again didn't disappoint – there was no one else on it as we meandered down river towards town and the site of the Bourke wharf.  With all the rain, it was evident that the river was rising and flowing fairly swiftly.  This part of the river was teaming with birdlife – I snapped away with the camera taking many photos of Corellas, Spoonbills, Peregrin Falcons, and Australian Darters.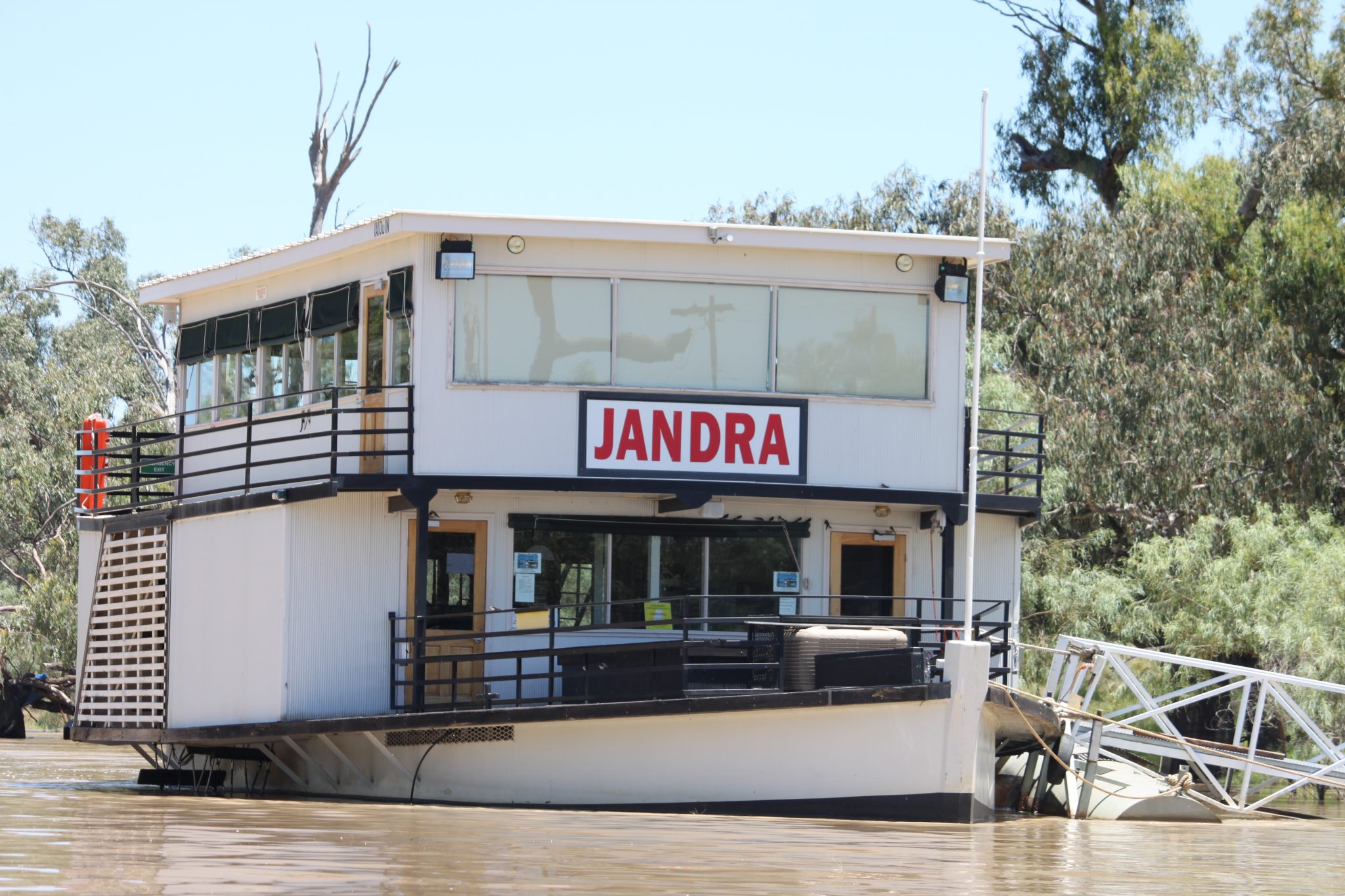 Next to Kidman's Camp was the Jandra – a paddlesteamer which has cruised these waters for over 110 years, originally taking cargo of wool bales further south down the Darling.  These days her trips are a little easier as the only cruising she does is taking tourists!
There is something special about the river that draws you in – I'm unsure whether it's just the romance of it all, but I found that when we were in the boat, I unconsciously pictured what things might have been like 100+ years ago when a great deal of goods were transported down this river, and how the waterways would all be buzzing with people and paddlesteamers.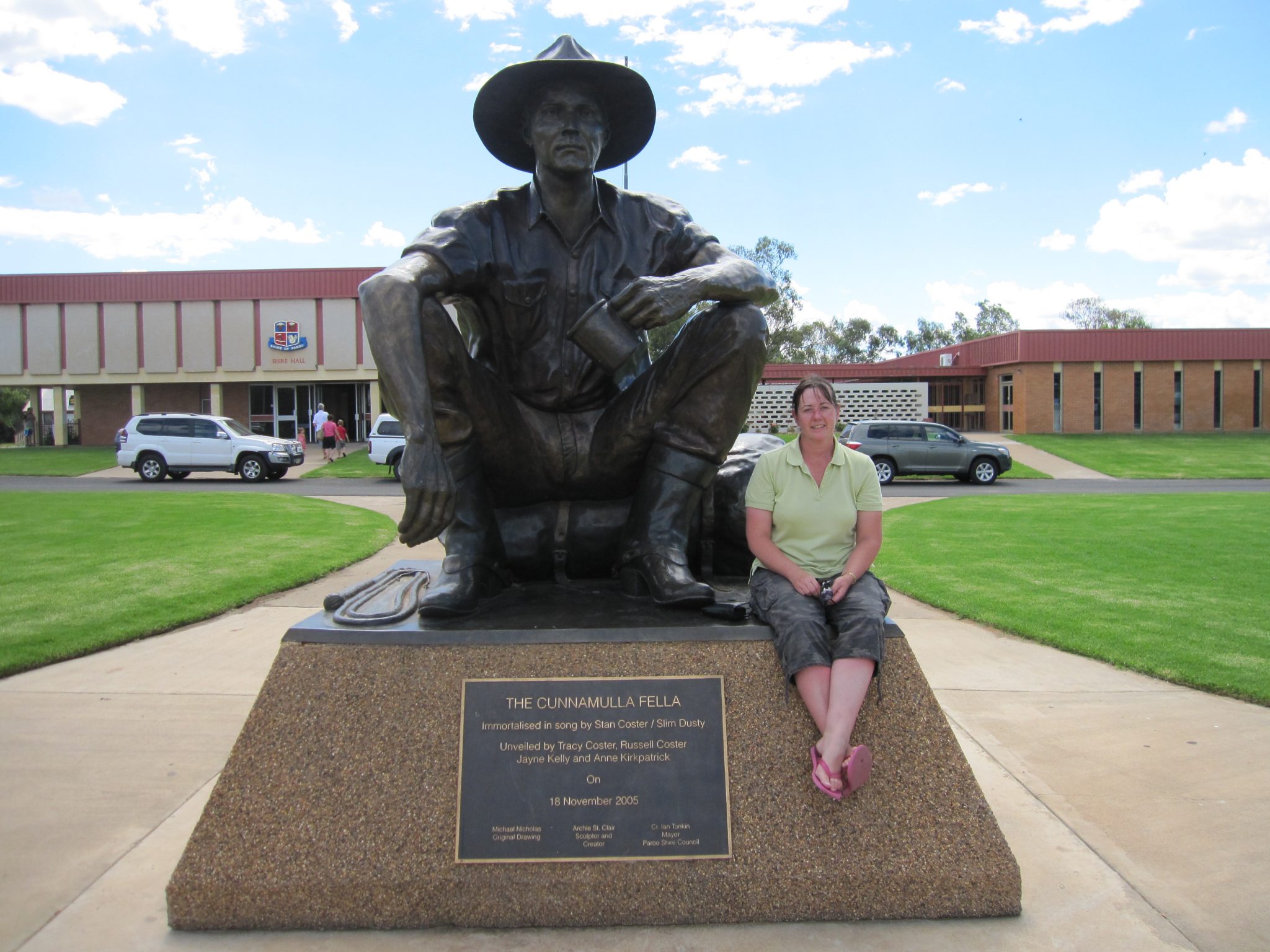 After finally leaving Bourke, we made our way over the Queensland border into Cunnamulla.  A small town of only 1,400 people, Cunnamulla is famous for the first Queensland flow from the Great Artesian Basin which Cunnamulla "sits" on.  Slim Dusty sang about the "Cunnamulla Fella" which is signified by a bronze statue in the middle of town.
Our next post will have us continuing north as we further journey through the Queensland outback…not sure where Summer has gone as there's more rain on its way, but we hope to find a few more rivers to put the boat in!  Join us next time!
Kms Travelled Total

2,648