We're on our way to spend time at Karajini National Park.  Leaving the coast for a while was a nice change as the temperature managed to drop 6-7 degrees and moving inland meant no more humidity which was a real winner!  The scenery driving in was a total change from the coast – the Hamersley Ranges looked great with the sun shining on the bright pindan coloured cliff faces, and it was a great contrast to all the green spinifex grass around the place.  It's easy to see that this whole area has had lots of rain.
My last visit to Tom Price was 20 years ago, and to be honest, it hadn't really changed a great deal during that time.  Still very much a mining town; there was the old original caravan park (I think in the same condition!) and may be a few extra shops.  Funnily enough, the Coles supermarket surprised us and stocked many items cheaper than in SA!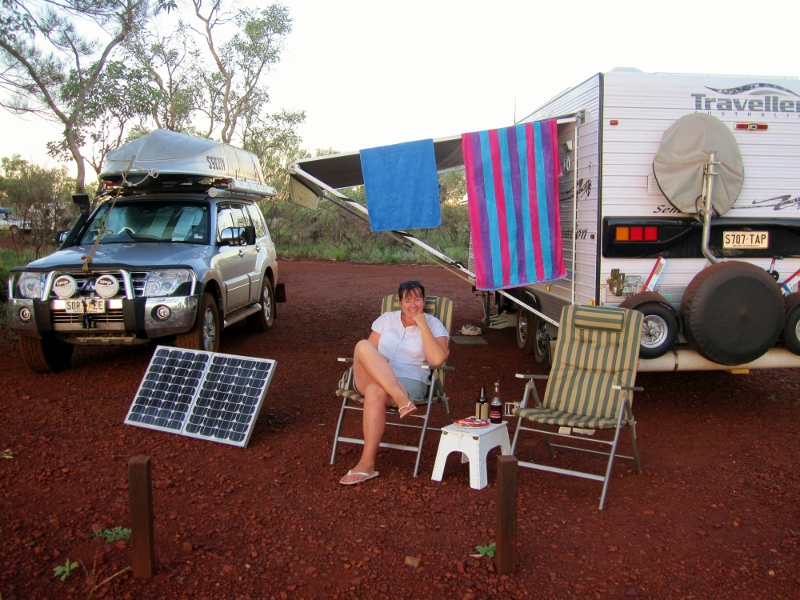 We did a day trip to Karajini from Tom Price to check things out – this was very different to my previous visit with many more gorges, walks and falls, now open to the public – even the roads in the park were partially sealed!  We visited Weano Gorge and took a drive to the Visitors Centre, when we decided it would be nice to come and camp in the park for a couple of days given the good road conditions.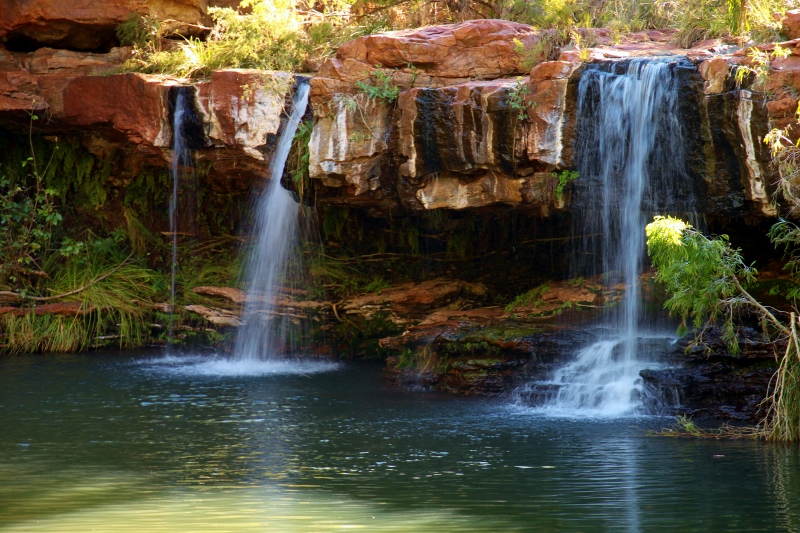 Back at Tom Price we packed up and set off the next morning for Dales Campground.  Selecting our site, we got set up and went exploring – Fortescue Falls, Circular Pool, and had a great time swimming in Fern Pool.  All the walks to the falls were moderate and the ability to swim was most welcomed!
Back at camp, we settled down with a nice glass of red (unfortunately our SA wine stocks are getting a bit low…but lucky we have plenty of WA stuff as a back up :-)) and some nibbles, we watched a fantastic sunset as the sun dipped behind the range.  It was a great way to end a day in the Pilbara….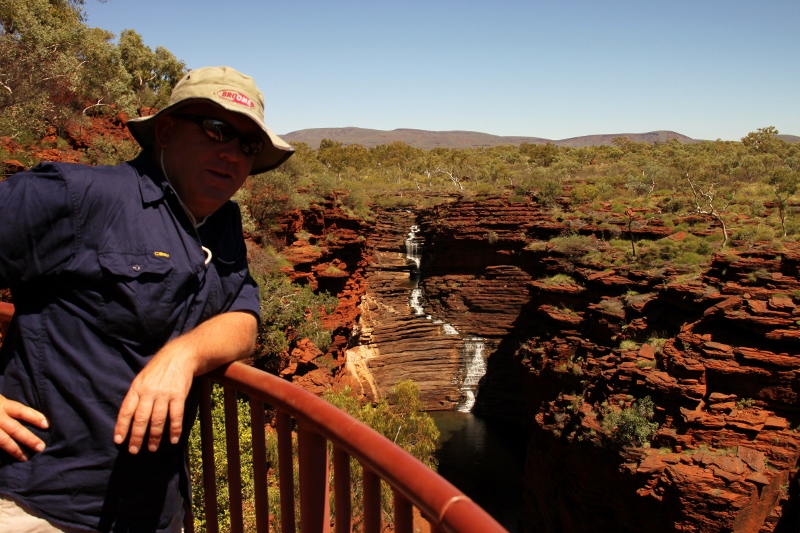 When we left the National Park and headed to Port Hedland, the scenery was still magnificent.  Many mining road trains, often with 3 or 4 trailers in tow, were heading in our direction as well as towards Port Hedland.  It's been mentioned in another post, but we think the guys driving these rigs are amazing.  Many of these trucks with trailers were around 50 metres in length – even a couple overtook us which was a bit hairy!
We didn't find Port Hedland very enticing this visit, hence only staying a couple of days.  Another town set up for mining, it was good for a quick visit to replenish supplies, but otherwise it was hot and humid, and anyway, we were really looking forward to our next stop…
About 270kms north of Port Hedland, we took the turnoff for Eighty Mile Beach which sits about half way in between Port Hedland and Broome.  Arriving we saw what resembled a tropical oasis basically one sand dune back from a magnificent beach.  Setting up camp on a nice shady campground, we unpacked and took a walk down to the beach.  You know when you're heading north as the tides are extreme – here there was a 7.5m tide, and at the time of visiting, it was way out!  This beach is a "shell beach" as well as being an important site for migratory birds and nesting flatback turtles.  However, it also has great sunsets – which we experienced on both nights of being there.
We were close enough to Broome that we could have easily driven in a day, however we had been recommended to stop in at Port Smith which lies 160kms south of Broome and 23kms off the main highway on dirt.  Famous for fishing and a bird park housing exotic birds, it looked great on their website, so we decided to stay a couple of nights to do some planning for the next part of our journey.  Warm humid weather made this not the greatest stay.  This was the only place where we took a can of fly spray to the amenity block to spray it first for all the mozzies that tried to pounce on you as soon as you open the door – that's before you even go for a shower!  
After some discussion, we agreed we would move on earlier than planned (thank goodness).  So on we go….another 23kms back on the dirt to the highway, but I didn't care.  I was happy to be leaving…
So that's it for this blog – a sigh of relief leaving Port Smith, and is quickly replaced with a wave of excitement that starts to come over us as we head towards Broome. We'd both been looking forward to this next bit.
Our next post sees us arriving in Broome just as a tropical low tries to decide whether it will become a cyclone, there's a birthday to be had for the other half of Team Nomad, and we desperately try to work out plans for our next travels given that our first three plans worked on have all been shelved due to the rain gods causing so many road closures.
Stay safe,
Grant & Linda.
Kms Travelled Total  

11,298